First Annual Retire Overseas Index–Coming Soon
"The cost of obtaining residency is much, much less in Colombia than in Panama," Lief said, "once you factor in all the attorney's fees.
"I'm pointing this out," he added, "only because I know that it will bother David…"
"And it does bother me!" Senior Editor David Sexton responded quickly. "Because I've just spent three months researching every detail of every residency option available in every country we focus on, and I can tell you: Panama is the winner in this category. No other country competes."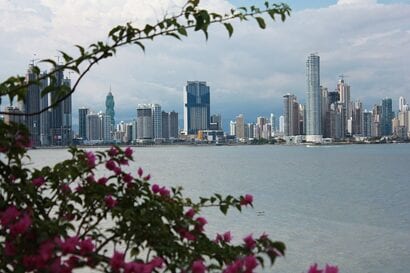 Friday afternoon, starting at 4 p.m. in our office in Panama City, we interrupted our regular work. We mixed pitchers of margaritas, uncorked a couple of bottles of wine, and ordered pizza. Then Lief and I called our in-house editorial and marketing staffs together around our conference room meeting table with a specific agenda: To identify and, further, to quantify and to rank the best places to retire overseas in the world today.
For the past few months, our editors have been collecting and organizing data for the destinations we've targeted for this project–everything from the number of available residency options and the respective costs for each to the number rainy days per year and the average high and low temperatures…from cell phone coverage areas to availability of reliable internet…from the number of hospitals to the cost of a visit to the doctor…from the number of theaters and museums to the range of options for more outdoorsy entertainment…
A mountain of data.
Now what? How, we asked ourselves, do we convert those charts, tables, and lists to a useful where-to-retire-in-the-world tool? We knew that, over the collected data, we needed to layer some judgment and boots-on-the-ground perspective. Statistics can be misleading. They're a place to start but certainly not the beginning and end of the work required to make the determination as to where you might best reinvent your life. That decision, as we point out regularly, must be made with both your head and your heart.
So, Friday afternoon, we started with the objective intelligence that our editorial team had collected…then we entertained lively, sometimes heated discussions about how, where, and why the intel was wrong, based on our collective personal experiences living and doing business in the places being considered.
"You've got to look beyond the number and type of residency options offered," Lief cautioned, "and think about which ones are useful. Belize may offer but two residency options, but they are two of the most relevant and useful available anywhere…"
Then, later, when we got around to discussing infrastructure, "Ireland gets a 2 in this category," Lief declared.
"A 2?!" exclaimed our Irish-born Editorial Assistant Denis Foynes. "What are you basing that on? Are you considering roads?"
"Yes," I laughed, "we're considering roads as part of our infrastructure score."
"Ah, well, then, ok, the roads in my country are an embarrassment," our young Irish friend admitted. "Remember, the Romans never made it to Ireland.
"Also," Denis added, "we have no train service. But we have buses…and we're a good base for very low-cost travel throughout Europe…"
Everyone laughed. After some more back and forth and consulting the data that had been collected on this point, we agreed to increase Ireland's infrastructure score to a 4 (out of 10).
Next category: Safety. "Here," I offered, "is where we have to give Ireland her due."
For each country in our international living index-in-the-making, we'd decided to focus on one or two particular spots. Nobody is going to retire to Panama or to Ireland, anymore than anyone is going to retire to the United States. You're going to retire to a particular city, town, village, or beach, so that's how we've conceived this new index–to focus on particular places that we think offer the greatest appeal and the best advantages for the would-be foreign retiree. In Ireland, we're targeting the region of the country known as the Copper Coast.
"The Copper Coast gets a 10 for safety," I said. "Nothing bad is going to happen to you in that beautiful, quiet part of the world."
"Thank you," Denis agreed.
In Belize, we targeted the Cayo District, which is one of the best places in the world today to retire and embrace a back-to-basics, self-resilient lifestyle.
"In Ireland, there's little useful infrastructure," Denis observed, "and what there is is in a poor state of repair. But in the Cayo? There's no infrastructure there at all…"
"Yes, but that's the appeal," Lief replied. "That's the point. Once you're there, you don't care that there's no infrastructure."
"Well," I offered, "there are rivers. You could always take a kayak wherever you wanted to go."
"What taxes do we care about?" asked Special Projects Editor Brenna Labine.
"We should look at property taxes, sales tax, capital gains tax, and income tax," Lief offered.
"In my research," Brenna continued, "I've found that Chile is the only country on our list that does not have a double-taxation agreement with the United States."
"Good point," Lief said. "That's a big negative, of course…"
And on and on, for each of the dozens of destinations being featured in our new index, until we ran out of limes for the margaritas and the wine bottles had been drained.
"That's enough for tonight," I suggested when the hour grew late. "Let's regroup on all this Monday morning and make sure our determinations stand up to sober scrutiny…
Kathleen Peddicord
P.S. The results of these months of research and evaluation, our First Annual Retire Overseas Index, will be featured in the special expanded March issue of our Overseas Retirement Letter, due in subscribers' e-mailboxes later this month. If you're not yet an Overseas Retirement Letter subscriber, you can become one here now in time to receive your copy of this important and one-of-a-kind resource, our First Annual Retire Overseas Index.
***
Kathleen Peddicord's New Book "How To Buy Real Estate Overseas" Available Now Pre-Release!
Kathleen Peddicord's latest book, published by Wiley & Sons, hits bookstores April 8. Starting now, though, you can buy a copy pre-release and save 36% off the release price!
Go here now to place your order for "How To Buy Real Estate Overseas"!
Image credit: Ayaita