Discovering Astorga–The Neighborhood To Watch In Medellin, Colombia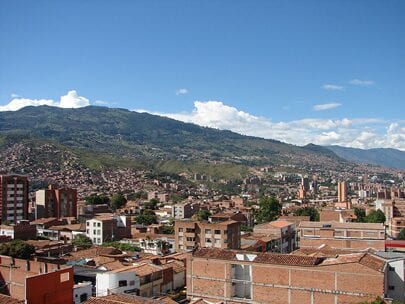 Mid-Sunday afternoon, and the three of us were settled at our open-air table, enjoying Medellín's perfect weather, a good glass of Cabernet, and softly playing tango music. Our waiter brought my juicy steak, perfectly done and still sizzling from the wood grill.
Turned out to be the best steak I've had in Medellin…which is saying a lot in a city with dozens of good restaurants.
Perhaps more interesting is that I was not dining in Medellín's famous Parque Lleras or Zona Rosa district. I was in Astorga, a much less-known part of this city that's beginning to draw international attention.
This is the fourth time in the past two weeks that I've walked over to explore Astorga. Each time here, I discover another hidden gem in this up-and-coming neighborhood.
First, let me show you exactly where I'm talking about. To locate El Poblado, the heart of Medellin and the most popular expat area, see the map below:
El Poblado is divided into 22 barrios, or neighborhoods. At 55 acres, Astorga is the smallest of El Poblado's barrios.
Astorga is recognizable by two pleasant parks. One is Parque El Poblado, which is but one block, with tall trees, alongside the busy avenue that runs through El Poblado. The other is Parque de la Bailarina, a bigger, well-kept, and well-shaded park that runs for several blocks along the not-so-busy Carrera 43e. On the 15th of each month, Parque de la Bailarina is the site of cultural events, including concerts, performances, ballet presentations, and other artistic demonstrations.
Two of Astorga's borders are formed by the rushing creek La Presidenta, which itself is bordered by a lush, treed, green space.
Astorga was originally a finca (a weekend country estate) bearing the same name. In the 1950s, its three owners decided to develop the area for residences. The first buyers were young families, who were moving to what, at that time, was an area "out in the country."
My first visit to Astorga was with my friend Joe Greco, who manages the commercial investment and development arm of First American Realty Medellín. Joe spends a lot of time on the ground, walking the streets of El Poblado looking for opportunities in Medellín real estate. One day he invited me along, telling me that he'd spotted some interesting changes taking place in this part of the city that no one was paying any attention to.
At the time, I'd passed through Astorga once or twice. I knew it to offer value restaurants and to be busy with savvy locals every day. What Joe pointed out to me was the recent appearance of the first higher-end restaurants, along with a few art galleries. On one street, you could see that the neighborhood had crossed that fine line between "run-down" and "hip." Joe predicted that this was a neighborhood to watch.
And he was right.
Today's Astorga boasts a number of fine dining venues, a wine bar and restaurant, a handful of chic cafes, and an increasing number of art galleries and antique shops. Granted, some of these businesses have been here for a while…but once a neighborhood achieves "hip" status, old things tend to be seen in a new light.
What's more, the municipality is now getting into the act, by making the infrastructure improvements–bridges and parking–necessary to support the area's increasing popularity.
From any part of this neighborhood of just 1,950 people, you can easily walk to the famed Parque Lleras nightlife district…or enjoy the high-end restaurants and boutiques in the Zona Rosa. And not only that, the largest supermarket/superstore is just down the hill at the foot of the neighborhood.
Excellent medical facilities are just over a block away, and several specialized hospitals–such as oncology and ophthalmology–lie within its borders.
What's more, Astorga sits at the beginning of the Golden Mile, Medellín's premier banking, business, nightlife, and commercial district. The Zona Rosa and Parque Lleras boundaries are my own.)
In other words, Astorga is about as walkable as you can get.
On the cost front, I found property prices here to be about US$200 per square meter less than in the more popular areas within the nearby Zona Rosa.
We found a really well-priced two-story, 12-year-old penthouse apartment in Patio Bonito, just a short walk to Astorga's restaurants and shops. It has three bedrooms, three baths, a den, and two balconies, one off the master bedroom. The living area is 117 square meters, or about 1,250 square feet. The asking price is US$140,800 at today's exchange rates, or about US$1200 per square meter.
If you'd like something a little bigger (and a lot newer), we found a 124-square-meter apartment (1,330-square-feet) in a two-year-old building close to the park. With two-car parking and a utility room, the asking price is US$214,000 (or US$1,725 per square meter).
One of the chicer offerings is a popular studio-style loft, with an impressive 122 square meters of living space (1,330 square feet). With one giant bedroom and two baths, the loft has lots of glass through which to enjoy the impressive views. The asking price is US$194,000 (or US$1,590 per square meter).
The fun of Astorga is discovering its hidden-away secrets; the restaurants, galleries, shops, and cafes. But let me give you a couple of my own favorites.
Ferro is a high-end restaurant with what you might call a casual-elegant setting on Calle 8. Their parrilla (wood-fired grill) offerings–steaks, pork tenderloin, and grilled chicken–are excellent, and I've also enjoyed one of the best grilled salmon fillets of my life here.
The Hummus Wine House & Restaurant is hard to find but worth the effort. Specializing in Lebanese cuisine, their setting alongside the trees lining a tumbling creek is unbeatable. And it's a great place to enjoy a bottle of wine and some of their Middle Eastern specialties. To find it, head west on Calle 6 and turn left on Carrera 43C…then take the stairs on your right heading down to the creek.
The Celestina pastry shop, almost next-door to the Hummus Wine House, it's one of the best places to stop for a cappuccino and dessert while you're in the neighborhood.
Paella and Parrilla offers a unique fusion of dishes from Peru and Spain, while the casual cafe Pronta Pasta may be the best pasta value in El Poblado, with dinner prices starting at just over US$6.
The spice shop Nuez Moscada is one of the few places in town where you can find a good international selection of spices, especially from India and the Far East. They also offer a small selection of wines, including a few I haven't seen anywhere else.
If you enjoy artwork, the antique shop of Juan Ruiz, at the corner of Calle 9 and Carrera 43C, usually has a small but tasteful selection of original Colombian paintings.
Medellín's El Poblado and its Zona Rosa are well-discovered and well-covered, even, increasingly, by the mainstream travel press. For now, the emerging-chic neighborhood of Astorga gets relatively little attention. But that won't last long.
Lee Harrison