Great Weather, Cosmopolitan Lifestyle, And Low Cost Of Living–This Unsung Mexican Retirement Haven Has It All (And, Yes, It's Also Safe)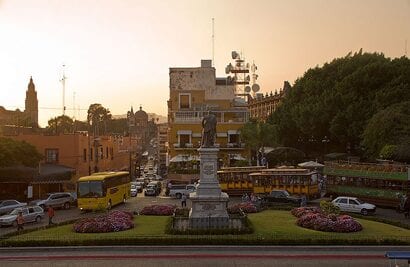 I knew I would one day live in Cuernavaca, Mexico the first time I brought a group of students from freezing western New York for a study-abroad program and found I could dine outdoors in January. After many winters directing college programs here, it was a no-brainer where I would retire.
Often overlooked and under appreciated, Cuernavaca has more to offer tourists and retirees at lower cost than most anywhere else in Mexico. The resort city lies just 90 minutes south of the capital, and, thanks to its near-perfect climate, this "city of eternal spring" has attracted vacationers since the days of the Aztec emperors and the captains of Cortés.
North American expatriates living in Cuernavaca full time number only in the hundreds, but hundreds more snowbirds arrive for the winter months. While Brigitte Bardot and Helen Hayes drew attention to the city in the 1960s, it has always been much more popular among Mexicans than outsiders, and the local population of about 800,000 swells by the thousands on weekends and holidays.
The climate here is one of the best in the world, with a mean temperature of 75 degrees and more than 300 days of sunshine. Winter temperatures average at least 10 degrees warmer than in better-known San Miguel de Allende. Spring arrives in early February with daytime temperatures in the 80s falling to 65 at night until May, the hottest month, with occasional dog days. From June through mid-October, cooling rains arrive to freshen things up again.
Like many residents, I make day trips to the nearby capital for opera, dance, theater, and concerts, but I am never bored locally. The salons at the Borda Garden, a vacation retreat for Maximilian and Carlota in the 1860s, host concerts, plays, and art exhibits. The Teatro Ocampo, in a beautifully renovated old movie house, has at least two events a week, including the Morelos State Ballet, the city chamber music orchestra, and visiting groups like the National Symphony and the Harlem Gospel Choir.
Best seats for a chamber music concert cost US$8 (at the current exchange of 12.8 pesos per US$1) and are just US$16 for visiting orchestras like the National Symphony. Several 10-screen movie houses show the big Hollywood hits a few months behind the U.S. schedule for just US$4. For a change of scenery it's a short bus ride to the "magic village" of Tepoztlán, the ancient Hacienda Cocoyoc, the ruins of Xochicalco, or the silver city of Taxco. The glamorous beaches of Acapulco are three hours away by car, four by bus.
Cuernavaca boasts several world-class restaurants that serve gourmet meals in alfresco settings and dozens of bistros that are better than most neighborhood restaurants in comparably sized cities in the States, with prices at least 30% lower. Hundreds of family restaurants offer a three-course lunch with a fruit drink for about US$5, while restaurants like La Provence serve authentic French dishes like coq au vin or a huge chateaubriand for two for less than US$30.
Not only is the cost of living in Cuernavaca low, but so is the cost of real estate in this city. Apartment rents are typically half what they would be in Florida for comparable units. The economy has dipped and real-estate sales are down by about 40%, meaning property purchase bargains abound. You can purchase a three-bedroom condo with a large shared garden and pool for less than US$100,000. For that property, you'd be looking at monthly maintenance fees of about US$60 and taxes of less than US$100 a year.
Utility costs are low, even negligible, because you can live without heat or air conditioning. Inexpensive help is easy to find, both full and part time. The shopping options will make you forget you are living in Mexico. In addition to U.S chains such as Walmart, Sam's Club, Costco, and Sears, huge shopping malls feature chic Mexican boutiques and department stores. Modestly priced golf courses, tennis clubs, gyms, and spas abound.
Given all the international publicity about Mexico's drug wars, safety and security issues are a concern when considering anywhere in this country for retirement. Until recently, Cuernavaca had escaped the shootouts that characterize this country's border cities. Some drug lords took advantage of the situation to hide their safe houses in suburban residential developments in Cuernavaca; government forces have confiscated 20 of these. In the last year, a turf war between rival drug families has led to some assassinations, but it's hit men killing each other; not one tourist or foreign resident has been harmed. The murder rate in Cuernavaca is significantly lower than that in U.S. cities of this size.
One of the biggest advantages of this city is the availability of good medical and dental facilities. If you need extensive dental work, you could pay for your vacation by having it done by one of the outstanding, inexpensive dentists in this city. Neither do you have to go far to find a well-trained specialist in cardiology, gastroenterology, obstetrics, plastic surgery, or optometry (including laser surgery). The city even hosts the National School of Public Health, one of the most prestigious in the Americas. Nearby Mexico City boasts one of the best hospitals in the hemisphere.
More than 30 North American universities send study-abroad students to schools with no more than five students per class. Such schools have proliferated in recent years making Cuernavaca perhaps the best place in the world to study Spanish. Or you could opt for a private tutor, one who would come to your home for less than US$10 an hour.
Regardless of the method, study Spanish you should, because Cuernavaca is a thoroughly Mexican city, not a gringo town. The active expat group called the Newcomers offers regular activities and a newsletter, but the city has no outsized foreign colony as you find in some places in this country.
You may see this as a plus or a minus. No question, you have to work a bit more to establish yourself in Cuernavaca, which helps to explain why the city has been relatively overlooked to date. But, given the low cost of embracing all the Cuernavaca has to offer, the effort is well worth it. Those foreign retirees who, like me, have reinvented their lives here feel at home. Frankly, I can't imagine living anywhere else.
James Horn
Editor's Note: James Horn is the author of "Cuernavaca, A Guide for Students & Tourists," available from jimhornnews.wordpress.com.
Continue Reading: How To Retire To Italy
Image Source: Marco de Leija