Retire To Safe, Healthy, Welcoming Bucaramanga (Where You Could Live Well On US$1,000 A Month)
The bang drew my attention; followed by a rattling engine noise that sounded like a 1960s-era lawnmower within five minutes of its mechanical death. Turning around, the vehicle making its way down the street was indeed a relic, but not a lawnmower. It was a reddish-brown 1971 Ford Pinto, headed straight for the park I was walking in.
The Pinto pulled up to the curb and stopped, its engine rattling to a halt. A man and a woman in their late-50s both squeezed out through the passenger-side door and opened the trunk to reveal a bushel or so of carrots and a few dozen large oranges.
The lady removed the carrots and oranges from the trunk, while her husband lifted a large car battery onto the ground, which he proceeded to rig up to a pair of vegetable juicers mounted on a wooden stand.
Two minutes later, I was drinking a large, frothy glass of garden-fresh carrot juice…a great way to start the day.
And in this large, leafy park, the couple in the Pinto is not alone. An entire flotilla of fresh fruit and juice vendors has assembled on the south end, where a crowd of local residents has gathered to sample the day's offerings.
The temperature has just reached a comfortable 70 degrees at 7:30 a.m., and it's another typical sunny morning in Bucaramanga (pronounced boo-cah-rah-MAHN-ga), Colombia. The park is filled with walkers and joggers, with even an exercise class in progress. But having paid my homage to health with the carrot juice and a fresh fruit cup, I was ready to settle down with a strong cup of coffee and a hot buñuelo, fresh from the oven.
Bucaramanga is a comfortable city. While it offers lots of other qualities and conveniences, it is first and foremost a place where you can feel at home.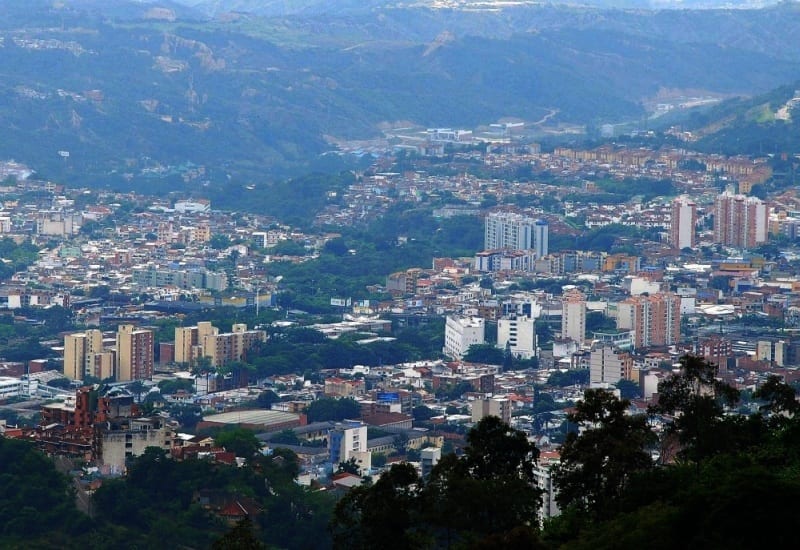 When you retire in Colombia, you can get away from the pressures of the world. Bucaramanga is a big city, to be sure–with over a million people in its metro area–but it's an unpretentious city. Most of the town is neither rich nor poor. Rather, this is a solid, middle-class setting without the extremes that many cities have.
Bucaramanga offers an excellent infrastructure, with drinkable tap water, reliable electricity, and fast broadband internet service at reasonable rates. A brand-new metrolinea public transit system is being phased into service, to whisk commuters and travelers from one end of the city to the other.
The international airport is just outside of town, making access more convenient than you'd think, given Bucaramanga's fairly remote location.
Retirement in Colombia gives you access to leading-edge healthcare that is offered at a reasonable cost. The 10 universities in Bucaramanga's metro area bring a youthful, vibrant feel to many of the city's sectors.
This city is a terrific value, considering that you can buy a home here for less than US$75,000 and live here for just over US$1,000 per month.
Best of all, Bucaramanga is part of Colombia, the economic rising star in the Western Hemisphere and one of the world's emerging economic leaders.
Colombia's economy grew an amazing 5.9% in 2011, compared with 1.8% in the United States and 2.7% in Brazil. What's more, foreign investment in Colombia is on track to jump a staggering 20% for 2012, once the final statistics are tallied.
With a booming economy, a strong agricultural sector, and an energy surplus, Colombia provides a powerful and solid underpinning for life in Bucaramanga.
Would you be happy here?
This city is best suited to someone who wants to escape the tourist crowds and the hordes of expats found in many retirement destinations. It's for people who want to blend into the local culture and become part of the community. There's little English spoken.
Bucaramanga is the "real" Colombia, where you could live well on little but you'd be living like a Colombian. If you're willing to leave the gringo trail and the well-worn expat path, then Bucaramanga could be a great choice.
Lee Harrison
Editor's Note: Lee's complete guide to retirement possibilities in Bucaramanga, one of our top picks for 2013, will be featured in the January issue of our Overseas Retirement Letter.
Photo credit: Bucaramanga Photo by Sascha Grabow
Continue Reading: Heritage Foundation Economic Freedom Index