"I'm in Luang Prabang, the ancient capital of Laos on the upper Mekong River," writes intrepid correspondent Paul Terhorst. "French-colonial wooden houses and more than a dozen Buddhist temples line the main streets. A temple on a hill in the town center seems to send blessings to the religious and commercial activity below.
"In colonial times, the French taught the Laos to bake baguettes, and today locals sell them on street corners. They also drink strong Lao coffee mixed with condensed milk, sell silk along the sidewalks, and promote boat trips to waterfalls and caves. Alongside the daily activity, the Mekong River flows slowly, aimlessly.
"What a curious place, almost a stage set these days, with more tourists than locals. The town has historical, controlled status, so, should you ever get a chance to visit, it will look pretty much the same as it does right now, I'd say.
"I'm traveling with friends Roger and Naree. Our first two mornings here we got up at 6 a.m. to watch the monks in their daily rounds. See pictures. Monks, in single-file lines of about seven monks each, pour forth from their temples, rice baskets in hand. This daily ritual allows worshippers to make merit by giving the monks small amounts of sticky rice. Although I saw well over a hundred monks, they were easily outnumbered by tourists, mostly Thai tourists who come to give food alongside the locals. It was cold both mornings, but the monks and the servers were in bare feet, part of the ceremony.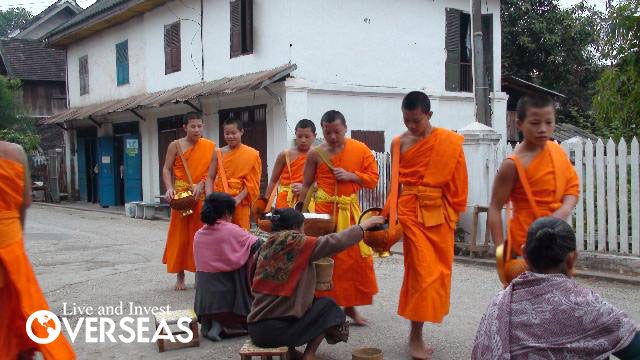 "Local vendors tried to sell me a platter of bananas to serve to the monks. Indeed, a few people gave bananas or other fruit, but most gave sticky rice. Imagine eating a bowl of sticky rice served by hundreds of bare hands. Germs aside, I asked Roger if a diet of sticky rice alone was healthy.
"'These temples have tons of money. They buy or cook additional food to round out the monks' diets. The rice ceremony stems from an ancient tradition, and locals believe in it. But the monks feel free to eat other stuff, too.'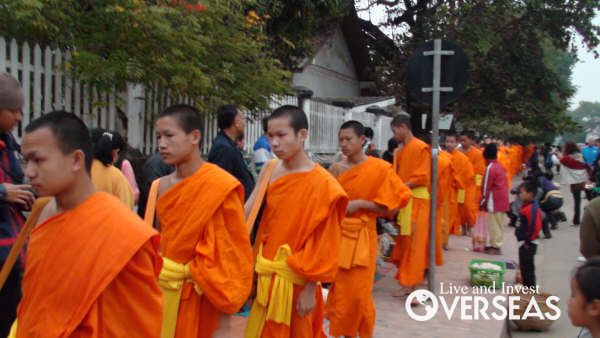 "We went to what used to be the royal palace, a rambling, airy teak structure on a square block in the town center. When the Vietnam War ended and the communists took over in 1975, the king, queen, crown prince, and other royals still lived in this palace. The commies removed the royals to a mine; they were never heard from again. Now the palace is a museum where visitors can get of glimpse of how the royal family lived.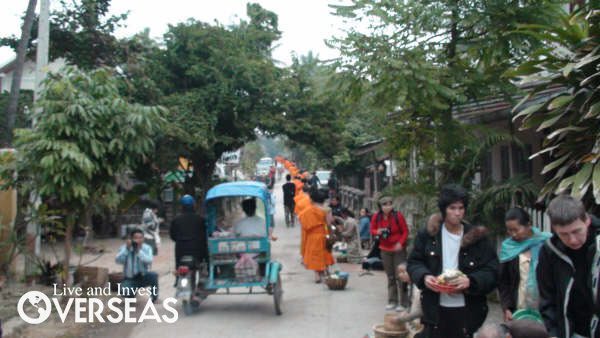 "Luang Prabang lies on the Mekong's left bank. Roger, Naree, and I took a local boat across to the right bank to check out the small village there. We ran into a wedding. I've written already about the courtship rite we saw in a hill-tribe village up north. Evidently, our trip to Laos is coinciding with the season of love; apparently there is little else to do at this time. It is after the rice harvest but before field prep.
"This lowland village wedding started in the groom's family hut, and festivities were well under way when we arrived at 10 a.m. The men were getting liquored up on beer, rather than the more vicious Lao Kao firewater. The groom was dressed in formal costume, which made me think it a society wedding in this tiny village. We were told the groom was 26, the bride 20, both way older than the boys and girls we'd seen in the courtship ball game in the tribal region.
"Naree, Roger, and I sat across the street and ate noodle soup while waiting for something to happen. Women and girls stood quietly on the path outside. Finally, the groom came forth with his family and paraded down the path to the bride's family hut, a hundred meters away. With everyone inside, the bride and groom kneeled at an altar made of flowers while a man in street clothes read from a prepared text. Roger guessed he might be the village headman, reading the legal text to make sure the marriage was official.
"Luang Prabang hosts one of my very favorite French restaurants: L'Elephant. L'Elephant offers a 'chasseur' or 'hunter's' menu, three courses for US$25. It's by far the most expensive restaurant in Luang Prabang. The menu says you can pay in Thai baht, Lao kip, dollars, or euro. The chasseur menu features local products–venison, boar, river fish–prepared with French sauces. The owner is French. The chef is Lao but trained in France. Be sure to try it."
Kathleen Peddicord
"In Thailand, a Buddhist country, there's no Christmas per se," writes correspondent Vicki Terhorst. "The year-end celebrations are geared to adults. In fact, for New Year's, children buy presents for their parents! Then they wait for their day, Children's Day, a modern Thai holiday that gives them 'Christmas' with a Thai spin.
"On the second Saturday in January (that is, this weekend), excited Thai children wake early to open their gifts. No child wants to stay at home too long, though, because the whole country is ready to pamper them and provide them with fun. Family venues like zoos, aquariums, parks, and museums are free or offer reduced fees, and private and public buildings that are usually closed to the public swing open their doors for rare visits.
"The full day of fun also features special attention from the country's most revered figures. Every year on Children's Day, His Majesty the King gives advice, and the Supreme Patriarch offers a moral teaching. The focus is on educating children to be healthy and responsible citizens. So, just as in the West, for this special Christmas-like day, children are encouraged to be good…'He sees you when you're sleeping, he knows when you're awake, he knows when you've been bad or good, so be good for goodness sake!'"