From Belize To Costa Rica—Where Do We Go Next?
"Ready, aim, fire" is a formula tested by probably every expat out there.
Writing this from my new home in Portland, Oregon, I'm getting ready to fire again. Fortunately, my "aim" seems to be getting better as I go.
But wait… who wants to read about a 50-year-old guy that returned to the United States?
Did this total failure run back home with his tail between his legs because he ran out of money, upset all the locals, and got a weird disease?
Nope, nope, and nope.
In fact, I had the time of my life—learning every day, making some rewarding investments, and making new long-term friends from all over the world. I can't wait to do it again—though differently next time, based on my experience.
Here's the quick back story…
Before my 47th birthday, I left my job and life in Michigan. Burned out, bored, and needing a change, I headed for Belize. I'd met my friend Phil Hahn from Carmelita Gardens at a Retire Overseas Conference in Arizona the previous year and, after much over and back, we figured out a way to work together. With a fire under me and my eyes wide open, I got to know the country, the people, and the business. But after six months, I had a burning desire to be on my own. As much as I loved Belize, I couldn't shake my long-time dream of living in Costa Rica…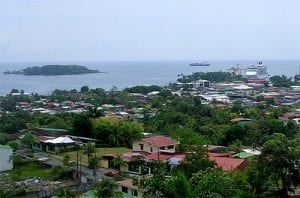 Shortly before this move to Belize, my girlfriend Kristie and I had taken our third trip to Costa Rica where we'd come across our dream spot. It was a two-room hotel in Uvita with a restaurant and attached house—all just 200 yards from one of the best beaches in the Southern Zone. Luckily, the place was still available and the Tico (Costa Rican) owner was ready to deal.
We put a lot of sweat into it—converting it to a five-room guesthouse with good pizza, surfboard rentals, and more. We lived in a beautiful place and made friends from everywhere around the world. We learned the language and customs and were part of the local community—as well as the large expat crowd that played softball every Saturday.
Kristie looked at me one day and said she was tired of washing sheets and cleaning toilets for people. She needed to use her brain again (she's a microbiologist) and go back to the States… but not to our home state. She wanted to continue our adventure. Since she'd followed me on our Central American adventure, I agreed that we'd figure something out. Two phone interviews and a quick trip to the Pacific Northwest later, Portland, Oregon, became our new home.
What about our guesthouse? After lots of offers from our expat friends, our friend Tracey stood out. We've made a long-term deal, and Tracey's running the business, making improvements, and happy to be earning more money than she could with her teaching. Now she can continue living in her personal paradise.
Almost two years on, I'm back working in veterinary sales and Kristie has a great position in a lab. But my mind is looking to our next overseas adventure…
What keeps me going?
We lived overseas. We invested overseas. And we loved it. We are both smarter, our ideals on the world have changed, we don't care about politics as much anymore, and we are better people for having done it. We wouldn't change a thing.
My advice is not to sit on the fence and take years to plan for the perfect place to live overseas… just go there. You can always pick a new spot if you don't like it. We took a chance. Our outcome is that we have a solid investment in a small commercial property in a great spot. We don't want to live in that spot anymore, but it's a place we love to visit.
We also own a small lot in Belize. This is where we will probably end up. We love the resilience and openness of the people and the country itself. It's just under my skin. But we also know we are going to stash some cash and try Europe for a while. Recent coverage by Live and Invest Overseas about Portugal has me eyeing my passport right now. Who knows?
Scot Cave
Comments