At Least He Wasn't Wearing A Speedo
"I'm wearing too many clothes," American expat Mike Sager said as he took the stage in Quito this morning.
"I'm here to take you on a tour of Ecuador's best beaches. I'm wearing way too many clothes for that."
Mike proceeded to take off his button-down shirt. Then he started to unzip his trousers.
"Don't worry. I'm not wearing a Speedo," he assured us.
Mike took off his pants and stood before the crowd in his sleeveless T-shirt and shorts.
"Now I'm ready to go to the beach," he said as everyone in the room laughed. He had our attention.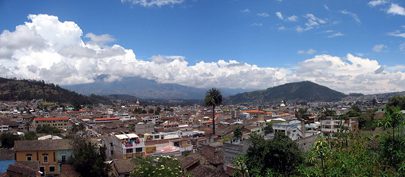 "I've been living in Ecuador for more than eight years," Mike continued, "and I've hosted a lot of other American expats and retirees shopping for a place to live in this country. What I've found is that, for many of them, Ecuador's coast is more rugged and more rustic than they're prepared for. I want to say that from the start. Ecuador is a developing country. It has a long and amazingly beautiful coastline, but the beaches and beach towns along it are, likewise, developing. This isn't Panama or Costa Rica. There are no five-star resorts along this coast.
"That said," Mike continued, "there is one town that I'd recommend if you're looking for minimal culture shock, one spot that is more developed than the others.
"I'm talking about Samborondon, near Guayaquil.
"Now, Guayaquil reminds me of Mississippi. Muddy and flat. Hot and humid. I wouldn't recommend Guayaquil for anyone.
"However, not too far away is, again, what I'd say is one of this country's most beautiful and most comfortable waterfront lifestyle choices. It's not on the ocean but on the river. Still, I'd say that Samborondon is Ecuador's best-kept secret.
"Farther north along the coast is Salinas. This is 'the' vacation beach town in Ecuador. I call it 'Little Miami Without The Crime.' No drive-by shootings here.
"On the other hand, as I said, there are no five-star resorts here either. Well, there's one hotel that calls itself five star, but that's a stretch. Really, all the hotels in Salinas are mom-and-pop kinds of places. Salinas can get crowded, and it's also among the most expensive coastal options in this country at this point.
"Ayunque, on the other hand, 30 minutes north of Salinas, is a sleepy spot. Historically, this has been one of Ecuador's poor man's beaches, where the locals come for getaways and US$2.50 lunches.
"I enjoy Ayunque. I visit when I can for the lobster. But this is another typical Ecuadorean beach–that is, it's rustic, basic.
"Continuing up the coast you come to Mangaralto. This is a community being developed especially for expats and foreign retirees. This is going to be a place to enjoy a more developed standard of living, with infrastructure and amenities. A quarter-acre lot on the beach here is US$100,000.
"Now, that may not seem super cheap, but you have to remember how to process this. First, a quarter-acre beachfront lot is a very big beachfront lot.
"Second, while you may read in some places about US$10,000 beachfront lots in this country, the truth is that those don't really exist anymore. You can still find very cheap beachfront lots, but anything super cheap is going to be remote, off on its own, with no services, no infrastructure, and no amenities. You'd have to provide your own electricity, your own water, and your own sewage system. That's not for everyone. And the costs of bringing in those services yourself will make that cheap lot much less cheap.
"Continuing north along the coast, you come to Montanita. This is Key West from 20 years ago with a bit of New Orleans thrown in, the most eclectic, most bohemian beach spot in this country. Historically, this has been a surfer's beach, but today Montanita is attracting all kinds of folks looking to have a good time. This is a party town. Don't come here for peace and quiet.
"Olon, just next door, is a completely different experience. This is a tranquil 8-mile-long beach perfect for families and swimming.
"Then comes La Entrada, which is the northernmost beach spot along the stretch of this country's coast that I'd recommend. Why? Because this stretch of Ecuador's coast has less humidity and less bugs than farther north, where it's more tropical. Also, the sunsets along this part of the coast are killer.
"On the other hand, this part of the coast has an off season. Six months of the year, roughly June through November, this long stretch of coastline becomes seriously grey. It's overcast and rainy for days, even weeks at a time. Most real estate agents who take you shopping in this part of the country won't admit this. But it's an important thing to understand.
"The season is different down in Playas, closer to Guayaquil. So what I did, when I realized all this," Mike explained to the crowd, "was to buy a second little beach house. Now I spend half the year up north, near Salinas, and half the year down south, and I have year-round sunshine.
"One really interesting thing about this is that, while June through November is the off season in these beach towns in terms of weather, it's the peak season for the locals, because their kids are out of school. June, July, and August, therefore, are great rental months. If you had a beach house in this part of the country, you could rent it out those months while you were elsewhere enjoying the sunshine."
Kathleen Peddicord
Image source: Martin Iturbide, Quito