Cuenca Versus Medellin? Which Is The Better Place to Retire Overseas?
Lief and I, in Cuenca, Ecuador, since last Friday, wandering the streets, seeing the sights, speaking with expats, locals, and tourists, wining, dining, and shopping, have, all along the way, been drawing comparisons between this colonial city and Medellin, Colombia, another colonial city where we've lately spent a lot of time.
Which is the best  "retire-overseas" choice, Cuenca or Medellin? That's a question without an answer, of course. It depends on your circumstances, your budget, and the lifestyle you're after. Here, though, are some thoughts on how these two cities are alike and how they are different, to help you further your thinking.
The weather is very similar, Cuenca to Medellin. These are both mountain cities with what's generally referred to as climates of "eternal spring." How technically accurate that metaphor is depends on your definition of spring-like weather. Frankly, the temperatures in both these cities can get a little too chilly for my liking. On the other hand, I can tell you that, regardless of your interpretation of "spring-like weather," the climate in both Cuenca and Medellin is far gentler than that in Panama City, where Lief and I normally hang our hats these days. Low humidity and cool temperatures by day, with cooler, even, again, chilly temperatures come nightfall–that describes Cuenca and Medellin 365 days a year.
"Where's the control for the heat?" Jackson asked when we checked into our hotel in Cuenca.
"There is no heat," Lief replied, "and there is no air conditioning. You don't really need either one here. Put your sweater on, boy," Lief added to Jack's inquiry, "and you'll be fine."
You'll need to speak at least some Spanish to get by reasonably efficiently in either of these cities. That said, we're noticing many more English-speakers in Cuenca than we remember from the last time we were here (maybe eight or nine years ago). There are also way more expats and foreign retirees here today than back then. Friend Lee Harrison, who was a resident of Cuenca for about a half-dozen years (and who will be hosting our Live and Invest in Ecuador Conference in Quito starting tomorrow), says that, when he and his wife arrived in Cuenca, they joined fewer than 50 other foreign residents. Today, there are thousands. Sunday afternoon, Lief and I wandered along the riverfront, stopping in some of the pubs and cafes you find there. Each was full with folks who looked more or less like we do (that is, not local).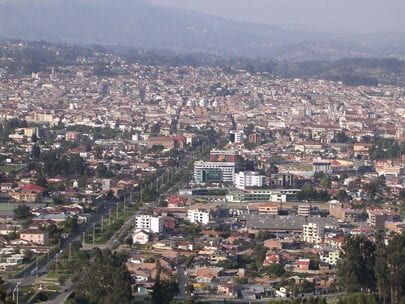 The cost of real estate is a bargain in both these cities but more so in Cuenca, which boasts one of the most affordable property markets you'll find anywhere, for both sales and rentals. Lee will give a complete overview of the property market in Cuenca and other key points across this country at the conference later this week.
Medellin is a sophisticated city with big shopping malls, multi-plex movie theaters, museums, great restaurants, lively nightlife, and excellent infrastructure. Cuenca is a colonial city, more charming than cosmopolitan. ("People eat dinner early in Cuenca," the hotel manager pointed out when checking us in. "Don't expect restaurants to be open past 9 o'clock.") We've seen some modern shopping in Cuenca, but the infrastructure is less developed than in Medellin. This would also be generally true for Ecuador versus Colombia overall.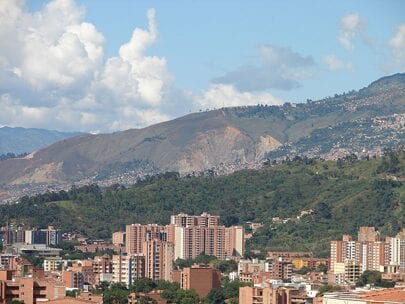 Medellin is more European than Cuenca, which means the people look more European. You'll blend in better in Medellin. Lief and I, both tall Anglos, stand out in Cuenca (and the rest of Ecuador) like people without tattoos stand out on Venice Beach in California.
Cost of living in general? This is where Cuenca is the big winner. "This place really is as cheap as we tell people it is," Lief said the other day when we stopped in a pharmacy to buy a travel make-up mirror (because I'd forgotten to bring one) and all the water the lady behind the counter had in stock (to help combat my sensitivity to the altitude). The mirror was US2.85, and the bottles of water were 35 cents apiece.
We've enjoyed a series of excellent steak meals, both lunch and dinner (the iron in red meat also helps to combat symptoms of altitude sickness, which, I'm happy to say, have been less severe for me this trip so far than during any previous stay to Ecuador), for as little as US$6.50. That's for a big, thick steak wrapped in bacon in a hotel restaurant with excellent service and including side dishes.
The taxi ride from the airport cost but 3 bucks. A gourmet ice cream cone was $1.75. A half-day bus tour (yes, we took a bus tour–it was a good first-day outing, reminding us of the lay of the land without requiring too much exertion too soon at this elevation…and, yes, thanks to my altitude sensitivity, I qualify as high maintenance in this part of the world) was US$5 for Lief and me and US$2.50 for Jackson.
The point is, you really could live in this city of rivers, parks, flowers, and Spanish-colonial churches on very little. More details tomorrow, when I'll be reporting live from the scene of this week's event in Quito.
Kathleen Peddicord
Continue Reading: Best Cities For Retirement In Spain