The Road To Kashgar–China's Last Frontier
Sometimes, just the name of a place can conjure up images of the strange, different, and exotic. Mandalay, Marrakech, Casablanca, Kathmandu…
When I first read about the Silk Road, I heard the name Kashgar. I liked how it rolled off my tongue. Kashgar. I imagined men in turbans sitting on plush pillows passing around the hookah, women in flowing gowns cooking pots of stew, the children tending to the camels resting amid the sand dunes, sounds of Middle-Eastern music bringing life to a desolate land.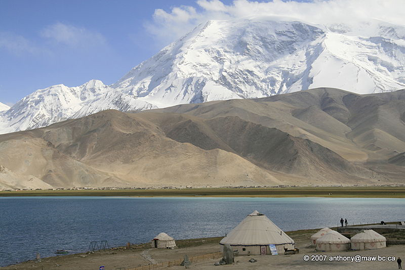 My imagination is a vivid one, but, now that I've had the opportunity to spend several weeks here, I have learned that Kashgar isn't really too far removed from my daydreams. Nomadic herders do tend to their camels in the sand dunes less than 100 miles from the city, many women do wear beautiful jeweled head-scarves and flowing gowns, cooking some of the finest mutton stew available in the world, as men in embroidered Muslim hats cook tasty kebabs and hawk intricately designed hand-woven carpets.
Coming here from Beijing was an experience in its own right. We had arrived in Datong, China, after leaving Mongolia. However, the trains had been booked up weeks in advance, and our only option was to return to Beijing, fly to Urumqi, then take the train due west for another 30 hours. The journey ended up taking us a full three days.
We were about an hour west of Beijing, in the air, when the desert first began. From that point until moments before we arrived in Kashgar on the train, we saw the harshest desert we had ever imagined. Across the Gobi and across the Taklamakan Desert, it's more than five times larger than the Sonora Desert in the United States. It seemed to go on forever. There were sand dunes, huge flat expanses, mountains, and badlands, yet for thousands of miles, we saw barely a bush or tree of any kind. We saw a sandstorm to the south that lasted for a couple of hundred miles. Apparently a small one, as we passed many miles of sand fences (similar to snow fences) that gave us a hint of how severe the weather here can get. In the summer, temperatures above 120 degrees Fahrenheit are common. In the winter, the mercury can dip below zero. As we got much closer to Kashgar, we at last saw signs of water–cotton, grapes, figs, and corn were planted, first in small plots, then in real fields. We started seeing a few trees and soon, rising out of the sand, we entered Kashgar.
This is China's far western frontier, the first city that you would arrive in if you were entering China from Pakistan, Afghanistan, or Kyrgyzstan and one of the major stops along the fabled Silk Road. Kashgar is a cultural melting pot. The old town is filled with Uighurs, Chinese Muslims strongly influenced from Central Asia. Modern Muslim women, dressed in Western wear, walk alongside women in burkas, women in black gowns, women in brightly colored flowing robes, and the men are similarly disparate. Vendors selling sizzling-hot lamb kebabs, bagels, and mutton noodle soup compete for sidewalk space with carpet dealers, haberdashers, tea shops, musical instrument stores, and money changers.
Although Kashgar, China is popular with European tourists traveling the Silk Road, it's far enough off the tourist trail so that we feel quite conspicuous in our Western clothing. In Kashgar, our shoulders are covered and shorts are off-limits. Fortunately, the profound heat of mid-summer has passed, and the temperatures now are tolerable.
The Id Kah Mosque is in the center of Old Town in the hub of Islamic Kashgar. The grounds surrounding the mosque are expansive and kept perfectly clean. There are a few tourists here, and vendors set up to accommodate them. To one side of the mosque, there are horses, donkeys, and camels, with photographers happy to take your picture alongside them for a few Chinese yuan.
People seem to be remarkably friendly here, which is good because we know nothing of their language and most of them know little or none of ours (other than a few children who are happy to boisterously shout "Hello!" when they see us). Fortunately, most people understand Mandarin, so that's a small help for us.
We went to a wonderful little Uighur restaurant, and I asked for an English menu, which seemed to put everyone into a state of near-panic. At last, we reverted to a phrasebook that we were given at our hotel and managed to place our order–but not before every person working at this busy place had crowded around our table to hear us speak. They all nodded approvingly when we managed finally to successfully communicate with them. We learned that the thumbs-up sign is understood and very appreciated in this city.
The Uighur people have their own unique style of dress and don't even speak Chinese except as second language. They even have their own unofficial time zone, two hours earlier than Beijing time, constantly confusing, as "Beijing time" and local time are used interchangeably.
The spectacular Karakoram Pass, separating China from Pakistan, lies directly west of Kashgar and is said to be the highest border crossing in the world. The summit of the pass, at 15,840 feet, is certainly breathtaking. Barely visible from the city, you can see the foothills of the mountains that rise to altitudes above 25,000 feet. We went about halfway up this pass to Karakul Lake, past sand dunes as tall as mountains, active glaciers, and stunning glacial canyons.
Far from the China populated by the Han, it's a part of this country that few foreigners see. It's a long way to travel, but for intrepid, the journey to Kashgar is well worth the effort.
Wendy Justice
Continue Reading: Center For Medicare Portability's Efforts To Help Americans Use Medicare Coverage Overseas
Image source: Anthony Maw

Comments