Who Moved Our Hotel?
"Vicki and I are in remote Tonghai, China," writes Intrepid Correspondent Paul Terhorst, "a two-hour bus trip south of Kunming in the Yunnan Province.
"Talk about complicated travel. We arrived in Tonghai with two pages from a Lonely Planet edition of 10 years ago. That's it. China can change more in 10 days than other countries change in 10 years.
"We quickly discovered the bus station had moved and that the hotel we wanted, near the bus station, had disappeared.
"We only speak pantomime-and-smile Chinese. We were stuck. Signs were all in Chinese, people around us spoke only Chinese. Our map was out of date, the cab stand was empty, hotels were far off–if, in fact, there were any hotels.
"What to do? And what were we doing in Tonghai in the first place?
"I'll answer the second question first.
"Tonghai offers hill tribe and Han culture, natural beauty (lakes, mountains, pristine vegetable farms), old architecture, and lively markets. In addition Tonghai has two tourist highlights.
"First, a nearby Mongol village claims to date back to the reign of Kublai Khan. Village women still wear traditional Mongol dress and live with their families in mud homes similar to those the great Khan must have seen over 700 years ago. I took a picture for you.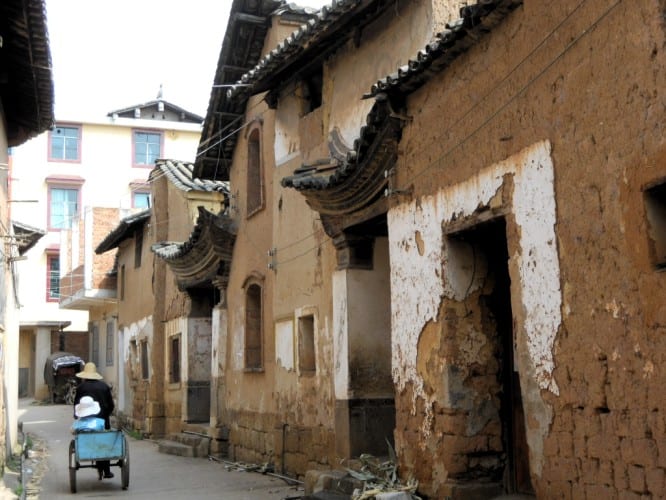 "Tonghai's second tourist setting, Xiushan Park, is a lush holy mountain park overlooking the town center. Some 2,000 years ago locals started building temples up there. Most of the temples were restored over the past 30 years. Several miles of trails wind through the forest; a Buddhist or Tao temple awaits after every turn. Locals climb the steep paths to worship. Besides the temples the forest offers dozens of species of birds.
"Finally, we're here in Tonghai because we need to return to nearby Kunming to meet up with French friends from Paris. We arrived in China a week ahead of our friends. Tonghai looked like a unique, doable spot to pass the interim.
"Doable, that is, until we lost our orientation at the bus station.
"The bus driver must have noticed us looking around in a daze. He came over to give us a hand. I said 'Tonghai' and pointed in different directions. He picked up on what I wanted. He motioned for us to go out the gate and turn left.
"That was a start; at least we knew generally how to get to town.
"Once out the gate a cab came by. But he'd speak Chinese, what would we tell him? We decided to walk toward town and hope a hotel would appear.
"We walked for two blocks with our lightweight packs. Nothing.
"Then Vicki had an idea: Show the Lonely Planet pages to someone local. Some of the street names were in Chinese characters. We doubted any of the hotels still existed, but maybe if we found the general area other hotels would be nearby.
"Vicki entered a high-end bag shop and showed the Chinese characters to the woman there. The woman pointed which way to go and we were on our way. After every block or two we asked again and again, and we were pointed roughly in the same direction. Keep walking. Wonderful.
"These locals could read, and, even more, they understood what we wanted. They were able and willing to point. I found I could work with the folks in this town.
"After two or three blocks, Vicki said, 'That looks like a hotel.' I took a photo for you.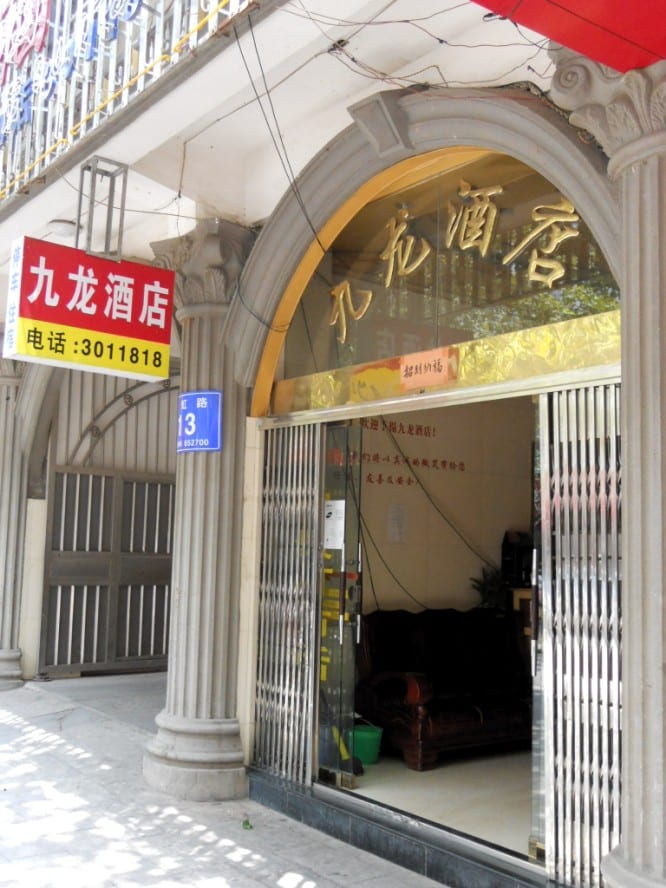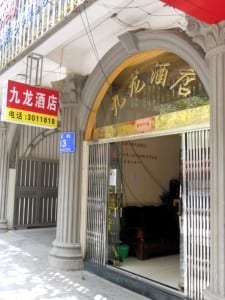 "The characters on the door were all Chinese. But there was a lobby, stairs going up, and a reception desk with someone behind it. We entered and were offered a double room with private bath, firm beds, and, much to our surprise, a computer with broadband connection. We took it.
"We dropped our bags in the room and went out to eat. We were hungry after our walk, so we entered a nearby restaurant and pointed at pictures of food. Vicki, a vegetarian, noticed a woman making dumplings with what looked like spinach. She ordered some. The noodles I'd pointed to turned out to be tossed in a peanut sauce. What a find, and all vegetarian. We ordered a second helping of the dumplings. Luck is our friend.
"We returned to our hotel, got cleaned up after our journey, and headed out to look around. Among other things we wanted to find out what it might be like to live in this part of China, and whether anyone speaks English.
"More later…"
Kathleen Peddicord