For some time, Kathleen, the kids, and I have day-dreamed about spending more time at Los Islotes, the former cattle ranch on the western Pacific coast of Panama's Azuero Peninsula that we've been developing.
Watching the sunset over the ocean from the terrace of the house we are building… Kaitlin riding horses on the beach… Jack scrambling up and down the hills in an ATV… someday, that'll be great…
That someday is closing in.
Over the last couple of months, our building contractor has made good progress on our Founder's Lodge. We'll be spending regular time at Los Islotes as soon as the lodge is completed, including holidays with our extended family.
Building our Founder's Lodge has reminded us that constructing a custom home to North American standards is not an easy endeavor in this part of the world. Things don't always go as planned, can take twice as long as you expect, and, at times, can cost twice as much. (The good news in the current case is that, while the building of our Founder's Lodge is taking longer than we'd hoped, it is not costing twice as much as expected!)
Here's a recent photo of the construction of our Founder's Lodge: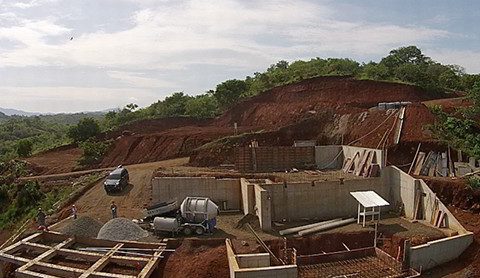 Kathleen and I have managed building projects like this many times in different places around the world. However, we understand that not everyone is up for building his or her own home in a foreign country, and, indeed, many readers who have expressed interest in Los Islotes have asked for a more turnkey option.
After months of planning and back and forth with potential builders, I'm pleased to be able to announce our plan for Los Islotes' first ready-built houses.
These two-bedroom, two-bath houses will be located in the Mango Village section of the community. They have been designed for the retiree who wants a no-hassle option for becoming part of Los Islotes but is not up for buying a lot and building a custom house. These houses start at US$214,000, including the lot. As an owner, you have full access to all amenities, including Los Islotes' two beaches.
We've designed two casa models, the Cébaco and the Coiba. Both will be built in the traditional Spanish-colonial style with arched doorways and windows, whitewashed exterior walls, and red clay-tiled roofs.
The Cébaco model is 221 square meters (2,380 square feet) including 104 square meters (1,120 square feet) of outdoor space. This model has two bedrooms, two full bathrooms, and a large kitchen with a combined living and dining area. Additionally, it features a courtyard and two large terrace areas.
Here is the layout of the Cébaco model: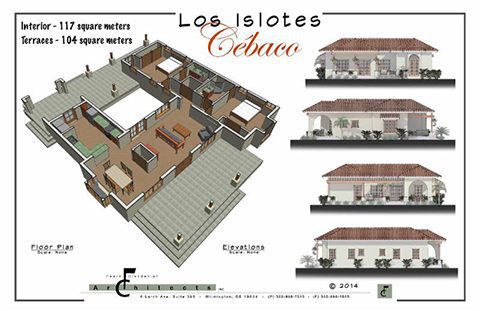 The Coiba model is 186 square meters (2,000 square feet) including 66 square meters (710 square feet) of outdoor space. It has two bedrooms, two full bathrooms, and a large kitchen with a combined living and dining area. The Coiba features a large terrace in the rear area that is easily accessible from the dining area.
Here is the layout of the Coiba model: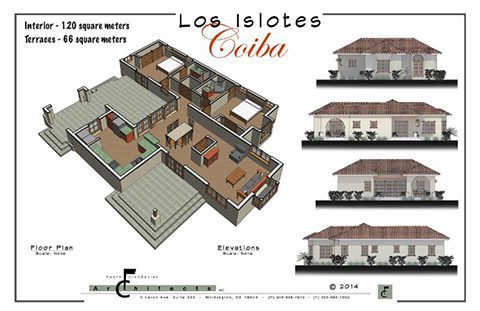 The Cébaco and the Coiba have been designed in what we believe are ideal sizes for a retiree looking for a home that is big enough to be comfortable but not so big as to require extensive care or maintenance. These casas are also perfect for the second-home buyer looking for an inexpensive place to hang out at the beach now and then that can be rented out when the owner is elsewhere.
Again, this is the perfect solution for anyone interested in Los Islotes but not up for building a house himself. You can avoid having to hire an architect, reviewing construction plans, finding a builder, managing and supervising contractors to make sure they finish on time and in budget, and dealing with building permits and licenses.
Los Islotes will manage all aspects of getting your home built. We've already done a lot of the heavy lifting. We've got the building permits and licenses. We've got construction plans. We've secured a builder. And we've got a team in place on the ground to manage and supervise the work. All you have to do is choose your lot and your model.
Additionally, the Los Islotes casas present a rental income opportunity in the short term. Several lot owners are planning to build custom homes on their lots and will need places to stay while supervising construction.
The builder we're working with for these new casas intends to complete construction within six months. Depending on when the work begins, you could be earning rental income next year.
A Los Islotes casa is ideal if you're looking for a vacation home near the beach the entire family can enjoy that also positions you to benefit from the biggest path-of-progress play in Panama today. The current administration has targeted this country's Azuero Sunset Coast for development. President Varela and his entire cabinet came out and spent a day with us in the region earlier this year.
This coast is the place to be in this country moving into 2016 and beyond.
Our plan right now is to build five of these new casas. Given the level of interest over the past couple of months, we expect these to be sold in short order.
We're offering a simple and straightforward payment schedule based on construction progress.
If you've been watching from the sidelines, waiting for a hassle-free way to become part of the Los Islotes community, I strongly urge you to get in touch right now. You can reserve your casa with a fully refundable deposit.
Once you have reserved your casa, you'll have two weeks to review everything with our sales consultants. At that time, you can choose to proceed with the casa purchase… or not. If you decide for some reason not to move forward, we'll refund your deposit and move on to the next person on the waiting list.
For more information, get in touch here.
Lief Simon
Continue Reading: Panapass And Farmers Markets In Panama