It´s hard to consider the best place to retire in Thailand. Considering its diverse culture and geography, Thailand is one of
the best places to retire in Asia.
Thousands of expats from across the globe settle here each year. The diverse geography ranges from cool, misty mountains, to white-sand beaches. You can live in bustling, modern, super-cities or enjoy the slow pace of life in a small town.
The best places to retire in Thailand are all well-known to foreigners. You can be sure that wherever you choose to move to, there will already be a few expats there to welcome you.
Chiang Mai – Does Its Spiritual Community Make It The Best Place To Retire In Thailand?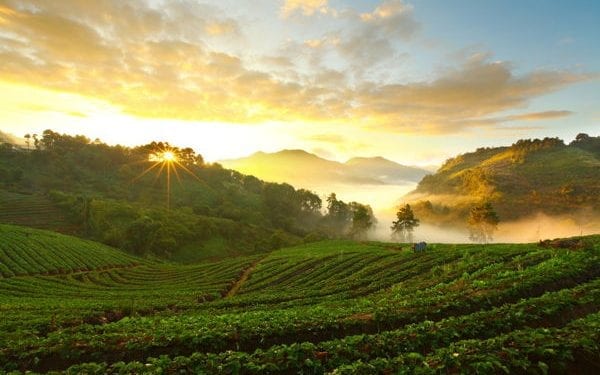 English Spoken
Chiang Mai is a popular tourist destination. It is definitely a strong candidate for the best place to retire in Thailand. Most vendors will speak enough English for you to be able to buy from them. There is a big expat population here and you can find plenty of people to talk in English.
The younger generations are learning English.
However
, the older generations don't speak much. Bear in mind that you will need to speak very
clearly
to
be understood
. If you have a strong regional accent, even English speaking Thai's may struggle to understand you.
Health Care
Thailand is home to world-class health care at very cheap prices. Chiang Mai has a few very good hospitals that can take care of most medical conditions. McCormick Hospital is
widely
regarded as the best in Chiang Mai. An added bonus is that the staff are fluent in English.
For urgent treatment, we recommend Sriphat Medical Center.
This hospital has ties to Chiang Mai University and offers the quickest appointment time in the city
. There is a 24-hour ambulance service and you can expect rapid treatment.
Real Estate
The most popular place to buy real estate in Chiang Mai is Nimmanhaemin. Culture meets modern life here in Chiang Mai's trendiest neighborhood.
You can find lots of the best places to eat and drink here. The nightlife is another major attraction. Nimmanhaemin is a popular location with tourists as well as expats. That said, an apartment here comes with rental potential.
The other popular place to live is The Old City. Although this is the tourist center of Chiang Mai there are still quiet areas around. The prices are also
surprisingly
low.
Other Info
Chiang Mai benefits from easy flights to the U.S… Peak months are June, July, December and January. prices to New York are over US$1000, but the rest of the year you can find flights for around US$500. You can expect to pay another US$120 on average, for flights to Los Angeles.
Chiang Mai is the spiritual center of Thailand. There are more than 200 temples here, drawing worshippers from across Asia. The strong sense of spirituality here might be a great reason to consider Chiang Mai as the best place to retire in Thailand. Chiang Mai is also one of the best places to enjoy street food in Thailand. The Sunday night market is especially impressive.
Hua Hin – Language Friendliness Can Make Hua Hin The Best Place To Retire In Thailand.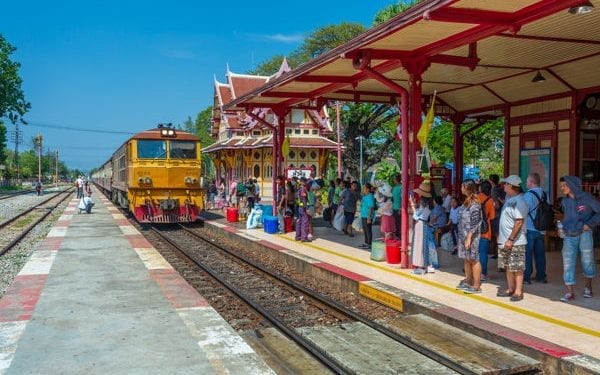 English Spoken
There is more English spoken in Hua Hin than anywhere else in Thailand. Hua Hin was one of the earliest tourist destinations in Thailand. That is to say, it had a lot of exposure to English-speaking culture. Furthermore, you can find English language radio stations and cable TV. Being able to speak at least a little Thai will go a long way. In short, you cannot rely on everyone speaking English here.
The Learning Centre: 083 801 1335
Thai English Center (TEC): 083 707 9898
Health Care
The health care available in Hua Hin is
perfectly
adequate. Hospitals are clean, modern, and very inexpensive. San Paulo hospital the one most recommended by expats as many of the staff here speak English.
The other major hospital is Bangkok Hospital, known as BKK. English is less predominant here. For instance, expats have reported concerns at the standard of care because of this.
Expat forums reveal a widespread opinion of doctors more concerned in making money than caring for their patients
.
Real Estate
Lots of expats who come to Hua Hin do so to live on the beach. But as with most places, there is a premium to pay for beachfront living. If you had arrived 15 years ago, you could find a bargain.
Subsequently
, prices have risen
sharply
since then. Because of its affordability, back then it would have been considered the best place to retire in Thailand.
Central Hua Hin is even more expensive. While in West Hua Hin, you will find the best valued real estate. This area is being
rapidly
developed thanks to the low cost of land. There isn't much infrastructure there at the moment, although it is starting to develop. An investment in western Hua Hin is definitely one for the future.
Other Info
Originally a fishing village, Hua Hin is the oldest tourist resort in Thailand. Its popularity comes courtesy of the Thai royal family. They loved coming here for hunting vacations. It is one of the most architecturally interesting places in Thailand. Notably, the railway station and palaces are beautiful examples of this.
Pai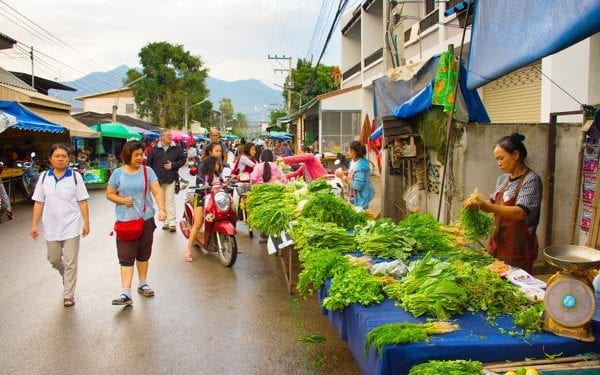 English Spoken
In Pai, the amount of English spoken is less than in other major Thai cities. There is a big expat population to spend time with. For this reason, you will be able to seek out English-speaking conversation. Professionals and people working in tourist areas are also likely to speak English. Put an ad online for some lessons to at least learn the basics.
Health Care
Pai is not somewhere you should go if you have an existing medical condition. There is a small hospital is suitable for everyday ailments though. The Pai Hospital is open 24 hours a day and provides a decent standard of care. English is not widely spoken by the staff here.
Real Estate
A small mountain town people come here to enjoy a slower pace of life. You have the option of living in the town, of buying a house on the outskirts. Indeed, you can really appreciate nature here.
Other Info
Pai is an artistic town. In fact, there are opportunities to integrate with the local artistic community. The surrounding countryside is spectacular, with canyons, waterfalls and hot springs to enjoy. Pai is definitely somewhere to go if you love the great outdoors.
Phuket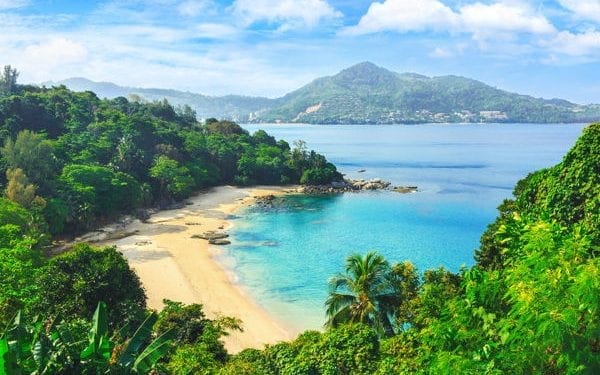 English Spoken
Like most places in Thailand, you can count on the expat community to provide you with opportunities to socialize in English. Moreover, the locals in the tourist areas will speak a little. But as mentioned before, we suggest making an effort to learn some Thai. Patong Language School is the best place to learn. Some might not say it is not the best place to retire in Thailand due to its party scene. That said, we recommend thinking twice before deciding to retire here.
Health Care
Phuket has some great health care options. Thus, expats usually choose from the three hospitals. There are also four government hospitals providing a high level of care. Besides, there are two international hospitals in Phuket. The Bangkok Hospital and the Phuket International Hospital. You can find plenty of private clinics and pharmacies able to provide you with prescriptions and other meds.
Real Estate
Firstly, Phuket can be a party town and most retirees choose not to live close to Patong. Here is where most of Phuket's nightlife happens. That being said, while there is plenty to do and see, it's not what most people want for their daily life. The Chalong area is popular with expats. It's a little quieter, has great beaches, and lots to do. Thailand Property has all the latest real estate deals.
Other Info
Phuket is the biggest island in Thailand and a lot of the life here revolves around the pristine, white-sand beaches. An island here is named James Bond Island. Some of the shooting the Bond movie, The Man With The Golden Gun was shot here.
Oliver Lovett