Seco, Salsa, Skyrockets, And Scantily Clad Women—Carnaval In Panama
It's that time of the year again in Panama…
Love it or hate it, carnaval—the nearly weeklong party that brings working Panama to a standstill and fills the streets of nearly every town and city with throngs of drunken, dancing revelers—is upon us yet again, climaxing as you read this.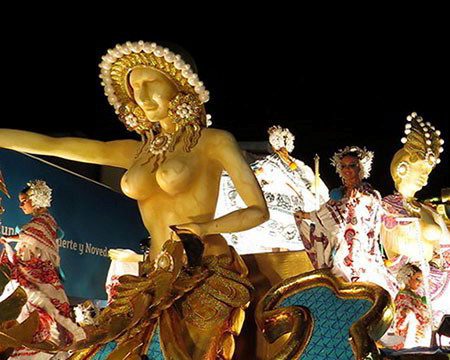 Beginning last Friday evening and carrying on through Ash Wednesday tomorrow, Panama celebrates what is locally known as los carnavales (we gringos know it better as Mardi Gras).
While the revelry officially lasts only four days, pretty much everyone in the country is on vacation this entire week. Since last Friday, they've all been all out, all day and all night, an entire country on Spring Break. As I mentioned, the blowout reaches its climax today and tonight. Starting tomorrow, the focus is on recovery.
The festivities are not unlike those in other parts of the world where Catholic-rooted traditions have taken hold. There are the requisite parades, fireworks, concerts, queen pageants, and scantily clad women, but Panama's celebrations have some unique facets.
Priority among them is the roll-out of the so-called culecos, huge tractor trailers carrying cisterns full of water and kitted out with fire hoses and men who know how to use them. At regular intervals, these men take aim at anything moving nearby (which is nearly everything) and thoroughly drench the thronging crowds.
In addition to the torrents of the culecos, be on the lookout for young men drifting through the crowds with buckets of water, squirt guns, and water balloons dousing anyone and everyone they can. No one is safe. If you intend to take part in the street festivities, you can count on anything in your possession getting soaking wet. Carry vulnerable items such as cellphones, cameras, and wallets in a heavy-duty Ziploc bag. And, as always in a situation like this, be aware of pickpockets looking to take advantage of the distractions and separate party-goers from their valuables.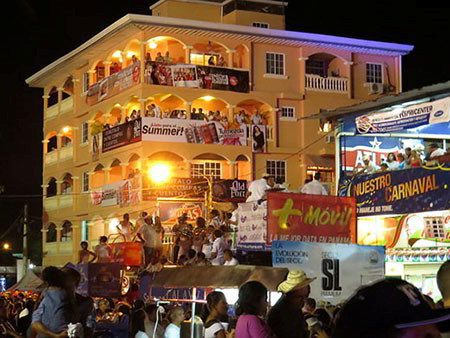 Nearly every town in the country does something for los carnavales, but the biggest and most raucous bashes are in the interior of the country in and around the Azuero peninsula. The most notorious party takes place in the normally sleepy town of Las Tablas, about 130 miles west of Panama City in Los Santos Province. Panamanian carnaval lore claims that Las Tablas is the site of the second-biggest pre-Lenten party on the planet behind only Rio de Janeiro. How one measures such a superlative is beyond me, but, no question, the goings-on in Las Tablas are epic by Panama standards.
Regardless of its status on the global stage, there is no question that the Las Tablas carnaval dominates Panama's celebrations in terms of exuberance. Hotels are booked months ahead of time, and getting to or from the village throughout the week is a colossal headache.
The Las Tablas carnaval is most famous for the longstanding rivalry between the so-called Upper Street and Lower Street neighborhoods (Calle Arriba versus Calle Abajo). Every year, the two sides square off in a contest to see who can crown the most spectacular queen, who can create the most elaborate floats, and who can throw the wildest party, complete with fireworks, food stands, concerts, loud music, and, of course, lots of beer and seco. This year has seen a third sector assert itself in the competition: Calle Central.
The party in Panama City began last Friday evening with the crowning of a carnaval queen, along with a coterie of attendants, to reign over the daily parades and other official activities to follow. Since Friday afternoon, police have had roadblocks set up along the four-lane Avenida Balboa, and the adjacent bayside Cinta Costera, where most of the parades and partying are taking place, has been closed to vehicles these past four days.
The street party will carry on through the wee hours tonight. The scene on the Cinta Costera tomorrow morning will be something akin to Times Square on Jan. 1 before the clean-up crews arrive on the scene.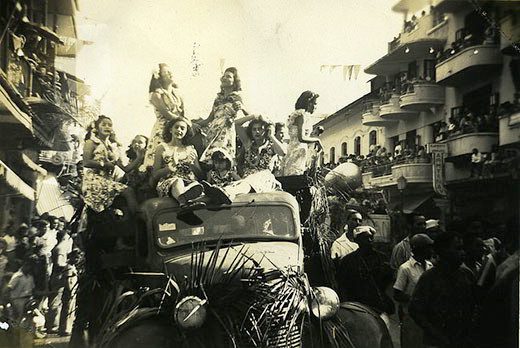 We here in the Panama City offices of Live and Invest Overseas are bracing ourselves for tonight's final throw-down before the fasting of Lent begins tomorrow. We've braved the street parties in years past and have developed a healthy respect for the goings-on, which, this year, we're happy to sit out.
If you're here in Panama partaking in the partying, have fun and be safe!
Peg Fairbairn
For In Focus: Panama
P.S. Below is a photo from our recent Access Panama Property Tour, showing some of our group assembled for sunset on the beach just outside Panama City.
A handful of lucky In Focus: Panama readers got a chance to see firsthand why everyone is talking about Panama. If you missed this event, don't fret. We have scheduled additional Access Panama tours for March, April, May, and June and are taking reservations now. We strictly limit the number of participants, and the first tour sold out quickly, so you should reserve your place now. Go here for more information.