Santa Claus Dresses And Tree-Shaped Tinsel—Welcome To Christmas In Phnom Penh
Our hotel has a Christmas tree in the lobby. A dress shop nearby sells girl's Santa Claus and Christmas dresses. Neil's 24-hour Mini Mart welcomes customers with colored, tree-shaped tinsel on the entry door. The corner restaurant, on what I call tourist road central, promotes a holiday turkey dinner.
Welcome to Christmas in Phnom Penh, Cambodia.
We flew over here from Bangkok for a short break this season. Chinese tour groups thronged Bangkok's low-cost airport. I figure Chinese tourists paid about US$25 to fly home on Air Asia, a low-cost carrier. Plus another US$25 for exit tax… and then hundreds of dollars for excess luggage.
I wonder what's in those huge suitcases. Christmas or New Year's presents, perhaps?
Bangkok malls, decked out with dazzling decorations, play Christmas music nonstop this time of year. We've become accustomed to hearing "Frosty the Snowman" in our steamy tropical climate. Expats and tourists from Europe and the Americas stimulate the Christmas sales hype.
Westerners began showing up in Thailand in large numbers back in the 1960s. The American military in those days used Thailand as a base to support the Vietnam War next door. Now tens of thousands of Westerners live year-round in Thailand.
Our Thai friends think of Dec. 25, a Saturday this year, as just another day. They'll learn of their year-end bonuses before Christmas, but they'll have to wait to collect until January. They're looking at empty pockets during the Christmas shopping season.
Here in Cambodia, as in Thailand, some 95% of the population is Buddhist. Local Buddhists enjoy Christmas lights, music, colors, and costumes. They sometimes leave Christmas decorations up throughout the year. Christmas connotes festive fun all over Southeast Asia.
Cambodia opened to Westerners only about 10 or 11 years ago, and many expats have decided to settle here. We're surprised at the numbers. Those expats and a few Catholic locals might buy candy or other treats for kids. They might try the Christmas menu at the corner restaurant—US$12 for a turkey dinner, add a wedge of pie for four bucks more. The place serves up turkey now and every day until Christmas.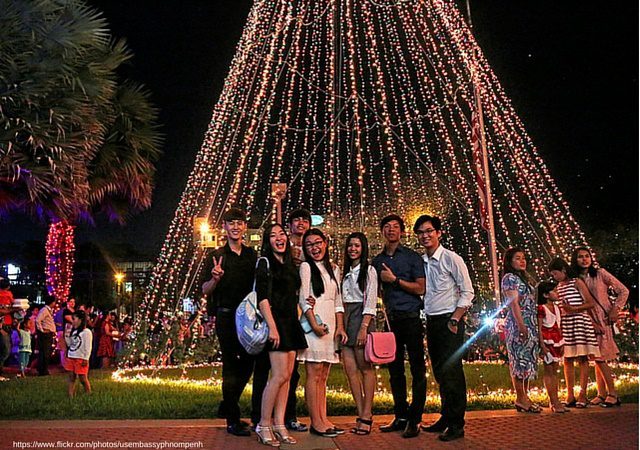 The corner restaurant may be the only option. My Christmas inquiries at other places along tourist road central produced looks of utter incomprehension.
On the big day I figure locals will simply go about their business.
For our part Vicki and I will fly back to Thailand next week. We'll spend our far-from-snowy Christmas in hot, humid Bangkok. I remember when we moved to Argentina back in 1981. December marks the beginning of summer down there, and we experienced our first hot, humid Christmas in Buenos Aires. I recall we needed a full second or two to adjust. We loved it.
I'm sure we'll relish our hot Christmas this year, too. Cold champagne replaces Tom and Jerry's, and the celebration goes on.
Merry start of the Christmas season to all Live and Invest Overseas readers, in whatever climate you find yourself.
Paul Terhorst