Over the past several summers, Lief and I have been leading our children on a do-it-ourselves Grand Tour in series.
Each August we target a region of Europe for closer inspection. This year: Scandinavia and the Baltic States.
It wasn't my choice. Lief was keen to visit Northern Europe where none of us has spent time before. I agreed reluctantly. I couldn't say why exactly, but I've never felt the urge to get to know the Baltic better. Now I feel I owe the place and its population an apology. Our sampler excursion over the past two weeks has piqued my interest. You could even say I'm a fan.
I enjoy countries with long, complicated histories, and every country in this zone qualifies.
Copenhagen, where we kicked off this summer's grand touring, was founded in the year 1000. The fishing village, originally known as Havn, prospered thanks to the shoals of herring just offshore. In fact, little Havn so flourished that Hanseatic League members considered it a threat. They attacked and attacked until, finally, they succeeded in destroying the city's castle. That's one way to deal with unwanted competition.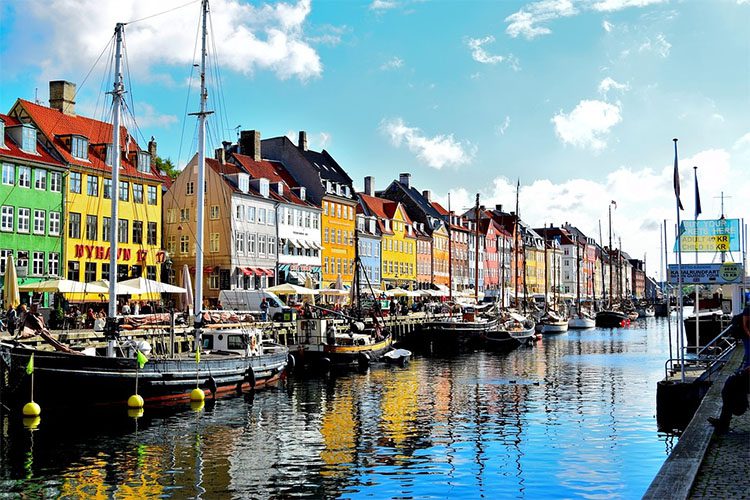 Years ago a friend in Belize made a point that has stuck with me. "A country," he told me, "never escapes its origins. The United States was founded by puritans. Belize was founded by pirates."
And Copenhagen was founded by Vikings. Danes today are Vikings still, hale and hearty, tall and blond.
Danes today are also considered the happiest people on earth enjoying, according to some surveys, the best quality of life on the planet. Maybe it's all the stimulants. These merry folks imbibe more cups of coffee and more pints of beer per capita per year than any other population. In the 1700s, part of a Danish sailor's compensation was 10 liters of beer a day.
Whatever the explanation for their decidedly cheery dispositions, our limited experience residing among them would corroborate the position. These are happy people, quick with a smile and always up for a chat.
They have a word for it: hygge… which means taking real pleasure from ordinary, everyday things, enjoying life's simple delights… friends, family, graciousness, hospitality… coffee, beer, wine…
All these attractive descendants of the Norse gods get around their compact city on bicycles. Starting in 1910, Copenhagen has been carving out bike lanes. Today more than 50% of Copenhageners commute to school and work by bike. They do this every day of the year, regardless of the weather. Remember, this is Viking stock.
The other best way to get around Copenhagen is on your own two feet. Be on the watch, though, for the bicycles. They are everywhere—in the streets, on the sidewalks, in the squares, and parked in every possible space—and they have the right-of-way.
No one seems to lock their bikes. We'd see huge masses of them lined up and passers-by stopping to hop on one and ride off. Is it some kind of leave-one, take-one, bicycles-for-all system?
Over the past decade, Copenhagen has built a global reputation for its architecture, art, and museums. However, the city's most iconic attraction is less cultural. Smack in the heart of the city is Tivoli Gardens, a pre-Disney Disney where locals come regularly to pass Friday evenings and Sunday afternoons.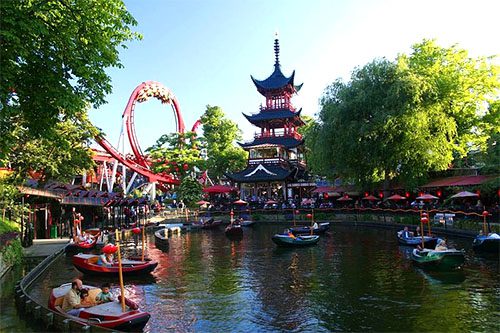 In fact, Walt visited Tivoli when researching ideas for his park; "Now this is what an amusement place should be!" he is reported to have remarked.
You walk past the brick façade and turnstile gates of Tivoli coming and going through the center of town and so are continually reminded of the simple pleasures and beautiful gardens within.
Tivoli is Copenhageners' private playground, and this has always been the intention. Georg Carstensen persuaded Denmark's King Christian VIII to grant him a charter to build the park by suggesting, "When people are amusing themselves, they do not think about politics." Danish bread and circuses.
It's effective still. Wandering these garden paths, stopping for a cold glass of prosecco served by a lighthearted Dane, the politics of no country seem to matter much.
All this contentment comes at a cost. Everything is taxed and surcharged and surtaxed. The result is a cost of living that exceeds that of Paris.
"Nice as it is here," Lief finally said, "we need to get out of this town."
And so we did.
Next stop: Tallinn.
Kathleen Peddicord