James Joyce's "The Dead" is often praised as the greatest Irish short story ever written. Though I first read the story some years ago, I've never heard it talked about in general society.
So, I was recently surprised to find its entry on a list of Irish Christmas traditions. According to a national radio station, a "reading of 'The Dead'" is a top festive pursuit among Irish households.
I need to track down this subset of society that quietly celebrates the life of the fictional Gabriel Conroy every year (seriously, "The Dead" is an ideal festive read).
Meantime, here are some more widely practiced Christmas traditions on the Emerald Isle…
"The Late Late Toy Show"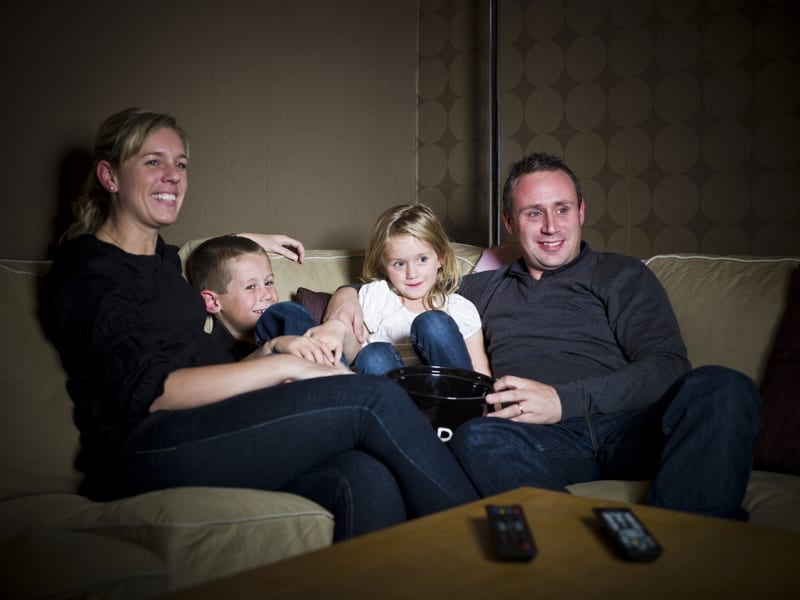 Broadcast on the last Friday of November, "The Late Late Toy Show" has been running since 1975 and is for many the official launch of the holiday season in Ireland.
It's a big family night where children are allowed to stay up beyond midnight and enjoy some treats by the fire. New pajamas may be bought for the occasion. It's a chance to see some of the latest toy and book releases… enjoy some musical performances… and, more recently, raise money for children's charities.
The Local Pub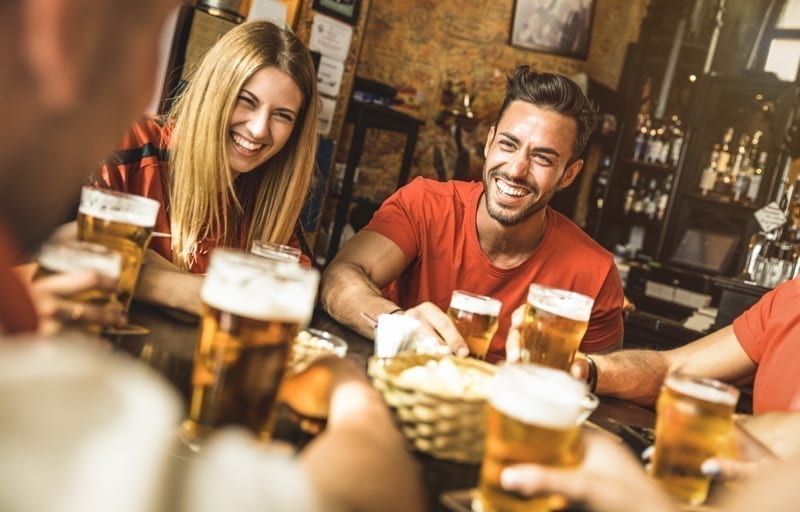 For friends and family you may not have seen all year, Christmas week is a chance to catch up over a drink in the local pub.
Christmas Day is the one day in Ireland when pubs are not permitted to open. Hence Christmas Eve and St. Stephen's Day are two of the busiest nights in an Irish pub.
This year, of course, things are different. By government guidelines, only pubs serving food may seat customers indoors. "Wet pubs" (those that don't serve food) can only operate a take-away service. For those gathering outside, Guinness may be swapped for mulled wine…
Christmas Day Swim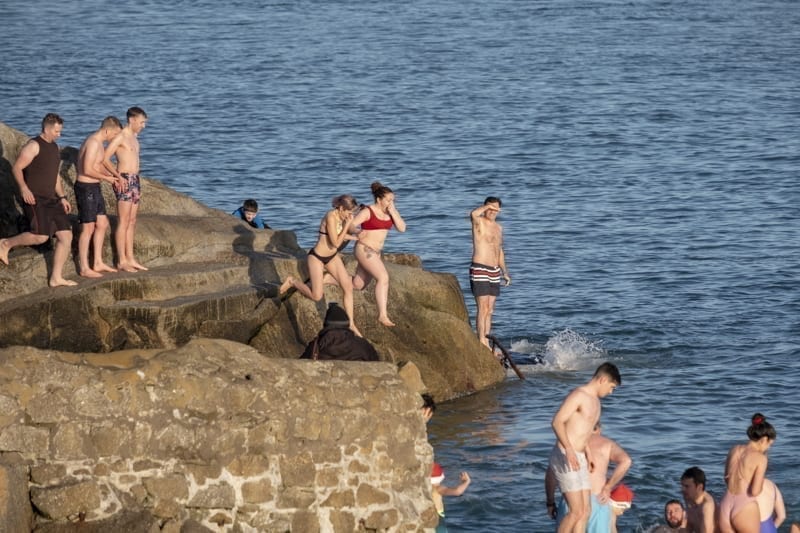 On Christmas morning, bathers of all ages gather to immerse themselves in waters no warmer than 50 degrees Fahrenheit. This is not about distance or time. For most, it's a quick dunk (or a splash of the arms and legs), before heading back to shore to dry off, wrap up, and enjoy a hot drink.
Wetsuits have appeared on the scene in recent years, mostly for the kids, but it remains an unspoken rule among the hardy adults taking part: Bathing suits only.
Many swimming clubs use the event to raise money for a local charity. One of the biggest events takes place at "The 40 Foot" in Sandycove, County Dublin.
Pantomime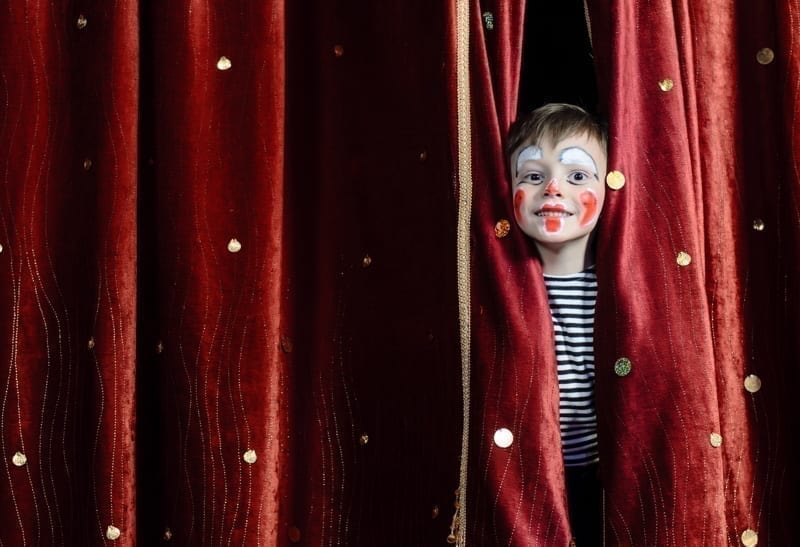 Adopted from our British neighbors, "the panto" is now a staple of Irish Christmas, running from the beginning of December into the first week of January. In theaters all over the country, audiences pile in to watch musical comedies of popular fairy-tales like Cinderella, Snow White, and Jack and the Beanstalk… with a dash of modern pop culture.
The country's biggest pantomime is in Dublin's Gaiety Theater. This year, the show carries on via livestream.
"The Wran"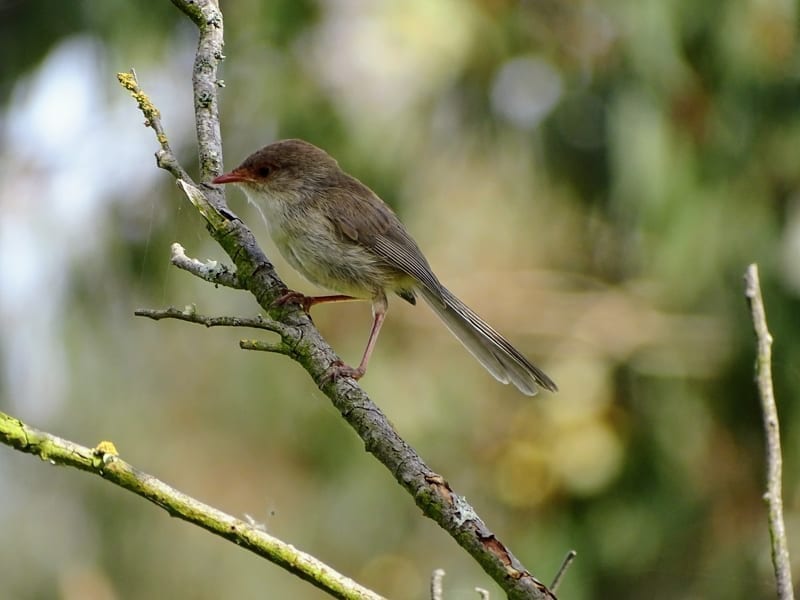 Dec. 26, officially St. Stephen's Day in Ireland, is traditionally known as Wren's Day, or, more colloquially, "The Wran."
Dating from the 1800s, early celebrants hunted a real wren, killed it, and tied it to a holly branch or pole to parade around town.
From door to door these "wran boys" went, wren on display, begging for money to bury what was then believed to be an evil bird. The funds were used to hold a dance for the whole town.
Today, no birds are harmed in the celebration of The Wran. A fading tradition, wran boys gather in only a handful of places around the country… including in the town of Dingle, County Kerry, for which Dec. 26 is a major date on the social calendar.
St. Stephen's Day Sales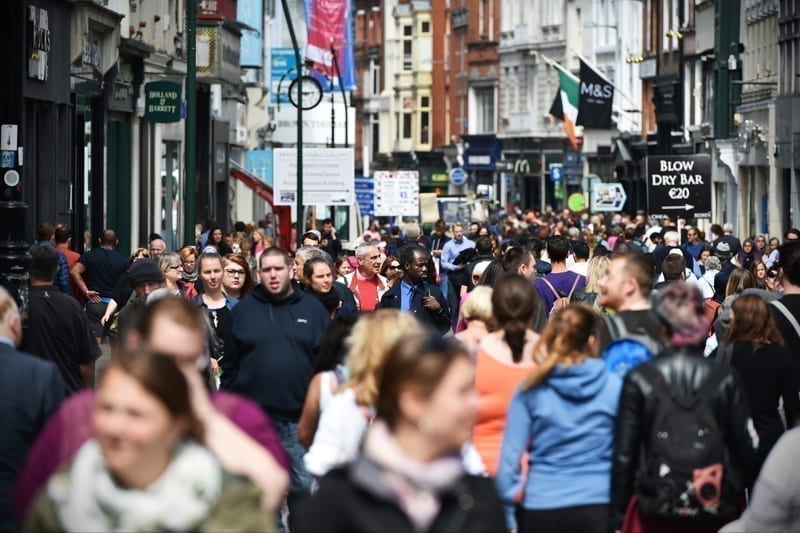 More widespread than "the wran" are the St. Stephen's Day Sales that kick off the January sale period.
The St. Stephen's Day Sales were once Ireland's version of Black Friday—with people queuing up from the early hours to buy discounted electronics or stock up on bargain winter clothes for the following year.
Since Black Friday has spread to Ireland from across The Pond, the Dec. 26 shopping scene hasn't been so manic in recent years.
Though, with Ireland just out of a second lockdown—and another bout of restrictions expected in January—we could see long lines of masked shoppers this St. Stephen's Day…
Nollaig Na mBan (Women's Christmas)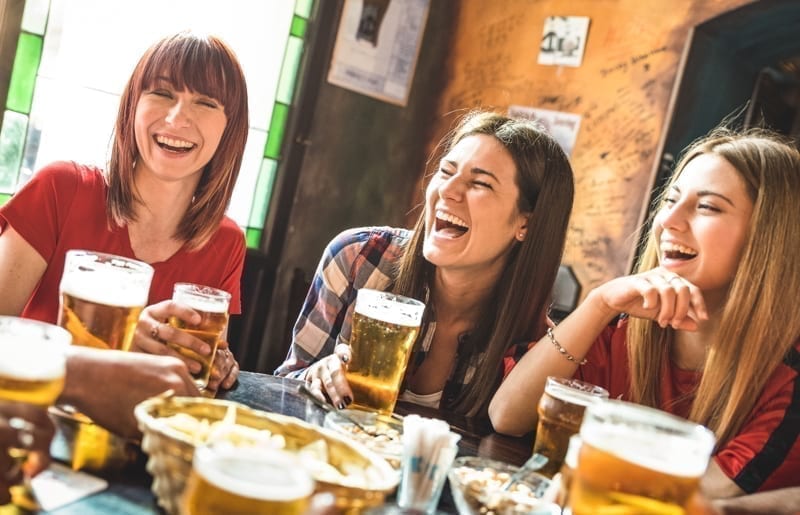 Jan. 6, the Feast of the Epiphany around the world, is a welcome date for many Irish women. Nollaig na mBan, or "Women's Christmas," is a strong tradition in the southwest counties of Cork and Kerry where women celebrate their annual "day off."
The tradition dates back to harder times when Irish women reared double-digit families, ran the household without much male input, and helped out on the farm, getting little rest over the holiday season. "Women's Christmas" was their chance to finally relax, when the men stepped in to absolve them of all household duties… and off they went to the snug of the local pub to enjoy some tea and fruit cake.
Although household duties are better shared among the genders today, the tradition continues—and is spreading to other parts of the country, too, where restaurants and hotels offer deals aimed at groups of female friends.
Lynn Mulvihill
Our Irish Correspondent