At Home In Laos?
Intrepid Correspondent Paul Terhorst sends his first dispatch from Laos this morning:
"I'm in the northern Lao hill country, my first stop on a three-week overland trip through Laos. I'm traveling with friends Roger and Naree, who speak Thai, somewhat similar to Lao.
"Our first night, still in Thailand, we stopped at the home of the Rico Foundation, a foundation to help rural Thai kids. The next morning we took a bus to the border, crossed the upper Mekong River in a long, narrow boat, climbed up the bank to the immigration office, and paid US$35 for a Lao visa on arrival. We were in.
"Until 17 years ago, Laos was closed to foreign visitors. Now several hundred Westerners arrive every day. Immigration at both airports and at land borders has become routine.
"We spent the night on the Lao side of the border (Ban Huay Xai). Early next morning we took a local bus, packed with both passengers and freight, to the far north. Roger and Naree chatted with the driver, and, at the lunch break, Roger translated for me.
"'This driver has four daughters, and his wife is pregnant. If she has another girl, he says, he's taking on a minor wife. He's sick of girls, girls, girls. He wants a boy. If his minor wife bears him a son, he'll leave his first wife and take the minor wife as the main wife.'
"He wouldn't abandon the girls altogether, though. They'd bring a good bride price when they married, a minimum of US$1,200 a head in gold and money.
"During the trip, I saw funny-looking vehicles, wagons attached to an engine.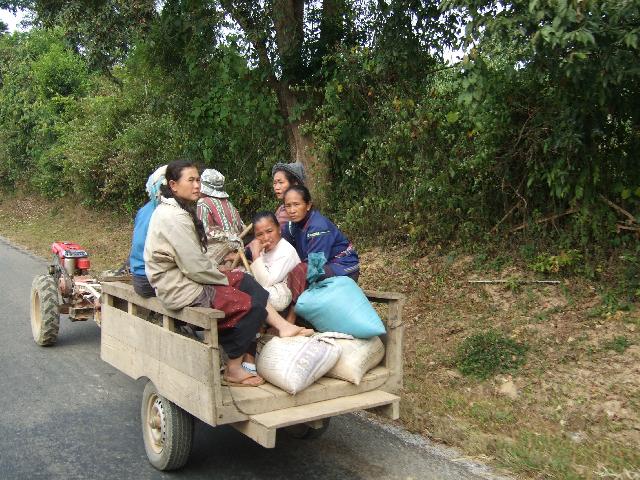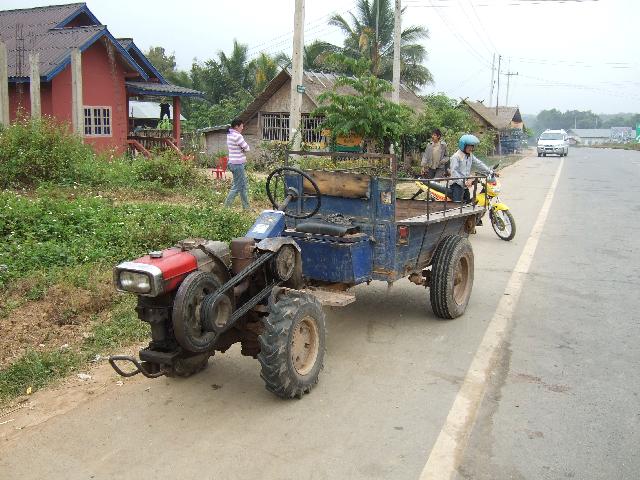 I asked about them.
"'Those are single-cylinder, diesel-powered water buffaloes, much better than the real thing. Water buffaloes get sick, they move slowly, and sometimes they refuse to move at all. These modern motorized buffaloes make so much more sense.'
"After five hours of winding through the hills, through dozens of small villages of bamboo houses, we reached our destination, a town (Luang Nam Tha) near the border with China. I stayed in a fine, new guesthouse (Khamking Guest House) on the main drag, Seven U.S. dollars a night for clean, private bathrooms, good insulation, and beds with quilts–nights are chilly up here.
"Next I went directly to the open-air, dry-goods market to buy two pairs of wool socks. The vendor spoke only a Chinese dialect–Hokkien, maybe?–but Roger helped with sign language and a 'baa, baa' sheep sound. The vendor quickly figured I was asking for wool socks and produced the goods.
"For dinner, we chose a place that had a big sign: 'Chinese Restaurant.' Naree speaks Mandarin, but, again, the cooks and waiters there spoke an unintelligible dialect. They understood the word menu in English, but they shook their heads. There was nothing like a menu available. I went over to a table where four or five Chinese men were eating a good-looking fish in red sauce, spiced with peppers and star anise. I pointed at the fish, and the waiter nodded.
"Naree went into the kitchen, looked around, pointed at this and that, then returned to our table. 'All set.'
"We feasted on the big red fish, stir-fried eggplant with sauce, tomatoes and onions, and skinny yellow noodles stir-fried with broccoli and chicken. Somehow the flavors seemed totally new to me, perhaps because of the star anise. Delicious. (Directions: Coming out of the night market on the main road in Luang Nam Tha, turn right, walk two blocks, and look for the 'Chinese Restaurant' sign.)
"Normally, I'm reluctant to order the way we did, without a menu and without any idea of cost. Vicki and I have been ripped off doing that. I figure I might accidentally order some rare, expensive delicacy whose subtleties would be lost on me. But that big red fish looked wonderful, and, in the end, the bill for the three of us, with plenty of beer, came to US$15.
"We could have dined for much less. Common dishes here, for example, fried rice or noodles with vegetables and either chicken or pork, cost about a buck. More elaborate platters cost maybe two or three dollars, with fish a bit more. An extra large beer costs about a dollar.
"And Laos offers a special food treat: baguettes, sold on street corners. Laos used to be a French colony, part of French Indo-China. The French taught the Laos to bake baguettes, and they're still widely available, 30 cents each."
Kathleen Peddicord