As you've probably heard by now, Kathleen Peddicord and Lief Simon are planning a very special event for next April…
April 7–14 they'll be cruising down Portugal's Douro River abroad the river ship Queen Isabel.
And they've made arrangements for a small group of Live and Invest Overseas readers to join them.
This is the first time we've ever done anything like this… and it's likely the last. Opportunities like this one don't come along often.
When they do, you need to act.
Sure, you could book this cruise another time, but that won't allow you to be part of a small and exclusive group of like-minded, forward-thinking, and well-connected folks.
Your invitation puts you aboard a luxury cruise ship. Every cabin has a window, and every guest will be pampered. Accommodations are second to none, and all meals, drinks, transport, and onshore excursions are entirely included in the cabin fee.
Our days will be spent…
Touring the city of Porto… and visiting a 150-year-old factory that's critical to the world's wine industry…
Enjoying a crash course on the history of port wine… sampling the local Vinho Verde (literally "green wine")… and enjoying a rustic-style lunch at a family-owned wine estate…
Visiting the town of Salamanca, Spain (where Columbus sought advice before embarking on his search for the New World) and discovering its historic churches, cathedrals, and famous food hall (sample chorizo, cheeses, olives, and more with the help of your guide)…
Exploring the medieval village of Castelo Rodrigo and enjoy the incredible view from its castle…
And much more…
All the while soaking up the beauty of the UNESCO-protected landscape of the Douro Valley as we meander through…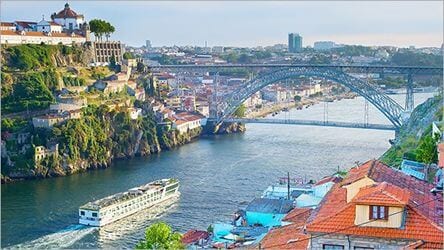 While this cruise is an opportunity to relax and enjoy the company of smart and well-connected new friends as you cruise through one of the world's most beautiful and historic river valleys, we have another agenda, as well.
Over the course of the weeklong cruise, we'll set aside a couple of hours each day to meet with a small group of exceptional thinkers and professionals… the most knowledgeable live and invest overseas advisors we know.
Ambassadors, lawyers, property developers, entrepreneurs, investment experts, savvy expats, and more.
Together we'll discuss, debate, and consider how best to handle the most important issues right now:
Increased wealth-building and income-generating opportunities…
Ironclad asset-protection strategies…
Tax-reduction secrets…
The world's current best opportunities for offshore banking…
Efficient estate planning…
Retirement planning…
Cash flow to fund retirement…
Insurance… and more…
These are the pressing topics that, once successfully addressed, will create peace of mind for now and a legacy for the future.
Last week, the final cabin original reserved for this European cruise adventure was reserved by one of your fellow Live and Invest Overseas readers.
In fact, it was this one… the "French Balcony Riverview Stateroom" cabin…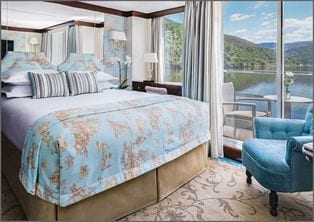 Officially, this meant that this one-of-a-kind all-inclusive, luxury cruise event was sold out.
However, because we still had a list of readers who'd gotten in touch to say they were interested in participating in this one-time-only event, I immediately got in touch with our contact at the cruise ship's office…
And I'm happy to be able to report that they agreed—through this week only—to set aside 5 additional cabins at the special Live and Invest Overseas rate.
What's more, if you are one of the next 5 readers to book your passage this week, you'll also save US$250 per person thanks to the Early Bird Discount.
This is your second and final chance.
Now, the cruise is nearly six months away, so I understand if you've been waiting on the sidelines…
But that time is over. You have no more time to delay; it's now… or never.
Valentine Fouché