Tips, Tricks, And Advice To Help You Avoid Jet Lag
Ask any frequent flier what they dislike most about long-distance flights, and it won't be long until jet lag comes up. The bane of vacationers and travelers everywhere, jet lag is remorseless and indiscriminate. So, the question is, how to beat jet lag?
Jet lag sufferers can be forgetful, confused, and at risk becoming lost and emotional. In extreme cases, jet lag has caused hallucinations and sleep walking.
The scientific explanation of jet lag is that it's a mismatch between the internal body clock (known as the circadian rhythm) and outside world. Flying at speed though different time zones throws the circadian rhythm out of sync causing jet lag.
The circadian rhythm itself is governed by a group of cells known as the suprachiasmatic nucleus (SCN). As well as body clock, the cells regulate body temperature, times for eating and sleeping, and also hormones.
The general consensus is that traveling from west to east causes worse jet lag than from east to west. The exact reasons are not clear but it seems more difficult to delay the body's internal clock rather than move it forward.
As a rule of thumb, jet lag is twice as bad when you travel from west to east. You can expect jet lag to last one day per time zone traveling east. Traveling west, about one day per one-and-a-half time zones.
Like the common cold, there isn't a cure for jet lag but you can take steps to minimize its effects.
Avoiding Jet Lag Before You Even Leave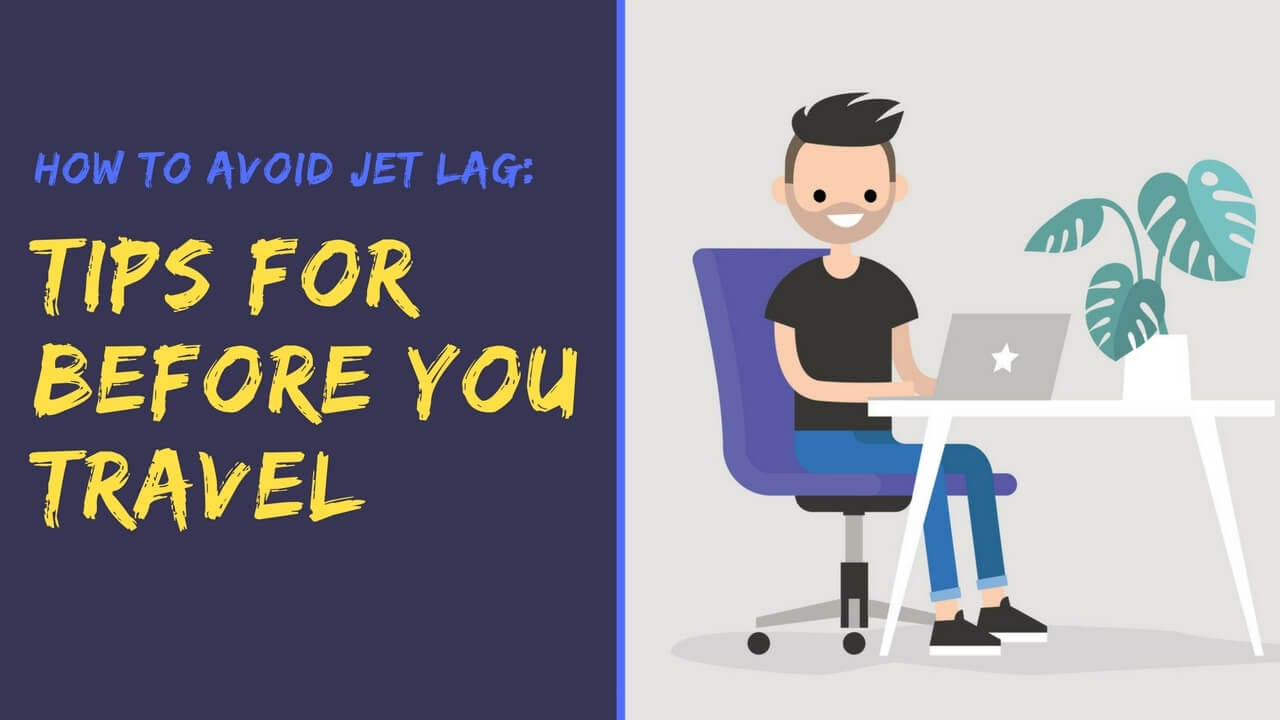 No wild parties the night before to see you off in style, and no working up to the moment you leave the house. The first preemptive step to beating jet lag is making sure you get enough rest before leaving. For the two nights before flying get lots of sleep.
Follow the golden rule and stay hydrated. Make sure you eat plenty of fruit and vegetables to keep your immune system strong. The last thing you need is the combination of jet lag and a cold.
If you are traveling for an important event such as a business meeting or looking at properties to buy, try to arrive a few days early. This will give you time to recover from the worst of the jet lag and give the best account of yourself.
Book a window seat where you can place your pillow on the window for a more comfortable sleep. Another benefit of a window seat is the person sitting next to you can get up during the flight without disturbing you.
Avoid the back of the plane for a few good reasons. In the very last row, seats may not recline, so you won't be as comfortable as you might be. The back of the plane also gets the worst of the turbulence. If you have a bumpy flight this can disturb your sleep. Being at the back of the plane also means you will be last off the plane and last in line queuing for the immigration desks.
Pack a sleeping mask and earplugs to help you sleep through the flight. Download some relaxing and soothing music onto your phone or MP3 player to help you relax in the air.
Book a ticket arriving during daylight hours. Sunlight has a major influence on your circadian rhythm and getting out in the daylight helps you adjust sooner.
While it is not workable for everyone, consider booking a flight with a stopover to more gently ease you into your new time zone.
Pack a pair of sunglasses that you can hide behind for the first day or two. The darker the lenses the better.
Avoiding Jet Lag While Flying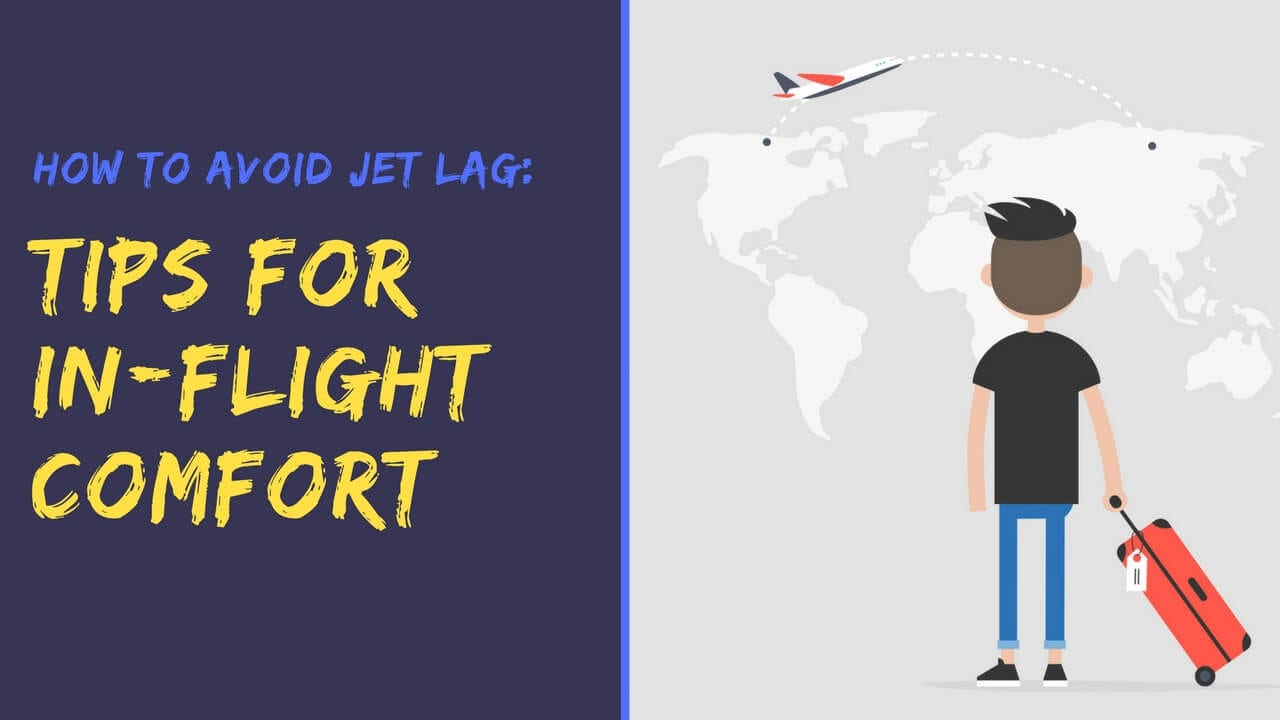 Follow the golden rule: Keep drinking water. Aim to drink an average of one small glass per hour to stay well hydrated.
You might feel like celebrating, but don't get drunk. Avoiding alcohol completely is the best option, but it's not for everyone. If you are a nervous flier then a glass or two for relaxation is fine, but go easy. As well as dehydrating you, waking up groggy will only make the jet lag worse.
Try to get some sleep so you feel fresh when you arrive. Don't spend your time playing video games or watching the in-flight movies. Instead, set your clock to the time at your destination and try to sleep when you would be sleeping there.
Taking care of your circulation is an important measure to remember. Symptoms of bad circulation include coldness, swelling, aches and cramps, and tingling.
Apart from the risk of a blood clot, good circulation will enable you to better fight jet lag. Jet lag takes root in the nerve cells of the hypothalamus. Strong circulation lessens the stress on the hypothalamus. This reduces your jet lag.
Exercises to improve circulation include walking up and down the aisle or scrunching up your toes and relaxing them. Special socks are available at the airport to help with circulation.
Breathing exercises are helpful in countering jet lag. Air pressure in an airplane is lower than at ground level, meaning blood oxygen levels fall and your body finds it harder to get oxygen to the brain. Lack of oxygen increases the feeling of jet lag and can give you symptoms like altitude sickness.
An old flight-attendant trick is to abstain from eating during long-haul flights. This has been approved by Clifford B. Saper, PhD, MD from Harvard University who claims not eating for 16 hours can be enough to engage a new body clock. Fast for 16 hours, and time the fast to end with a meal at your destination.
Another theory is that at extreme altitude your digestive system goes into hibernation. When you are back at ground level, your digestive system awakens to find a pile of food to digest. The extra workload causes you to feel tired. Other reasons to avoid airline food are the high number of preservatives and poor taste.
"Staying Strong" AKA Avoiding Jet Lag Once You've Reached Your Destination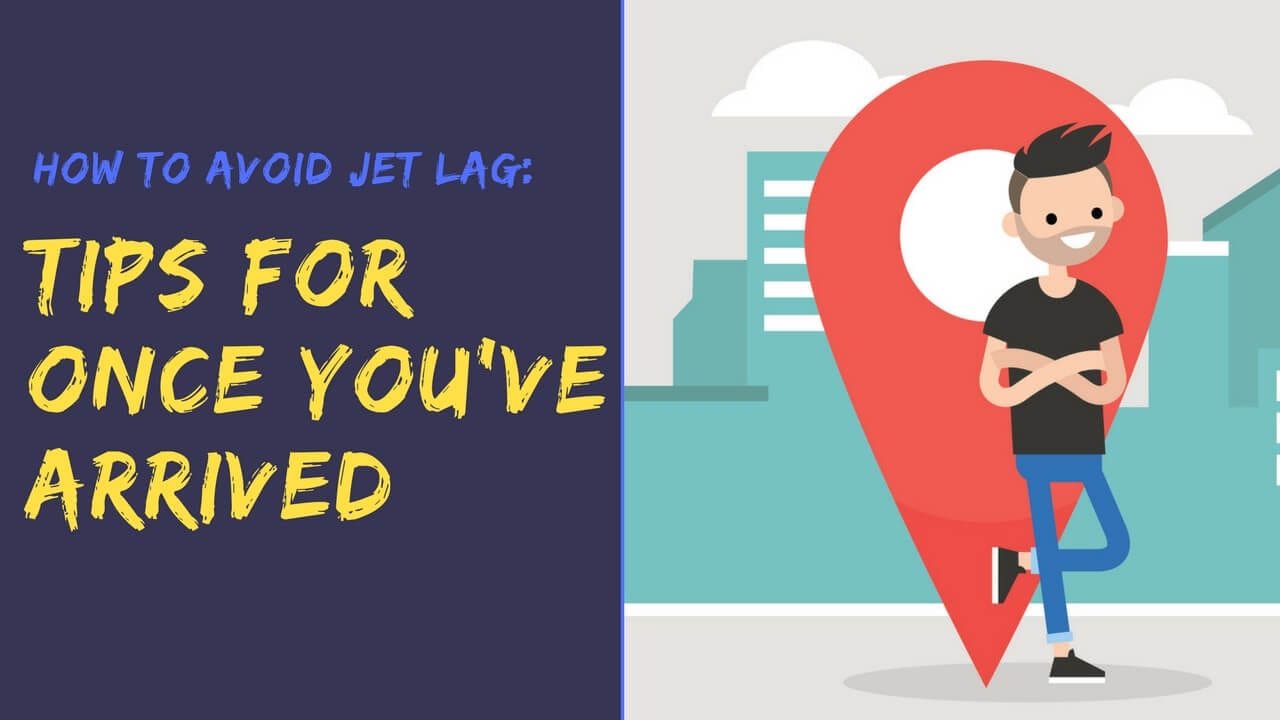 Again, stay hydrated and drink plenty of water.
Fall into step with the routine of your destination, and make sure you eat and sleep when the locals are sleeping. Try to avoid napping, but if you must get some shut-eye, set an alarm to make sure you don't oversleep.
If you want to feel more awake, take a walk in the sunlight as this will help your body clock adjust. Fresh air is always revitalizing and a reliable antidote to jet lag.
Find some time in your schedule to exercise. Exercise helps your body clock start to regulate, which in turn will help you get over jet lag. If you have a workout routine at home, try to workout at the same time in your new destination to help your body clock adjust. You will also feel better from the endorphins which your body releases during exercise. A decent workout will help you to fall asleep more easily and get a better quality of sleep.
Opinion is split on the best diet to beat jet lag but you can find a few things everyone agrees on.
The first is eating a protein-rich breakfast for the first few days. A protein-laden breakfast lets your body know you are on a new schedule. The norepinephrine and dopamine your brain produces after eating a high-protein meal will increase your alertness, reducing the effects of jet lag.
In the evening, eat foods that contain the sleep-inducing amino acid tryptophan. This amino acid is found in carbs such as pasta, rice, and potatoes and also in lean meat like chicken and fish. A carb-heavy meal will leave you feeling sleepy and is perfect a few hours before bedtime.
Lots of travel blogs recommend melatonin as an option to combat jet lag, but recent studies suggest tryptophan is a better solution.
Melatonin is a hormone produced by the pineal gland that tells your body when to sleep and when to wake up. When your eyes detect the sunlight is fading (at sunset) they send a cue to the pineal gland, which releases melatonin.
You can buy melatonin from health stores in tablet form, but there are some side effects. Melatonin can become addictive and there are suggestions it impacts reproductive hormones. Short-term side effects include feelings of depression, dizziness, stomach cramps, and irritability. In summary, you might sleep a little better but pay the price in other ways.
The amino acid tryptophan comes without these side effects. In fact, it has a range of benefits. For a start, it is found in chocolate (as well as the lean meats and carbs mentioned above). Other benefits include lowered cholesterol, improved mood, improved performance in exercise, and better immune system.
Two benefits relate specifically to jet lag: Tryptophan regulates melatonin, helping you adjust more quickly to your new time zone. Tryptophan also improves the quality of sleep. Even insomniacs reported improvements in sleep after minimal amounts of tryptophan.
Once you have fallen asleep, be careful if you wake up during the night. If at all possible, don't get out of bed or turn on the light. Your body clock is confused, and if you give it a signal to wake up it can be difficult to get back to sleep. Make sure the curtains are fully closed with no gaps for sunlight to shine through, or you may find yourself waking up at sunrise. A pro tip is to pack a few clothes pegs to seal the curtains fully together.
Avoid sleeping pills at all costs. Don't take them for the plane or for your first night's sleep when you land. They will only make you feel drowsy when you wake up and won't help you beat jet lag.
A Few Unorthodox Cures For Jet Lag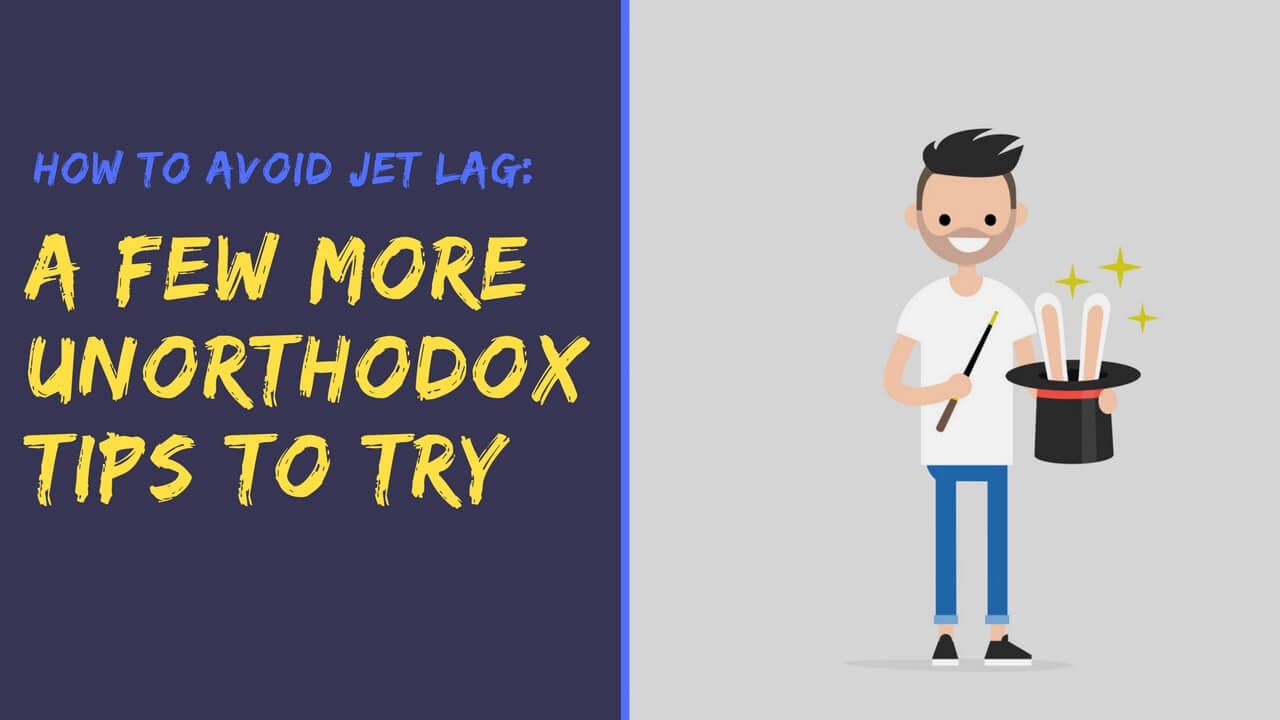 One unorthodox cure is "earthing" or "grounding" yourself. This involves standing barefoot on grass, sand, or soil to connect your energy to the earth. If you are feeling spaced out or unfocused, grounding yourself can help you get back to normal.
While it is difficult to find scientific proof for the effectiveness of grounding, many-a-traveler swear by it. Providing you haven't gone anywhere too cold, file this one under "nothing to lose."
Another odd but interesting cure comes from a 1998 BBC article. The claim here is that the best way to beat jet lag (and insomnia) is by shining a torch on the back of the knees.
The article claimed there are photo sensors for the circadian rhythms in the back of the knee. In went on to explain that the backs of the knee contain lots of blood vessels that lie close to the skins surface. By exposing those blood vessels to light, it could be possible to send a message through the blood that it is time to wake up. The jury is still out on this one.
Do you have any tips or tricks for beating jet lag that we didn't include on our list? Let us know in the comments section.
Oliver Lovett
Photo Credits: iStock/nadia_bormotova