Exotic And Cheap–What's Not To Love About Traveling India?
"Travelers sometimes tell us they have a love-hate relationship with India," writes Intrepid Correspondent Vicki Terhorst from the subcontinent. "They hate the crowds, traffic, noise, beggars, tourist prices, garbage, and touts. They love the food, scenery, friendly smiles, exotic and varied culture, ancient ruins, and bargain prices.
"Paul and I seem to spend more and more time in India We try to look for ways to maximize what we love while minimizing what we don't. For each visit, we focus on just one little area of India, and we stay for only a short time. That prevents the burnout that comes with a do-and-see- everything trip in this country.
"Before coming to Asia this year, while in the United States, we obtained 10-year, multiple-entry Indian visas. We intend to spend much of our time over the coming several years in this part of the world. With these multiple-entry visas, therefore, we'll be able to hop over to India on a moment's notice, whenever we come across a cheap airfare from another parts of Asia where we're traveling. Air Asia, for example, now has discounted flights to Cochi, Trivandrum, and other parts of India from Kuala Lumpur.
"For this trip, we flew from Chiang Mai, Thailand, to Bangalore, India for a six-week visit. Our flight arrived in the middle of the night.
"Rather than search for a hotel on arrival, as we usually do, we researched budget hotels in advance and chose one that took reservations without requiring payment. We kept our fingers crossed that they would honor our virtual advance agreement. They did, and gave us a discount to boot.
"We recommend it. The well-located Sri Lakshmi Comforts turned out to be a gem of a place (at about US$25 a night) with much more than you would expect from a budget hotel. We had Wi-Fi, cable TV, and drinking water (hot or cold) included. Plus the hotel had a fabulous 'Tiffen' restaurant that served an abundant and scrumptious vegetarian set lunch every day for less than US$1.
"Behind the hotel we found a small restaurant where we enjoyed a traditional Indian breakfast of milky coffee and dosa (large crepe) or idlys (spongy rice cakes) with spicy dal and sweet coconut chutney every morning.
"Bangalore represents the new India. This is a multi-cultural, multi-religious, prospering Asian city. Growth has created problems, though. Crossing major streets and riding in auto-rickshaws were white-knuckle events. We often wore earplugs on our walks. And we stayed in the neighborhood. Part of our love-India program means we choose a neighborhood and hotel that has most of what we want to do within a reasonable distance.
"In this case, we were in the new, bustling, modern India. We had specifically selected the neighborhood where the chic, newly rich, high-tech employees come to shop, dine, and party. We found high-end stores, pricey coffee shops, discos, and Western restaurants, all nearby old-style produce markets, deteriorating mansions, colonial buildings, traditional teahouses, mosques, and churches.
"Only when we ventured farther afield did we come across my mental image of India with its Indian temples and rambling cows…"
Kathleen Peddicord
Simple Lives And Simple Pleasures In India
"Vicki and I have settled for three weeks in Fort Cochi on the Cochin peninsula in India," writes Intrepid Correspondent Paul Terhorst. "This quiet colonial enclave lies across the harbor from a busy city, on India's southwest coast.
"Last week we wandered into a small commercial area of a mostly Hindu neighborhood. We met a mill owner, a goods vendor, and a tea wallah.
After a few minutes, we got a sense of each of them, even though none spoke English.
"The mill owner saw us approaching. He asked in broken English a question put to us daily: 'Where are you from?'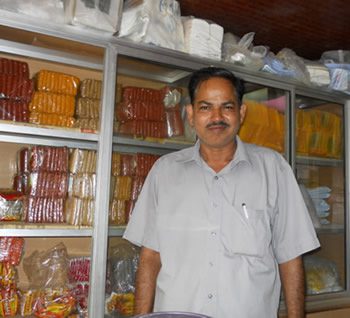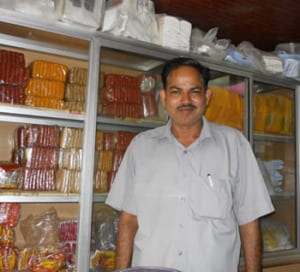 "Vicki and I are perpetual travelers, so the where-are-you-from? question is tough for us. In India, we reply with exotic 'Argentina.'
"'Maradona,' the man shouted, throwing up his hands. He was referring to Argentina's football hero of the 1980s, now coach of the Argentine World Cup team.
"'Maradona!' he repeated with a wide smile. 'Argentina!'
"He jumped up and promptly ushered us into his mill. We walked through a succession of tiny rooms, this one grinding rice, that one grinding wheat, the other spices. The mill owner introduced us to the workers in every room, rattling away in local language. The only word I caught was 'Maradona.' I heard it over and over, in every room, whether he was talking to men and women, even children. 'Maradona.'
"Later, while we were having tea, a neighbor explained. 'This man built the mill himself, he started with nothing. Everything you see here reflects this man. He's made a substantial business.'
"Then, and hardly necessary, 'His favorite football team is Argentina.'
"Customers came by and bought packages of flour and spices. Most paid nothing, and I asked why. The mill owner showed me his account book. He was selling on credit. I pointed out that the account book contained all blank pages. 'They'll remember,' the neighbor said. 'They'll pay at the end of the month.'
"On occasion, someone paid in cash. The owner or his son, whoever happened to be around, put the money in his shirt pocket. I figure the factory must have 20 employees with over a dozen product lines. Apparently the owner manages the entire affair without bookkeeping. Even monthly sales and receivables must be a mystery to him.
"He gave us a couple of packages of spice mix, and we were on our way. He looked after us as we walked down the street, guests from Argentina, the land of the great hero, Maradona.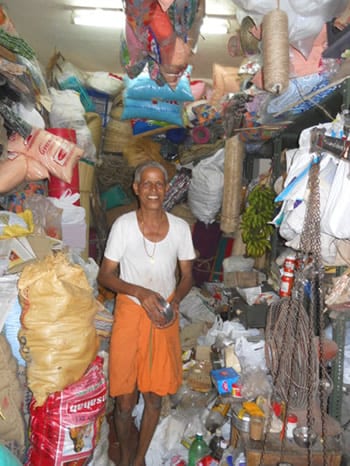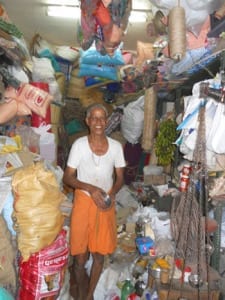 "The goods vendor ran a shop that gives new meaning to the word clutter. Take a look. . Huge mounds of goods surrounded him on three sides. The place looked more like a trash pile, or Fibber McGee's closet, than a general store.
"I said to Vicki, 'I wonder if this guy actually sells stuff.'
"A neighbor overheard. 'The man sells everything except milk and diamonds,' he said. 'Just ask for it, and he'll pull it out of the pile. He has everything!'
"While I snapped pictures, the goods vendor rummaged around and came up with coaster-sized metal stencils for making designs. Vicki saw a design she liked and asked how much.
"'Twenty rupees,' he said in broken English (about 40 cents).
"Vicki gave him a 20-rupee note, and the vendor paused, then gave her 5 rupees change. Apparently, he'd had a change of heart. He'd decided Vicki looked too sweet to rip off.
"Our last stop was the tea wallah. My dictionary says a 'wallah' is one who specializes in a trade. The definition fits.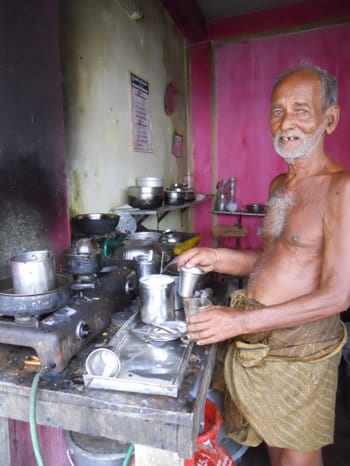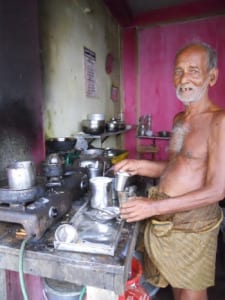 "A passerby gave us the history.
"'This man owns this tea shop. He owns it! He makes the tea, serves customers, and washes up afterward. He does everything himself. He's a professional tea wallah. Tea is his life.'
"The tea wallah beamed with pride. Even without understanding the words, he knew the story.
"We asked for tea without sugar, often hard to come by in India. But this man was a pro. He made it to order. As we looked over the shop, Vicki told me she thought the tea glasses looked a bit dirty. The sensitive tea wallah seemed to pick up on the thought. He served us in paper cups–the first paper cups we've seen at an Indian tea shop.
"Delightful. All three of these men showed so much pride and took so much joy in their work. They were secure in their tiny posts in the economic order. They loved to contribute, to serve. They were attuned to customer needs: giving credit when due, making the right change, preparing tea to order.
"Just thinking about them makes my day."
Kathleen Peddicord