Christmas In The Heart Of The French Alps
Two readers gave me the idea.
At the opening night cocktail party for our Live and Invest in France Conference in Paris in October, I spent the evening speaking with a young couple from New York who explained that one reason they had decided to attend our event in Paris was because they already had a deep affinity for France.
They come every winter, they told me, for a week or two of skiing in the French Alps.
"We rent a catered chalet," they explained.
I'd never heard of a catered chalet, but a ski trip in the Alps sounded like a great idea.
"Let's rent a house and take the kids for Christmas," I suggested to Lief.
"The trip can be our gift to the family."
We didn't end up with a catered chalet… but we did find a mountain chalet overlooking Chamonix valley that is everything you imagine a mountain chalet should be.
From the living and dining rooms, our view is of Chamonix town and the peaks of Mont Blanc.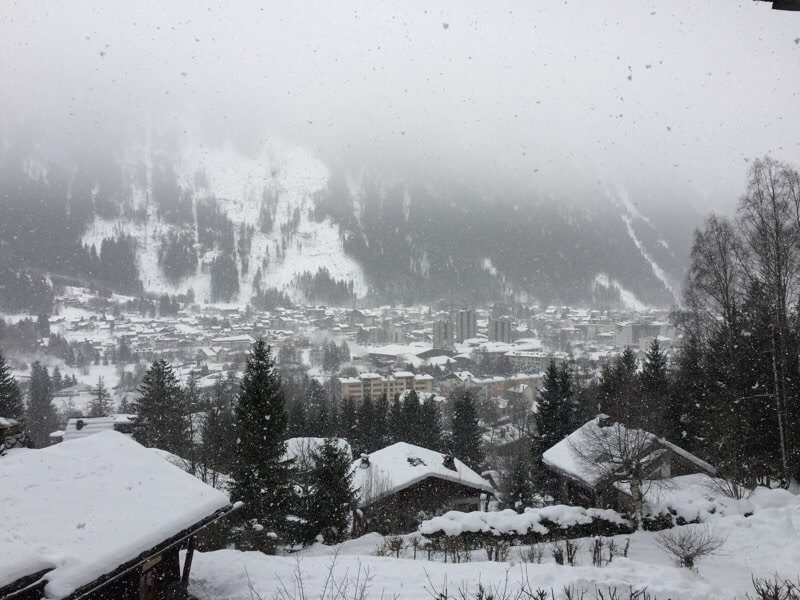 From every other window we see snow… in every direction.
Looking out now, I see that more snow is falling.
"Last year," explained the helpful Frenchman whose house we're renting this week, "we had no snow.
"It was horrible… everywhere green on Christmas Day.
"This year," he continued, "is perfect."
At various times throughout the day, we hear church bells.
If I were a better Catholic, I might understand the significance of the timing and the number of chimes at each instance. In my ignorance, I simply enjoy the sound ringing up from the valley below.
We are as unplugged as a 21st-century family can be.
We've streamed Christmas music via Netflix and googled poulard recipes for Christmas dinner… but video games, email, social media, and iTunes television have all taken a hiatus.
And the best part is that I didn't have to ask my kids or my husband to set aside their devices. The transformation occurred organically.
The setting has enveloped and insulated us. Here in the heart of the French Alps we are isolated and cut off from the rest of the world… just as Lief and I hoped we would be when we planned the trip.
Our picture-postcard chalet sits at the top of a steep mountain trail with two hairpin turns. We find the private setting a plus, but it comes with a practical downside. No local taxi or shuttle service will venture up our hill in the snow… so the only option when we want to go to town is to pull on our snow boots and take off on foot.
We're seeing it as a family fitness program.
And we're reminding ourselves what it means to delay gratification. If we don't remember to source it and carry it back with us from town… we go without it. Domino's does not deliver.
Our first night here, walking down our wholly unlit hill trail well after dark, we came nearly face-to-face with a big buck. We got close enough to see the panic on his face. Panicking a bit ourselves, we walked as slowly and calmly as we could in the other direction.
We've seen our antlered friend every day since, as well. He and four or five other deer seem to call the woods immediately surrounding our place home.
Ordinarily, Chamonix is a town of 10,000. This time of year, the population swells to more than ten times that number. You'd never guess this by day, when most of those visitors are on the slopes.
About 4 p.m. each afternoon, though, as the skiers come off the mountain and head to town for their après-ski fun, the pedestrian thoroughfares, restaurants, and shops overflow with merrymakers.
Last night, after our Christmas dinner of mussels, oysters, and roasted poulard, we ventured down the mountain to join our fellow winter tourists out and about on the streets of little Chamonix. The village was aglow with tiny white lights strung up and down every rue.
Outdoor heaters kept open-air café-goers warm, and children followed street performers through the heart of the village.
We stayed out well past our usual bedtime, enjoying perhaps a little too much champagne and vin chaud, then hummed Christmas carols as we hiked back up our hill.
I'm the first one up this morning. The house is silent and still… and chilly.
I think I'll go wake Lief and ask him to start a fire to warm the place before the kids get up…
Kathleen Peddicord