Where's The Revolution? Getting To Know The Real Barcelona
For a city at the heart of a revolution, Barcelona seems very at peace… sleepy even.
The streets are quiet… almost empty.
Is independence an active issue on the mind of the average Catalán, we wondered of the new Catalán friends we made this week during our quick trip to the capital of Catalonia…
"Yes, it is on our minds," one new friend told us.
"And, yes, most of us do want independence. But, in the meantime, we go about our business day to day."
Most families and households are divided on the issue.
"I voted for independence," one Barcelonan told us…
"But my wife, who was born in Madrid, voted against.
"I pleaded and pleaded with her… even tried bribing her," he continued with a wry smile… "but, oh, well… she does not see any reason for Catalonia to be independent from Spain. She does not understand why it matters so much to me and to so many others.
"Go back just one generation," our new friend explained, "and we did not have this problem.
"My parents did not think about breaking free from Spain. We Cataláns were happy with the status-quo until not so many years ago.
"But then Madrid began poking at us. And that is what this is about. There is an economic element to our wanting our freedom, sure. We are tired of paying what we believe is more than our fair share of taxes and getting not enough in return… not enough investment from Madrid in hospitals, schools, etc., here in Catalonia.
"But that is not why we have voted for our freedom. We have voted—two times now—to separate from Spain because Spain won't leave us alone to be Cataláns. They are pushing for the removal of Catalán street signs, for example, and for us to stop teaching our children in the Catalán language.
"They are pushing too hard to try to eradicate our culture and our heritage. It is too much."
"If you were no longer part of Spain, though," someone in the group around the table at dinner that evening earlier this week interjected, "you would no longer be part of the EU. That would have big economic implications for the region, wouldn't it?"
"Who really could say?" our Catalán friend replied. "Perhaps… but we would figure it out. We are watching Brexit very closely to see how that plays out. Meantime, again, we go about our business day to day…
"I speak only Catalán to my children, and they respond to me in Catalán. My wife speaks only Spanish to our children, and they respond to her in Spanish. They are perfectly bilingual, and this is how we believe it should be."
Language is a fluid, flexible thing in this region where you are never sure what language the person you are speaking to understands or prefers. Should you address the person before you in Spanish? Not everyone here speaks Spanish… or, perhaps better put, not everyone here wants to speak Spanish.
Catalán, as far as I can tell, is a very different linguistic animal from Spanish. Presented with a restaurant menu in Catalán, I managed to pick out a few items I recognized, but most of the words were gibberish.
In fact, Catalán can seem to bear more resemblance to French than to Spanish.
Fortunately, most everyone in Barcelona also speaks English… in addition often to two or three or more other languages.
The most common greeting is "hola"… but "thank you" is "merci"… and, in moments of panic, when my brain was nearly paralyzed trying to decide what manner of words to produce, French sometimes was the result… to no one's surprise more than my own.
Even more surprising, the person on the other end of the conversation often responded in kind. Language in this friendly region of gracious and warm-hearted people, we found, can be often chaotic but never challenging. Everyone we met wanted to communicate and to interact in whatever idiom got the job done.
We had lunch one afternoon at a typical local restaurant. The place was one big open room with long wooden tables that seated up to a dozen guests apiece. Very different from the much cozier approach to dining out typical in Paris, for example.
In the big, high-ceilinged space, conversation was animated and laughter common. The wait staff knew most of the customers by name and joined in the conversation table to table as they moved around the room.
The food was hearty and rich.
"We have one big meal each day, usually in the middle of the day, around 2 or 3 p.m.
"And we eat like this," our Catalán host explained, gesturing with both arms toward the table before us laden with plates of beef stew, cows' cheeks, thick pork cutlets, and bubbling casseroles.
"We have three courses, including dessert, with wine… and then we want a nap.
"Shops here still close for two to three hours in the middle of the day for lunch followed by a siesta.
"Then we have dinner at 10 or 11 p.m. We are never in bed before midnight.
"For us, every meal is an occasion… a chance to celebrate the company of family and friends, as we are with you today.
"Maybe there is a more efficient way to organize a day or to eat a meal, but we prefer things this way. Our meals are events… and we like it that way."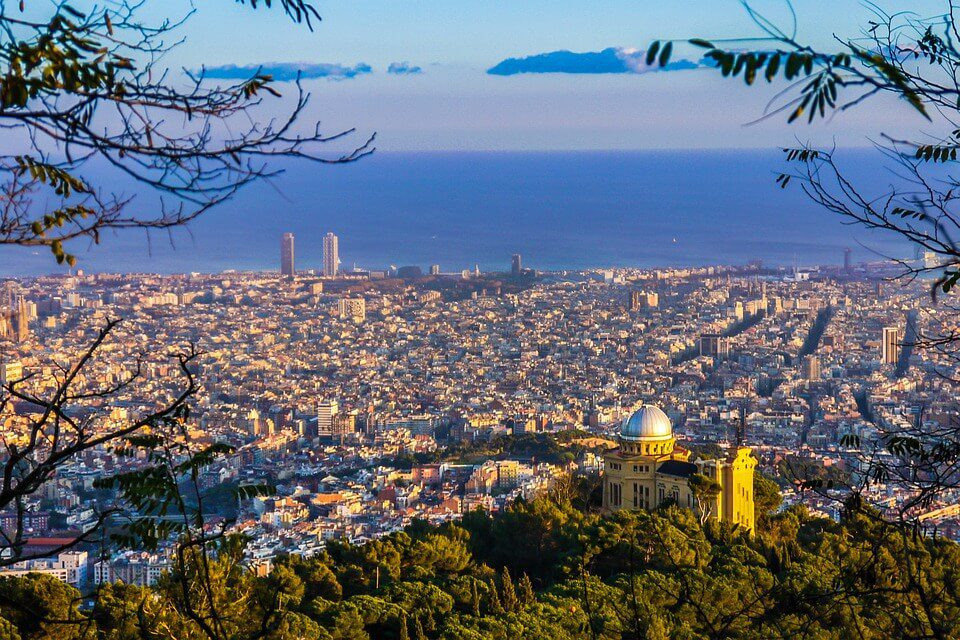 Barcelona's History And Architecture
This spot that is today Barcelona was originally settled by the Romans, who built here, between the first and sixth centuries, a city they called Barcino.
In fact, Barcino exists still. It's one of the best-preserved examples of a Roman city anywhere in the world. You can view the extensive and comprehensive remains from raised platforms. Standing above you look down on cobblestoned streets, mosaic floors, tubs and vats, the crumbling walls of private homes, and the remains of the city's original water and waste-water infrastructure…
Barcino was quite a city for its time.
This has been an important spot at other times in history, as well. In the same part of the city where you find the museum housing the remains of the original Roman town (the central Barri Gòtic, or Gothic Quarter), is the 13th and 14th-century Royal Palace where, in the palace's medieval courtyard known as the Plaça del Rei, it is believed King Fernando II and Queen Isabel welcomed Christopher Columbus upon his return from the New World.
This was not my first visit to Barcelona, but this visit I realized that, until this visit, I did not know this city at all. This is not a place you can appreciate quickly or with just one attempt.
You could say that Barcelona's heart—certainly its best-known face—is its La Rambla boulevard. But I would disagree. That is the tourist's Barcelona.
To understand the real Barcelona, you must look beyond La Rambla. You must dig deeper.
After my previous visits, I was not sure I liked Barcelona. I must admit a prejudice—I like classic styles… in art, in architecture. I appreciate symmetry.
Barcelona is not symmetrical but wavy. At first, for me, this was unsettling.
"Many things about this city are a bit off… a bit odd… for me…" I finally confessed to a new Catalán friend this week.
"Yes, we know," he replied with a big sly grin.
And, at last, I had a glimpse of the real Barcelona… the Barcelona that now seems like a place I'd like to know better.
Kathleen Peddicord