Panama has more than 1,400 islands, and, just like snowflakes, no two are exactly alike.
Some are Caribbean, some Pacific, and some just above the ocean's surface near the entrance to the Panama Canal…
Most all are blessed with white-sand beaches. Some also boast coral reefs just offshore…
Some are comfortable, even luxury standard, well-developed for tourism, while others are wholly uninhabited…
Some are dense with jungle vegetation, others home to centuries-old towns…
The "perfect" Panamanian island for you depends on what you're looking for. Here are a few recommendations…
Isla Taboga: Most Accessible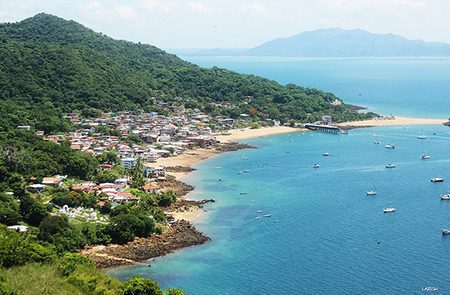 Isla Taboga is a good first-time island escape in Panama, especially if you're in the country only for a few days. Isla Taboga sits just 20 kilometers offshore from Panama City and is reached by a daily 45-minute ferry.
Also known as the Island of the Flowers, Isla Tabgoa is covered in part by rain forest, meaning orchids, ferns, lianas, and bromeliads all around.
No more than a couple of thousand people live on Isla Taboga, and major development has been kept at bay. Thanks to the island's 8 miles of coastline, the primary occupation is beach bumming. There's also hiking (to Cerro Vigía or Cerro de la Cruz, the island's two highest points), whale watching, fishing (for black marlin, blue marlin, Pacific sailfish, yellowfin tuna, roosterfish, wahoo, cubera snapper, corvina, and amberjack), snorkeling, and diving (1,000 pieces of 17th-century silver were discovered by divers offshore Isla Taboga in 1998).
Taboga's only town, San Pedro, started life as a fishing village. Its church is said to be the second oldest in the Americas. Bunkers remain from the U.S. presence on the island during World War II (which also attracted a failed Japanese spy plot), and a hotel on the island was used by the United States as an internment camp for Germans during World War I.
The Pearl Islands: Most Famous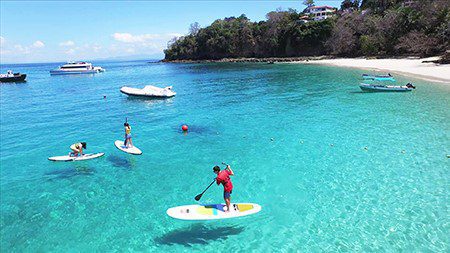 When the cast and crew of television's hit reality show "Survivor" came to the Pearl Islands in 2003, the world took notice. In fact, the location proved so successful for the show that it returned to Panama for two more seasons.
The Pearl Islands are made up of more than 200 islands about 50 kilometers off the coast of Panama City. Isla Contadora is the best known among them and the archipelago's main tourist center.
"Contadora" means "the one who counts." Isla Contadora was where Spanish conquistadors and natives counted and traded the pearls they harvested from the nearby waters.
Like Taboga, Isla Contadora has a link to U.S. history. After the Iranian Revolution in 1979 when the Ayatollahs took over, the Shah of Iran, Mohammad Reza Pahlavi, fled to Panama. He lived in exile on Isla Contadora for a few months before moving on to Egypt.
Isla De Coiba: A Fisherman's Paradise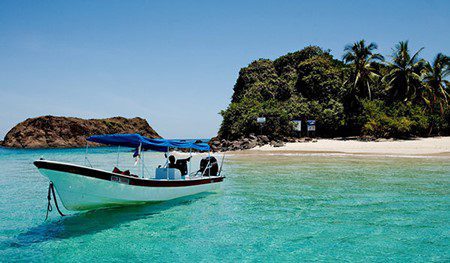 With more than 750 species of fish recorded in the area, Isla de Coiba is recognized by many as Panama's top fishing spot.
A few miles west of the island lies Hannibal Bank, where the continental shelf drops thousands of feet creating a hotspot for both inland and offshore fish. You can fish here year-round for black marlin, roosterfish, cubera snapper, and yellowfin tuna weighing hundreds of pounds. Marlin catches reach up to 1,000 pounds.
Isla de Coiba is a national park as well as a UNESCO World Heritage Site, and the Smithsonian Tropical Research Institute recognizes the island as an unparalleled destination for discovering new species.
Guna Yala (San Blas Islands): Most Naturally Beautiful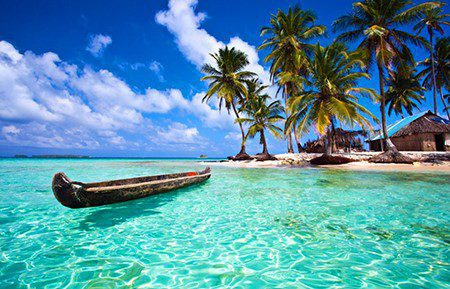 Hands down, Panama's San Blas Islands qualify as the best of the best for an escape-from-it-all island vacation, not only in Panama, but anywhere in the entire Caribbean and maybe the world.
Just don't come expecting a five-star resort with all-inclusive buffets and bars. San Blas is Mother Nature at her best and completely untouched by human development.
The San Blas Islands form part of Guna Yala, a comarca (indigenous region) stretching along Panama's Atlantic coast. The comarca is home to the indigenous Guna people and is unique in that it is recognized as such (sort of like if a U.S. native reservation were given the powers of a state). This autonomy is a result of a revolution in 1925, when the Guna people sought separation from Panama. The local control has brought a quality of life and preservation of culture that otherwise likely would have been unachievable.
Because of the status of Guna Yala, the San Blas Islands are strictly a tourist destination. No chance of purchasing a piece of land or a condo, or importing a business here. The restrictions even exclude other Panamanian nationals. Some outsiders scoff at what they see as an affront to free enterprise and market economics. But, to the Guna, the strict controls are an expression of their freedom. This is Guna territory, and they intend to keep it that way.
The Islands Of Bocas Del Toro: Most Livable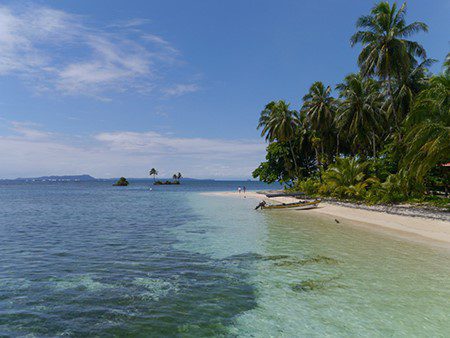 The islands of Bocas del Toro have become Panama's top Caribbean destination. One could argue that the San Blas islands are more pristinely beautiful. On the other hand, the islands of Bocas del Toro provide much more in the way of infrastructure and convenience.
Plus, unlike the Guna Yala comarca where the San Blas islands are located, the province of Bocas del Toro doesn't prohibit residency or property ownership. For anyone looking for more than a short vacation, the island lifestyle in Bocas del Toro is unmatched in Panama.
Bocas del Toro is distinctly Caribbean in its culture, thanks to the banana boom that took place here in the late 19th and early 20th centuries. Workers were brought in from Jamaica and other English colonies across the Caribbean to work the plantations. As a result, English is widely understood.
Bananas are still a big contributor to the province's economy, with some 750,000 tons of banana exports annually. In the past decade, though, tourism has become the most important part of this island economy.
The main center of activity in the province of Bocas del Toro is Bocas Town, located on Isla Colón. Bocas Town is busier than it looks at first glance; the town of about 17,000 sees around 150,000 tourists per year (and growing).
If you don't mind the tourists and enjoy the social buzz around the main strip, Bocas Town is the place to be. At least a dozen restaurants, cafés, hostels, hotels, bed-and-breakfasts, and bars line the main street. Live music from the various bars mixes and fades as you walk among the backpackers, expats, and locals congregating outside the various hot spots every evening.
Bamboo Bocas is one of the mainstays, located front and center in the middle of the strip. The live reggae tunes carry from the patio to the street. A little off the end of the busy strip is Loco Dave's, a rock-and-roll bar slash arcade slash library that also offers tattoos. Loco Dave's really is a loco place.
If bars aren't your thing, relax and enjoy a movie at Cine Café Bocas, a small theater that shows both English and Spanish second-run Hollywood films. The two small theaters have beanbag chairs and sofas with room for about a dozen people each. Tickets and snacks for two cost about US$13.
Matt Chilliak
For Panama Letter