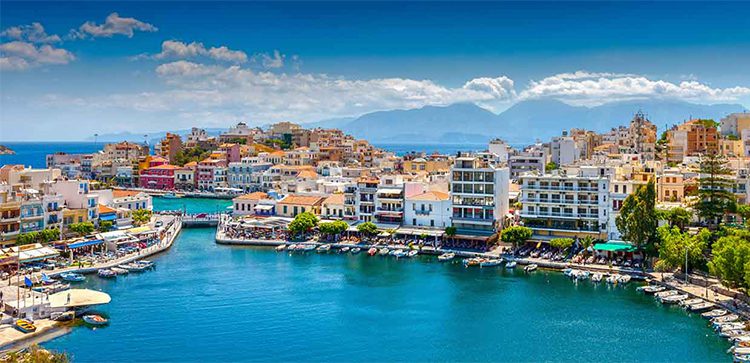 The Best of Mediterranean Island Life: Crete
Crete is a Greek island located in the Mediterranean Sea. It is the largest among Greece's nearly 6,000 islands, at 161 miles long by 37 miles wide. Crete is thought by many to be one of the most beautiful locations in Greece, if not the entire world. The island offers a lot for both tourists and residents, including sunny, sandy beaches, and hospitable people.
Most all of the tourist areas and cities in Crete will have an abundance of shop owners who understand and speak English. Even the lesser traveled areas on the island will have English speakers scattered around and if not, the locals are easy to work with and can help you with whatever you need.
Infrastructure in Crete
The island is known for having excellent infrastructure. Many of the cities on the island have been developed around tourism and thus have developed high level infrastructure to match, including nicely paved roads and walking paths.
Many businesses and homes in Crete have installed solar panels, helping to alleviate many of the electrical infrastructure issues facing other islands around the world.
How to Get to Crete
You have a few different options for getting here, whether you are coming from mainland Greece or another country.
If you are coming from Athens there are three small to medium size airports, each providing easier access to different parts of the island. There are a few different air carriers who operate from Athens to the main airport on Crete (Sitia airport).
Another option is by boat or ferry. For international travelers, there are often cruises that tour the Mediterranean and stop on the island, in places like Souda, where you can easily explore Crete's second largest city, Chania. Ferry services are widely available to all of the main towns on the island.
Cost of Living in Crete
Here is the monthly budget for a retired couple living in Chania, Crete, Greece:
Click here for currency conversion at today's exchange rate.
Monthly Budget For A Couple Living In Chania, Crete, Greece
Rent
€ 400
Unfurnished, two-bedroom apartment.
Gas
€ 30
For cooking.
Transportation
€ 70
Bus/metro pass for two, occasional taxi.
Electricity
€ 50
A/C usage.
Water
N/A
Telephone
€ 35
Internet
€ 15
Bundled with TV
Cable TV
N/A
Bundled with Internet
Groceries
€ 250
Basic items for couple.
Entertainment
€ 210
Social outing, 8-30 euros p/person
Total
€ 1,060
US$1,178
[bs-embed url="https://www.youtube.com/watch?v=GsL6oXt2sEA" title="Life in Chania, Crete, Greece" show_title="1″ bs-show-desktop="1″ bs-show-tablet="1″ bs-show-phone="1″]
[bs-classic-listing-3 columns="3″ show_excerpt="1″ title="More from Greece…" hide_title="0″ category="3400″ count="6″ featured_image="0″ ignore_sticky_posts="1″ tabs="" tabs_cat_filter="" pagination-show-label="0″ pagination-slides-count="3″ slider-animation-speed="750″ slider-autoplay="1″ slider-speed="3000″ bs-show-desktop="1″ bs-show-tablet="1″ bs-show-phone="1″ paginate="more_btn_infinity" override-listing-settings="0″ _heading_1="" _heading_2=""]