A Little About Us...
We offer real-world, no-nonsense advice for people looking to live, invest, retire, and do business overseas. We pledge to…
Identify and then showcase for our readers the best options and opportunities in the world today…
Consider every destination and property market in the context of firsthand experience only…
Speak directly and pull no punches. We tell you everything you need to know to find success in a given place… warts and all…
Guarantee your satisfaction. Every product and service we provide is backed by our money-back, no-hassle guarantee…
Welcome to Live and Invest Overseas… A World Full of Fun, Adventure, and Profit Awaits!
Live and Invest Overseasis the world's savviest, most experienced, and most trusted source for information on living, retiring, and investing overseas.
We're here to help you take advantage of the world's best opportunities, and we take that responsibility seriously. We promise to give you the full story from firsthand experience…both the good and the bad(warts and all!). In addition, we pledgesuperior customer serviceto all of our customers, including guarantees on every product we offer.
We offer our information not only through our website, but also through email. In fact, this is where we provide a lot of the most in-depth and timely info, oftentimes right when the opportunities are presenting themselves. And for that reason, we encourage you to sign up for ourOverseas Opportunity Letter.
Overseas Opportunity Letteris a daily dispatch from our far-flung network of editors, experts, friends, and advisors. Each day you'll find out about the best opportunities for international living, retiring overseas, offshore diversification and asset protection, and managing real estate around the world.
Overseas Opportunity Letteris a completely FREE service.
Meet The Live And Invest Overseas Team
Kathleen Peddicord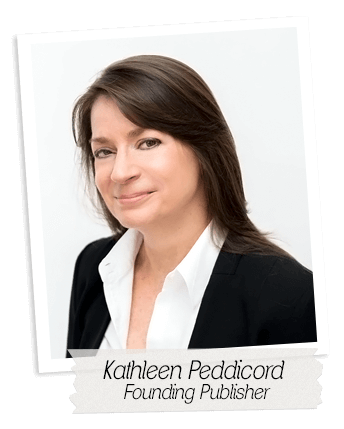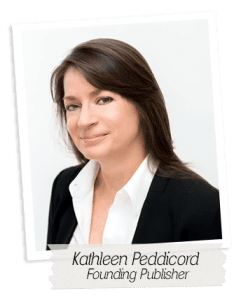 Founding Publisher, Live and Invest Overseas
Editor-In-Chief,Overseas Opportunity Letter
Live and Invest Overseas is the vision ofKathleen Peddicord. Kathleen has covered the live, retire, invest, and do business overseas beat for more than 30 years and is considered the world's foremost authority on these subjects…
Kathleen has traveled to more than 75 countries, established businesses in 7, and invested in property in 21. Thanks to these adventures abroad, Kathleen has been able to assemble an unparalleled network of global contacts, colleagues, friends, experts, resources, expats, and advisors.
Kathleen has moved children, staff, enterprises, household goods, and pets across three continents, from the East Coast of the United States to Waterford, Ireland… then to Paris, France… and, then to Panama City, Panama. Now, some years later, she, alongside her husbandLief Simon, are able to travel the globe and spend time wherever life takes them.
Kathleen was Publisher and Editor-in-Chief of theInternational Livinggroup for 23 years. She moved on from that role in 2007.
Today, Kathleen writes regularly forU.S. News & World Reportsand Forbes and is regularly quoted byThe New York Times, Moneymagazine,The Economist, the AARP, and beyond. She has appeared often on radio and television and has written innumerable books (including her most recent, "How To Retire Overseas" for Penguin Random House), reports, and essays on where and how you can escape the retirement-tromping economy at home and live like royalty on a modest budget… invest for profits overseas ahead of the crowds… and secure your dream retirement in the world's best destinations.
Lief Simon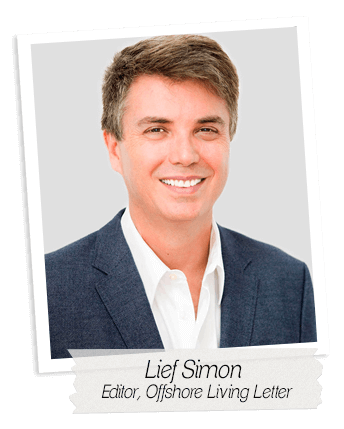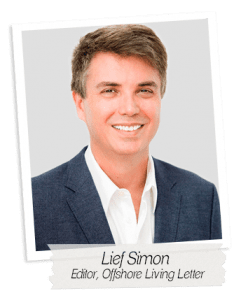 Editor-In-Chief,Offshore Living Letter
Director,Overseas Property Alert
Founder, Simon Letter
Founder, Global Property Advisor

Lief Simon is our resident real estate investing and offshore diversification expert. His twice-weekly free newsletter,Offshore Living Letter, covers both topics with direct and easy-to-understand language.
Lief has lived and worked on 5 continents and traveled to more than 60 countries. His real estate investing experience began more than 20 years ago with a multi-unit building in Chicago.
After selling that building for a leveraged total return of more than 1,800% in 2 ½ years, Lief began to diversify internationally. In the two decades since, Lief has purchased more than 45 properties, investing in 26 different countries around the world. He has developed land, managed rentals, and flipped pre-construction buys. Lief has more experience buying and profiting from real estate around the world than any other individual investor you're likely to find.
In addition, Lief specializes in offshore diversification, asset protection, and tax mitigation. Over the last two decades living and doing business around the world, he's built a network of reliable and expert contacts he trusts on such matters — attorneys, bankers, tax consultants, and other advisors, both Stateside and in the jurisdictions where he spends time and money.
These are the people who keep the entire Live and Invest Overseas team up-to-date on important changes… as they happen. We know of no other reliable source where this kind of from-the-scene intelligence from the world's top offshore havens is shared in real time by someone with real world, first-hand experience at all this.
Learn more about Lief Simon and offshore diversification here.
Harry Kalashian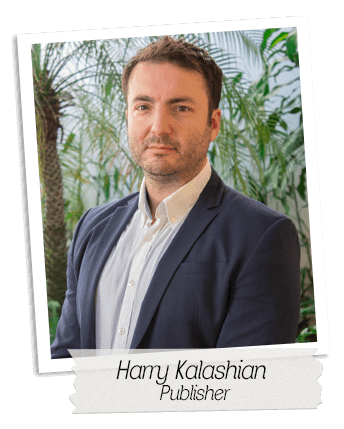 Publisher, Live and Invest Overseas
Originally from Maryland, Harry has been living overseas for more than a decade.
His first stop was in Panama City, Panama, where the Panamanians couldn't understand him because he couldn't roll his r's… or really speak coherent Spanish, anyway.
This dilemma continues in his new home of Paris, France, where his spoken French is met with bewilderment or disgust by the friendly locals.
Harry has been with Live and Invest Overseas since the company first started, in 2008.
Lee Harrison
Lee has been living overseas for nearly two decades, making his first purchase abroad in the colonial city of Cuenca, Ecuador. After that first investment, he traveled extensively across Latin America and Europe looking for the best property deals possible. Lee's network of property insiders from those travels, along with his understanding of local cultures and languages, has helped him develop insight into local property markets that only the locals usually possess.
Kat Kalashian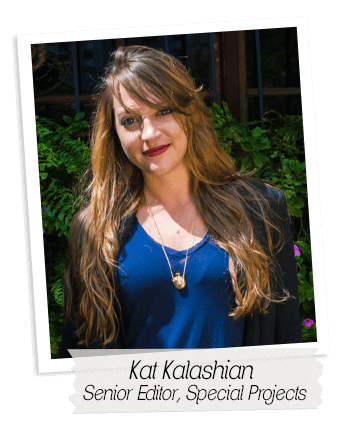 Kat Kalashian has grown up around the world, living in the United States, Ireland, France, and Panama, and has traveled extensively in her few years. Growing up as a young expat she is familiar with the trials and tribulations of an overseas move and the adjustments that must be made in every new destination. Living and learning through experience, she now considers no one place home and feels more comfortable in new environs than in familiar ones. After living in Panama for seven years, where she enjoyed living for a stint in the tropics, she and her husband relocated back to Paris, France, in 2018 where they now live full-time with their American-born cat, Panamanian-born dog, and French-born daughter. Her post as Special Projects Manager of Live and Invest Overseas keeps her busy… whether it's spearheading a big new product, MCing Live and Invest conferences, or scouting out new locations for coverage, she's always on the move and eager to discover new things.
Lynn Mulvihill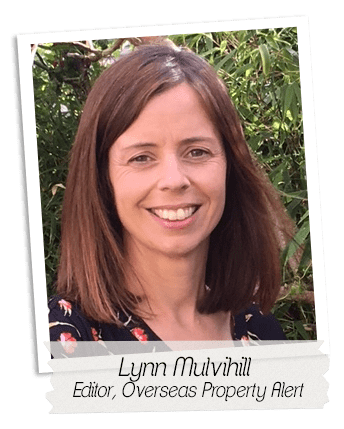 Editor, Overseas Property Alert,GPA
Lynn Mulvihill has been writing on the topic of living and investing overseas for close on two decades and has edited a variety of e-letters, newsletters, reports, and books. She is the former editor of Overseas Living Letter and has recently taken up residence as editor of Overseas Property Alert.
She believes she has the perfect work/life balance—outside of her four-hour workday, she keeps the peace between her four kids, runs, and will drive any distance in the pursuit of good coffee. Based in her hometown of Waterford, Ireland, Lynn enjoys traveling and has spent time in Europe, Asia, the U.S., and Central America.
The entireLive and Invest Overseasteam, with many decades of combined experience, is on the move continuously in search of opportunity.
Their insider, from-the-scene reports, dispatches, tips, recommendations, discoveries, and insights are delivered toOverseas Opportunity Letterreaders every week.
See for yourself… subscribe toOverseas Opportunity Letter!