Largely unknown among North Americans, Las Terrenas was discovered in the 1970s by Europeans looking for an affordable Caribbean getaway. Today, Las Terrenas is a vibrant international community with residents from all over the globe, including French, German, Polish, Swiss, Italian, Dutch, and British expats. The eclectic population means you can find exotic food imports from Europe in the supermarkets, freshly made Swiss cheese and German sausage at the local shops, excellent international restaurants, and an active and mixed group of folks to welcome you to their well-established community.
The Caribbean and the sands that fringe it are around every corner in Las Terrenas. You can easily use the beach as a thoroughfare to get from one part of town to another; it's the most pleasant pedestrian route. At any time throughout the day, you can turn this way or that, and there it is again, the sea, now blue, then green.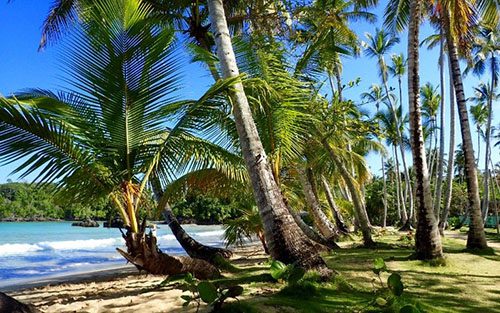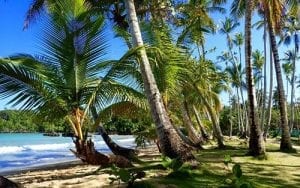 But Las Terrenas is no typical Caribbean beach town. Scratch the surface and you find one of the most interesting expat communities anywhere in the world. This is a majority French expat population, bolstered by Italians, Brits, Danes, and Germans.
The strong European presence has many implications to do with the way people greet each other in passing, the way they decorate their homes, the way they keep their gardens, the way they pass their free time (pétanque is popular), and, as well, in the local cuisine.
Restaurants in Caribbean beach towns are usually long on jerk chicken and coconut rice, but in las Terrenas expect French and Italian restaurants offering beef carpaccio, homemade pasta, and fresh bread that wouldn't be out of place in Paris or Tuscany, often supported by wine menus that include many options for fine, even sparkling wine. In Las Terrenas, you can dine on fried empanadas from a street cart if you'd like (I'd encourage you to try it)… or you can indulge in three- and four-course meals, French or Italian, complemented by good-selection wine lists.
It's not only the restaurant fare that, until you adjust your expectations, doesn't quite fit with the geography, but also the service. Wait staff is attentive, competent, reliable… It's a pleasant surprise.
Other things are surprising, too, including the quality of construction. This is thanks to new hurricane standards being aggressively enforced. It's also thanks to the types of developers who have been attracted to this particular Caribbean beach. Not typical gringo developers in the Third World, learning as they go and cutting corners when they can, but experienced developers who boast strong track records. They're also European rather than North American. This is evident in the interior finishings. Tiles, countertops, bathroom fixtures, kitchen cabinets, and furnishings in general are contemporary Euro-chic.
Those early expats in this corner of the Caribbean struggled in the face of an utter lack of infrastructure. You won't face the same challenges. The most significant infrastructure development in the region came in 2009 with the Samana-Santo Domingo highway. It used to take four to six hours to drive from the capital to Las Terrenas, depending on the condition of the meandering dirt road. Now the drive is a pleasant two hours on a smooth four-lane highway.
This new highway not only made travel easier, but it helped with the overall cost of living in Las Terrenas. Thanks to the improved access, it was easier and cheaper to bring goods into town.
The easy trip to capital city Santo Domingo means you're never too far from a real city and its shopping, museums, theaters, and stadiums. Santo Domingo is also home to an impressive collection of colonial structures, having been founded by Chris Columbus' younger brother Bartholomew and then renovated by Diego Columbus (Chris' eldest son). This city's Zona Colonial is a treat for residents and visitors and a major source of tourism income for the country.
Residents of Las Terrenas used to have to travel to Santo Domingo for international air travel. No longer, thanks to the opening of El Catey airport in Las Terrenas, from which regular flights are offered to Canada and the U.S. East Coast (along with plenty of domestic flights).
But while Las Terrenas offers many amenities that other Latin American destinations don't, don't make the mistake of thinking that living here will be at all like living back home. It won't. If you're up for an adventure, want to get your hands a little dirty, but still like some imported wine and cheese at the end of the day, then this little slice of the Continent in the Caribbean is the perfect spot for you.
The Cost Of Living In Las Terrenas: The Town's Greatest Appeal
by Monica Linares
Las Terrenas, Dominican Republic, is the best buy in the Caribbean.
In the 70s and 80s, the French were the first group of expats to decide to trade their rough winters for Las Terrenas' gold-sand beaches. They started building their own houses, opening businesses and services targeting their fellow expats, and, over the past several decades, have left a significant mark. Today, Las Terrenas feels like a Euro-chic island outpost.
In 2008, a new highway spanning 106 kms from Santo Domingo to the Samaná province was inaugurated. This cut the six-hour journey by car down to two-and-a-half hours and opened up the northern coast of the country.
Today, the Las Terrenas community is a mix of locals and expats, the latter from France, yes, but many now hail from Italy, Spain, and Germany, and, most recently, from Canada and the United States. Las Terrenas has matured to become the main tourist hot spot of the Samaná province.
And now it's fully re-open for business. All COVID-19 restrictions have been lifted.
We've long prized the Dominican Republic as our favorite haven in the Caribbean… and, specifically, Las Terrenas for its beautiful beaches, year-round summer temperatures, and welcoming expats.
However, many find that this town's greatest appeal is its super affordable cost of living.
If it's a Caribbean lifestyle you seek, nowhere else in this part of the world will your budget, no matter how big or modest, buy you a better quality of life.
In the face of inflation and rising costs across the region and the world, the relative bargain prices are more irresistible than ever.
Just how much will it cost you to retire to the DR?
You could live well here on a budget of as little as US$1,500 a month… or less.
Let's break it down…
Groceries: US$250 to US$300 per month
The biggest supermarkets in Las Terrenas are Supermercado Lindo and Supermercado Pola. Lindo tends to be more expensive, in part because you can get more imported foods here. Stick to Pola if your budget is tighter.
You should plan on up to US$300 a month. This can be lower if you stick to local brands and fresh foods.
Internet: US$30 to US$100 per month
In some cases, your rent will include utilities and internet. In these cases, internet speed and reliability may not be the best. If you work remotely, I'd recommend splurging for a faster, better connection. You could negotiate your rent price, so you can allocate that money for the provider and plan of your choice.
Service providers in Las Terrenas include Claro, CV Hotspot, Altece, and Tricom. With Claro, you can get basic internet speed of 5 Mbps for US$30 a month. An internet speed plan of 10 Mbps to 20 Mbps can cost US$35 a month, while advanced speeds of 40 Mbps to 100 Mbps can cost up to US$100.
Rent: US$400 to US$1,200
On average, a one-bedroom, one-bathroom apartment rents for US$400 to US$700 per month.
A more modern, newer apartment with nicer amenities, furnishings, and finishes will cost you US$600.
A villa goes for US$1,000 monthly, a fully modern three-bedroom villa starts at about US$1,200 monthly.
Rents often include utilities and internet.
Utilities: US$75 to US$175
If you are not planning to rent but rather to buy a place of your own, you'll need to budget for utilities.
A tank of gas for cooking and hot water costs about US$20 and should last you two or three months.
Potable water is provided by the government and a monthly bill can be as little as US$5.
Electricity is notoriously expensive in this country. In Las Terrenas you'll get your power through a company called Luz y Fuerza at a cost of about US$0.26 per kWh. For comparison, the average cost per kWh in the United States is US$0.15. I suggest you buy energy-saving appliances, as this makes a real difference in your monthly bill, and using air conditioning sparingly will save considerable money. The monthly bill without the use of an air conditioner can be about US$50, but could be double that or more if you use air conditioning frequently.
Eating Out: Completely dependent on your lifestyle
You have dozens of options for eating in restaurants in Las Terrenas. I tried several of them, and the price for an entrée with a drink was between US$15 and US$25 per person. A lot of dishes seemed overpriced to me. Unless you are eating at local Dominican eateries, restaurants in Las Terrenas are not as inexpensive as I thought they would be.
Overall, you could live with your basic necessities in Las Terrenas for about US$1,300 per month.
Splurging a little more on groceries, a better mobile and internet plan, and eating out in restaurants and bars more than twice a week could raise the cost of living for a couple to US$1,500 to US$2,000 per month.