The final landing place of Columbus and his crew on their grand discovery tour of the New World in 1492, today the Dominican Republic is a place where you can:
Live well on US$1,420 a month (enjoying the extras you'd struggle to afford back home)…
Own a three-bedroom home just off the beach from as little as US$248,000 (or a loft-style apartment for less than US$120,000)…
Enjoy year-round summer-like weather—most days here are sunny with clear blue skies. The average high is 87°F (31°C) with an average low of 73°F (23°C)…
Embrace the best of Caribbean living but also have modern amenities and entertainment nearby…
Enjoy an instant welcome in a country that embraces (and rewards) foreign investors and retirees…
Take advantage of an easy path to residency—with the opportunity to acquire a second passport in just two years…
Access high-quality and affordable medical care (and much cheaper health insurance)…
The Dominican Republic isn't entirely new to North Americans…
Honeymooners, spring-breakers, golfers, and couples seeking five-star luxury have, for a decade, been vacationing in the all-inclusive resorts of Punta Cana…
Meanwhile, backpackers and adventurers trek through the jungle, race down white-water rapids, and let loose in the party towns of Sosua and Cabarete.
But that's not the whole story of this island…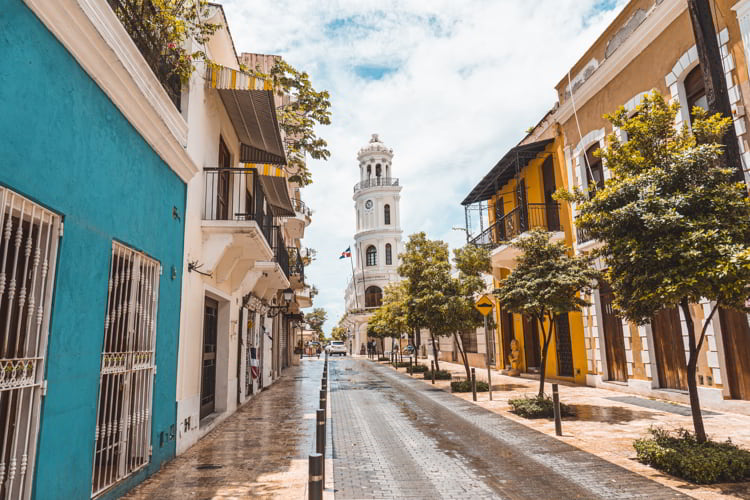 Beyond the resorts and the jungles are eclectic fishing villages and towns offering an enriching lifestyle to those wanting to stick around longer than a two-week holiday…
Plus, the Dominican Republic's historic and architecturally exciting capital Santo Domingo is the oldest colonial city in the Americas.
Property values in all these locations represent some of the best buys not only in the region but on a global scale.
And the interior of this not-so-little island nation offers rich, fertile, and seriously undervalued land prime for agricultural investment.
Now is your chance to get in early on the next wave…
In addition to its stunning coastline, the Dominican Republic right now is also one of the easiest countries in the world to live or invest as a foreigner.
Have a pension income of at least US$1,500 per month…
Prove you can produce of passive income of at least US$2,000 a month. Interest payments, dividends, etc. are suitable of course, but you can also qualify via monthly bank deposits from your bank at home into the Dominican Republic…
Or invest US$200,000 or more into a local business or "local financial instrument." Put US$200,000 in a Dominican Republic peso CD, for instance, and you'd qualify while creating an income stream that could be enough to live on…
What's more, residency here includes tax-free import of your vehicle and household goods, tax exemptions on household items and property transfers, a 50% reduction on property tax, tax-free pensions, and more.
And you can qualify for residency at any age.
Then, once you have permanent residency, the law says you need only wait two years before you can apply for second citizenship and a passport.
Of course, like many places around the world, there are two truths:
The way things are supposed to go…
The way things actually go…
In our experience, the bureaucracy here slows things down to the point where you should expect at least double the amount of time.
Still, a naturalized second passport… in under five years… granted simply by living on a Caribbean island?
It's as easy as it gets without having to pay a small fortune.
Start Your New Life Today, Overseas
A world full of fun, adventure, and profit awaits! Sign up for our free daily e-letter, Overseas Opportunity Letter, and we'll send you a FREE report on the 10 Best Places To Retire In Style Overseas Today
With its central location in the Americas, fast-developing infrastructure, and a generous package of tax incentives, the Dominican Republic is one of the best places in the Caribbean region to do business.
The government welcomes foreign investors to its industrial free-zones. If you have a business to transplant or are looking to set up your own business in a tax-friendly, benefit-laden location, you owe it to yourself to investigate the opportunities here…
You don't have to be in big business to take advantage of the Dominican Republic's tax incentives.
The government is fully committed to tourism growth. It recognizes the potential in its coastlines, its jungles, and its historic capital city. Its big agenda is "sustainable tourism," and it's rolling out the red carpet to those willing to help boost its tourism efforts and accommodate visitors in town…
Start a tourism business here—a boutique hotel, a tour business, or a dive shop may qualify—and, under Law 158-01, you'll receive tax waivers for the first 10 years on income taxes, VAT, real estate transfers, property tax, import duties, and more…
All while living in one of the Caribbean's friendliest island nations.
By way of warning, we've seen these types of government incentives before. They don't last. Fifteen-year tax breaks shrink to 10… then 5.
The property market has been on fire… but, still, prices are a great value for the region.
You Could Buy:
A two-bedroom condo with ocean views in one of the DR's most exclusive areas. Price: US$180,000…
A three-bedroom villa with its own pool in a gated community close to the beach. Price: US$200,000…
A four-bedroom home, just 300 meters from the beach, set within a small gated community. Covering 332 square meters, all bedrooms are en-suite, and it has a private pool. Price: US$380,000…
A bioclimatic villa (a smart, eco-friendly build that can save you on utility expenses) in a small and private gated community. Within a few minutes' walk of the beach, the three-bedroom villa comes with its own pool and private garden. Price: US$349,000.
I'll point out that, like those government incentives for investors and entrepreneurs, these real estate prices will go up. Visitors are already starting to see beyond the usual hot-spots… and to make their way to the lesser-known (lower-priced) towns and villages.
Right now is the time to explore all the Dominican Republic has to offer.
Sincerely,



Kathleen Peddicord
Founding Publisher, Overseas Opportunity Letter