Where Should You Retire In 2020?
Retiring abroad, and launching a new life in a new country is the adventure of a lifetime. But with an endless array of choices, from white-sand beaches to mountain living, and from Old World culture to ultra-modern metropolises, how do you decide what's best for you?
We are here to make that decision a little bit easier for you. We have spent the last year compiling the information you need to make an informed decision. Our editor and writers have traveled to the four corners to enable you to more easily decide which retirement location best suits your needs.
We believe you are never too old to learn, and we never rest on our laurels. This is why we have spent months on-the-ground throughout 2019, ensuring our 2020 recommendations are up-to-date and comprehensive. As for the result, we believe this country-by-country comparison is the best we have ever produced.
Before we get into it, it is worth making a special mention to our number one Overseas Retirement option, the Algarve, Portugal. At the risk of contradicting what was said earlier, the Algarve scores highly across the board. For this reason, we have it as our standalone winner, the place which will appeal to most people.
For this year's results, we´ve listed 13 destinations, creating our most complete Index to date.
13. Malta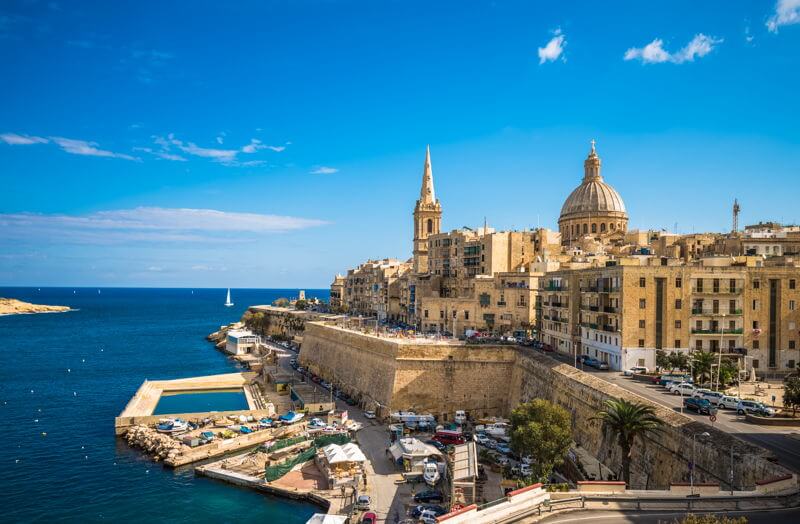 Population: 493,559
Expat Community: Malta counts with a vast expat community from all over the world
English Spoken: English is one of Malta's two official languages
Temperature: About 86°F in summer
Access To And From The States: Easy access through another European city like Paris or Amsterdam
Health Care: Malta health care system is considered the fifth-best in the Its public health care system is free to Maltese citizens and EU residents.
Why Should You Retire In Malta
From its weather and food to its history and culture, Malta is not only the best in Mediterranean Europe but also one of your most affordable options for embracing this lifestyle.
Malta's rugged coastline boasts dramatic cliffs and tiny coves dotted with ancient forts and quaint fishing harbors. Inland, stone walls separate fields of olives, wheat, and potatoes. Wine production is also popular, and, in season, vines hang heavy with grapes all over the island.
At the same time, Malta is a modern, First-World, and EU-member nation with a long-standing, stable democracy. Its second official language is English, and the entire country speaks it fluently. The health care systems and standards in Malta are considered the fifth-best in the world.
Because Malta ticks so many boxes—with its superb health care, low crime rate, fantastic climate, and friendly locals—it is a country with broad appeal… quintessential Mediterranean Europe. And, notably, it's the only place you can experience the famed Mediterranean way of life among locals who speak English.
Where To Retire In Malta
Valletta, the capital city of Malta, is a testament to the country's rich history: It boasts historical treasures on the corner of every winding cobblestoned street. But this is also a modern European capital with great shopping by day and entertainment nearby at night.
In 2018, Valletta was selected the European Capital of Culture, affording it a facelift and restoring many of its beautiful old buildings. This is a great place to live if you like having entertainment on your doorstep, with plenty to see and do regardless of the time of day.
Beyond the city, the gnarled, limestone islands of Malta, Comino, and Gozo conceal an impressive array of caves, scenic sunsets, and some of the most stunning harbors on the planet. Its rugged coastline boasts secluded bays, dramatic cliffs, and tiny coves dotted with ancient forts and quaint fishing harbors.
During summer, towns and villages all over the islands have their own small festivals. Every town or village has at least one feast dedicated to a saint. In the summer months, you can catch one virtually every other week. The feasts usually run for a full week, coming to a climax on a Saturday.
12. Ecuador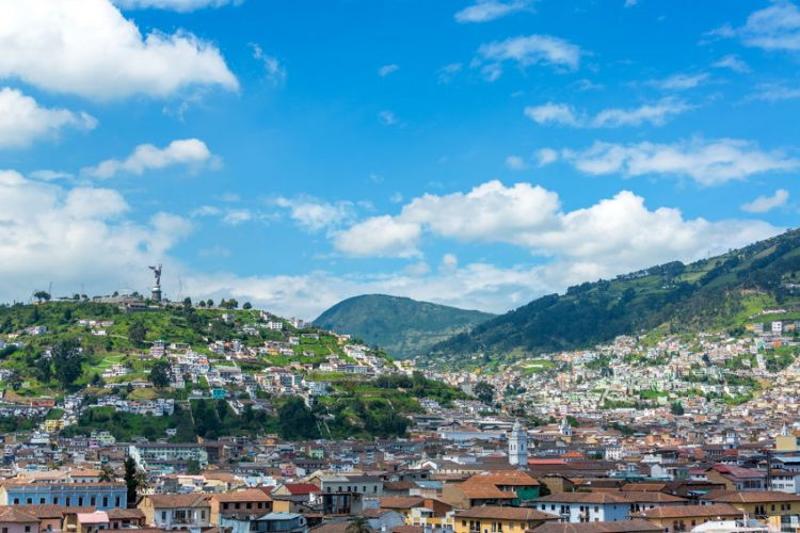 Population: 331,888.
Health Care: High quality, much cheaper than the States.
Expat Community: Established expat community.
Climate: Mild weather year-round.
Ecuador is becoming one of the favorite retirement destinations for American expats. Historically it was a popular destination for students looking to study Spanish. Today students are being joined by retirees and expats looking to start a new life overseas.
Read More: The Evolution Of Cuenca, Ecuador, Into A True Expat Haven
But why retire in Ecuador?
The first thing to mention is the infrastructure. Flights to the States are regular and well priced. Transport within the city is also modern and reliable. You can also get around easily on foot. Many expats report that they lose weight when they arrive thanks to all the extra walking they do.
As a result of its elevation of 2,560 meters, or nearly 8,400 feet, Ecuador has mild weather throughout the year. Springlike is the term often used to describe it. There are two main seasons, rainy and dry. The rainy season runs from January to April.
Cuenca, for example, is famous for its well preserved Spanish district. The best part is that the city doesn't feel like a heritage project. The colonial district has been lived in since it was built and has evolved with the rest of the city. If you want to enjoy colonial-style buildings in a cooler climate, Cuenca is your number one option.
Cuenca benefits from a thriving arts scene. The symphony orchestra is genuinely world-class and performs free for much of the year. There are a variety of museums that host exhibitions from across the world. The annual film festival is another annual highlight.
The cost of living in Ecuador is another big plus. It is by no means the cheapest place to live in South America, but still very affordable. You can live here on social security and pension and live well. The biggest saving comes from housing. The price of a home in Ecuador is less than 50% of a similar property States. Thanks to the moderate climate bills are reasonable and you won't pay high bills for heating or air conditioning.
11. Indonesia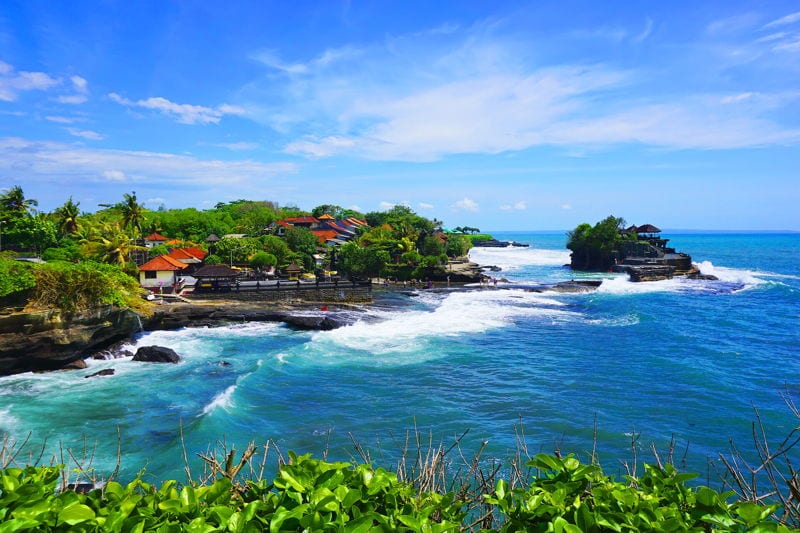 Population: 270.63 million
Expat Community: Yes
English Spoken:Yes
Temperature: 84°F
Access To And From The States: No direct flights
Health Care: Good quality and affordable
Why You Should Retire In Indonesia
Indonesia is the most iconic retirement destination in Asia.
Most people come here to enjoy an outdoors retirement. Indonesia has some spectacular countryside. From jungles to mountains, beaches, and tiny hidden islands. The best place to retire in Indonesia is Bali.
Bali enjoys an almost mythical reputation as a travel destination, and it makes perfect sense… Its beaches and natural beauty are phenomenal, its local culture is fascinating and friendly, and it's an inexpensive place to be.
Bali visa requirements are changing. Over recent years it has become much easier to get a visa for entering Indonesia. The easiest way to get a long-term visa in Indonesia is the retirement visa.
Bali offers a range of health care facilities, from small, specialist clinics to large, private hospitals with emergency facilities, high-tech equipment, and Western-educated doctors. Standards of care are high enough that these facilities are suitable for most treatments.
Although Southeast Asia is inexpensive, one major downside to settling here is the time and expense involved in getting to and from North America or Europe… If regular visits to your home country are part of your plan, you should factor international flights into your budget.
Read More: Best Places To Retire In Indonesia You Should Consider
Where To Retire In Indonesia
Canggu (pronounced CHAN-goo), a neighborhood on the southwest coast, is quickly becoming Bali's place to be. It offers an eclectic combination of modern lifestyle and traditional culture… besides soft-sand beaches with surfable waves, a plethora of cafés, bars, and restaurants, and a distinctly residential feel.
Canggu is a modernized Balinese neighborhood, existing in the sweet spot between old and new, local and international, traditional and trendy… Some have even taken to calling it the Brooklyn of Bali because of the quirky combination it offers.
The expat community is big, well-established, and active, full of people from all over the world. There are expats from Canada, Australia, New Zealand, the States, Russia, Korea, Brazil, Japan, Argentina, and Germany to name a few.
10. Slovenia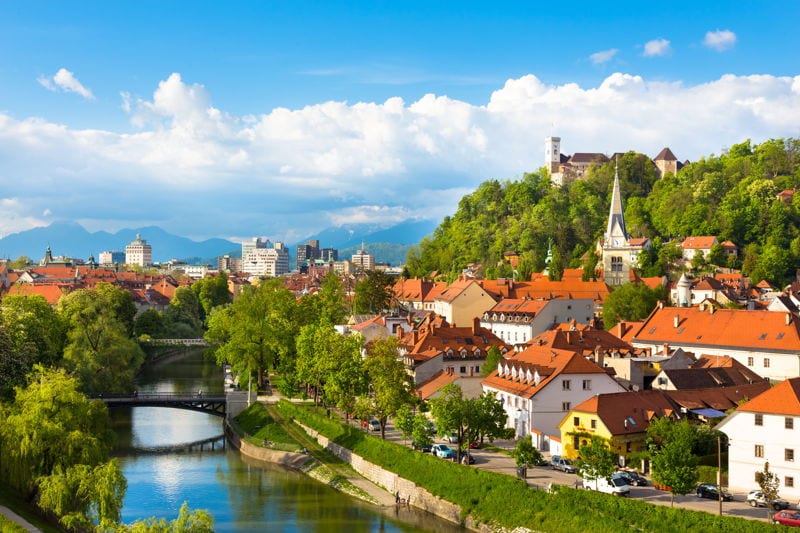 Population: 2.08 million
Expat Community: Yes
English Spoken: Most of the younger Slovenes speak English fluently
Temperature: About 77°F in summer
Access To And From The States: Access to Slovenia through its only international airport, Joze Pucnick, or by road and rail through Slovenia's      neighboring countries like Italy, Austria, Croatia, and Hungary
Health Care: Slovenia's medical facilities are the most advanced in Central and Eastern Europe (globally, Slovenia ranks just below #37 United States, according to WHO).
Why Should You Retire In Slovenia
Slovenia is nestled among Italy, Austria, Hungary, and Croatia in Central Europe. It's the second richest of the 13 Slavic countries.
The country is impressively bio-diverse, occupying an enviable position at the center of four major geographic points: the Alps, the Dinaric Alps, the Pannonian Plain, and the Adriatic Sea. It's the best place to retire for nature and mountain lovers.
Slovenia even has a wine region in the hills around Maribor, also only an hour from the capital. The northeast of the country is home to numerous spas, and the country boasts three UNESCO World Heritage Sites and more casinos than any other country in the EU.
Slovenia has a very low crime rate in general and is ranked the 10th safest country in the world. The OSAC (Overseas Security Advisory Council) has given the country its lowest danger rating. Violent crime is all but unheard of.
Where To Retire In Slovenia
Slovenia's town of Bled is a hotbed of outdoor activity year-round thanks to its diverse natural blessings. Glittering, deep blue Lake Bled is the center of its eponymous town, flanked on all sides by the soaring Julian Alps… A stroll around the lakeside offers a stunning backdrop regardless of the season—bucolic greenery and a riot of blossoming flowers during summer and icicled, snow-covered branches in winter, everything covered in fresh ice and powder.
Bled is refreshingly rural and largely forested, with a rich aquifer system that cuts through its mountains in subterranean rivers. Its surrounding area is impressively biodiverse (and just a 10-minute drive from Triglav National Park).
Slovenia's top Alpine resort, busloads of domestic tourists come to Bled each year to enjoy the hotels' thermal-water-filled pools, its campsites, mountain paths, and boating… yet Bled still manages feels like a genuinely quaint, rural town, almost something out of a fairy tale…
Read More: Cost of Living in Bled, Slovenia