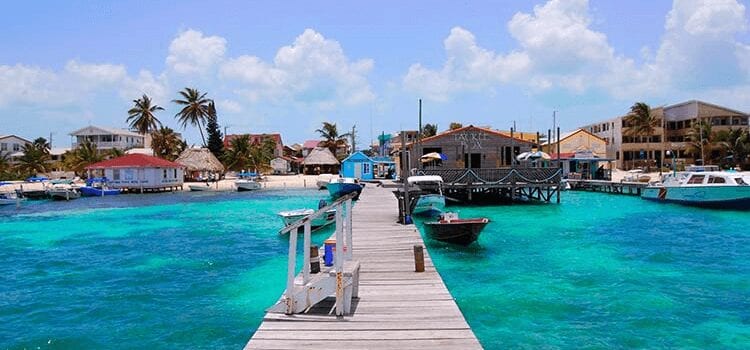 Ambergris Caye is an English speaking Caribbean island with an intriguing past and a promising future. From Mayan trade post to pirate hideout, Mestizo fishing village to "Temptation Island," this once sleepy tropical paradise is coming of age. Despite a quintessentially Caribbean in look and feel, Ambergris Caye's political and cultural identity is Belizean to the bone. In other words, the residents of this island are warm and welcoming but also independent and politically active. Belize only gained its independence, from the British, to form a democracy in 1981. The citizens of Ambergris Caye, like other Belizeans, take this privilege seriously.
The Belize Barrier Reef is the second-longest reef in the world and the most spectacular in the Western Hemisphere. This stunning natural wonder has attracted snorkelers, scuba divers and fishermen since the advent of tourism on Ambergris Caye. Ambergris Caye is the only populated island in Belize where the reef is so close it feels like you can reach out and touch it. It isn't that difficult to jump into a kayak and paddle out to the reef to relish this living aquarium.
Cost Of Living In Ambergris Caye
This island is the most popular tourist retreat in Belize. In the recent past, it has been frequented by scuba divers, fishermen and water sports enthusiasts. But the tides are shifting.
These days you'll find a steady stream of Baby Boomers visiting. They're searching for the perfect place to retire to or escape to for part-time living. They are privacy-seeking individuals attracted by the island's natural beauty, easy residency, and lively community. But they also have noted the advantages of the outstanding offshore banking, international corporation business structures, and trusts offered in Belize. A couple can live well in this city for less than 3,996 Belize dollars per month. (The Belize dollar is fixed at BZ$2 to US$1.)
Ambergris Caye is the most popular and well known part of Belize. Although part of Belize, this is a colorful Caribbean island, in look and feel. So it is not surprising that the cost of living on Ambergris Caye is not cheap – by Belizean standards. But those who live here are happy to pay a bit higher price than what we would pay to live on the mainland… It is, after all, an island paradise surrounded by the stunning Caribbean Sea. Every day residents relish the sight of the waves breaking off shore on the world's second largest barrier reef. And there is a wonderful, active community on the island.
A major cost here is that associated with either buying or renting a home or condominium. So that is the first thing to evaluate. Property values on the island are pricey due to the value of land near the Caribbean Sea and barrier reef. But when compared to other Caribbean islands, the costs of properties on this island are quite reasonable. And Ambergris Caye is easy to get to. For the person who is willing to buy an older condo, you can find a fairly nice one for under US$250,000. And if you are willing to rent off-beach, there are nice places available for under US$1000/month or less. The great deals get snapped up quickly. Word of mouth is the best way to find an exceptional deal.
Your cost of living on this island and in Belize in general, will depend on the lifestyle you choose, and how well you adapt. There is a real cost associated with shipping goods from the mainland to the island. The cost of living here, in general, is higher due to tourism and the fact that there are more tourists and expats here than in other parts of the country. But there are many ways to cut the cost of daily living, if you pay attention and are a careful shopper.
You'll find that some items are much less expensive than in North America. For instance, you can design your own furniture and have it made from lovely Belizean hardwoods, such as mahogany, cabbage wood or poisonwood. It will cost about the same as a factory purchased furniture in the USA or Canada. But you will have a handmade product built to your specifications. You can also get by with a bike if you live near San Pedro Town. If you live further out, a golf cart will suffice. Even though golf carts aren't cheap, the cost of fuel and insurance are negligible compared to what you'll spend on the mainland or in North America. (Expats cannot bring a car onto the island unless they have a business that requires it.)
Expect to spend US$8000 on a newer, solid golf cart. But the insurance and fuel will amount to less than US$500/year, unless you live far from town (more than 4 miles). Many cart owners spend less than US$500/year in maintenance and expect to keep their golf cart for at least five years. (Keep in mind that once out of town the roads are not paved, so wear and tear on a golf cart increases.)
On the other hand, you can spend quite a bit at nice restaurants, bar hopping, travel, and imported foods. There are certain foods here that are very reasonably priced. Many islanders have made beans a staple. They are cheap and wholesome. Fresh fish can be purchased at the dock for US$3.50/lb. But imported, boxed cereal is about US$7/box! Many expats regularly eat street food, which is good. You can even find tasty chicken taco from a street vendor for US$2.
Liquors and wine prices vary significantly. A bottle of local beer or rum is very reasonable. But if you are craving a good gin and tonic, you could spend US$45 for a decent bottle of Tanqueray gin… Same deal for Jose Cuervo tequila. Many expats wait for boat trips to Chetumal, where you can buy the same bottle of Tequila for less than US$20. You can also wait and buy gin when returning through Belize's duty free store at the International Airport. A bottle of Beefeaters or Tanqueray gin sells for about US$20 there.
On the island, it isn't uncommon to eat out several times a week and visit Wine de Vine to socialize on Friday nights. We splurge on nice wines, typically running US$20-25+/bottle. But we also eat a lot more beans than we ever did in the USA. They are wholesome, cheap and readily available. Beans have become one of our main staples! We also eat a lot of seafood and chicken, but seldom eat beef. We get along fine with only one golf cart, vs. the two cars we had in the USA. That really cut our transportation and insurance costs.
Medical care here is very affordable. A visit to the doctor will run from US$20-30 per visit. It depends which doctor you visit. Most prescriptions are sold over the counter and are reasonable. (Some people head to Belize City every six months and stock up on meds at Brodies. It is less expansive there than on the island.) It's possible to get a full battery of medical tests for between US$200-300 at Belize Medical Associates, in Belize City. That is where many expats have their yearly annual blood, and other work, done. Most expats also have BUPA insurance and say they generally stay well below their deductible. And dental care is very reasonable, and the quality is good. You'll find good dentists on the island.
One couple reports an average of about US$3,000/month, without rent or house payment, or homeowner's dues to contend with. They reported living a very comfortable lifestyle and spending much less than they did in the San Francisco Bay area, a few years ago. Another couple has reported living on US$2,565/month and a single woman has said she lives on US$1,374/month.
In terms of real estate, you can find ads for older off beach condos on offer for US$125,000. One, in particular, was a studio unit located in a good neighborhood, about 2 miles south of the downtown area. If you are looking for a swanky house or condo on the beach, north of the bridge, you could easily spend US$800,000 and up. There are plenty of older one- or two-bedroom condos available for US$200,000 to US$400,000. The newer ones, on the beach, typically start at US$350,000 to US$500,000 these days and go up from there. But the new off beach development's condo prices at Grand Baymen start around US$100,000 and go up to US$374,000 for a two- or three-bedroom condo. You will still find a few good deals for older condos on the beach for as low as US$150,000 for a one-bedroom/one-bath apartment. There are no longer many of these, though. And typically they need a major facelift.
Monthly Budget For A Couple Living In Ambergris Caye, Belize
| Item | Cost | Notes |
| --- | --- | --- |
| Rent | BZ 1,600 | Unfurnished, two-bedroom apartment. |
| Gas | BZ 20 | For cooking. |
| Transportation | BZ 150 | For taxis and motos around town. |
| Electricity | BZ 300 | |
| Water | BZ 50 | |
| Telephone | BZ 150 | |
| Internet | BZ 160 | Bundled with cable. |
| Cable TV | N/A | Bundled with internet. |
| Groceries | BZ 600 | Basic items for couple. |
| Entertainment | BZ 900 | Social outing, 50BZ p/person |
| Total | BZ 3,930 | US$1,965 |
Click here for currency conversion at today's exchange rate.
Infrastructure In Ambergris Caye
Ambergris Caye is coming of age. The three original town roads are paved, and a number of others have been carved out. A central island roadway continues nearly from end to end, meaning that, now, you don't have to travel by boat to see the length of the island. You can go by golf cart (the preferred means of transportation these days).
As long as you rent or invest in property near town, you'll find that the utilities and infrastructure are similar to those in any small North American city. The exceptions to this are the roads and sidewalks. The main drag in San Pedro is paved with cobblestones throughout the major town area. But most streets lack sidewalks or marked parking lots.
Climate In Ambergris Caye
The weather on Ambergris Caye is similar to that of Corozal and the coast of Northern Belize. The temperatures range from a high of 85 to 94 degrees Fahrenheit during the summer months and from 70 to 85 during winter.
Temperatures in the evening are typically at least 10 degrees cooler. During most of the year the heat is moderated by the cooling Caribbean Sea breeze. Only in August and September does this breeze diminish. These are the warmest months of the year. In the winter the northerlies bring chilly breezes; the temperature can drop 10 degrees or more for a few days at a time.
December through March is the period when northerlies are common. Ambergris Caye receives an average of 40 to 60 inches of rain a year. This is significantly less than the southern areas of Belize. Punta Gorda can receive 160 to 190 inches of rain in a year. The dry season runs from November through May. The lowest rainfall is from February through May, making it a perfect time to visit. The wettest months, on average, are June and October.
Belize's hurricane season is June through mid-November. But the few hurricanes that do occur are most likely to hit Belize in September and October. Atlantic basin hurricanes typically originate off the coast of Africa, near the same latitude as Belize. They track west for a while and then typically head northwest toward Florida or North Carolina. The majority of these hurricanes don't come anywhere near Belize.
Ambergris Caye is the largest of over 200 islands scattered along the eastern Caribbean shores of Belize. It is 36 miles in length and varies in width. In the middle of San Pedro Town, you can see the sea to the east and the lagoon—between mainland Belize and Ambergris Caye—to the west. Although an island, Ambergris Caye was at one time a peninsula that extended off Mexico's Xcalac Peninsula. The man-made channel on the north side of the island separates it from mainland Mexico. It is said that the Mayans inhabiting the island hand dug this channel so that their canoes could easily move between the lagoon and the Caribbean Sea. From almost any point on the easterly beach you can watch the waves break on the stunning barrier reef, less than a mile from shore.