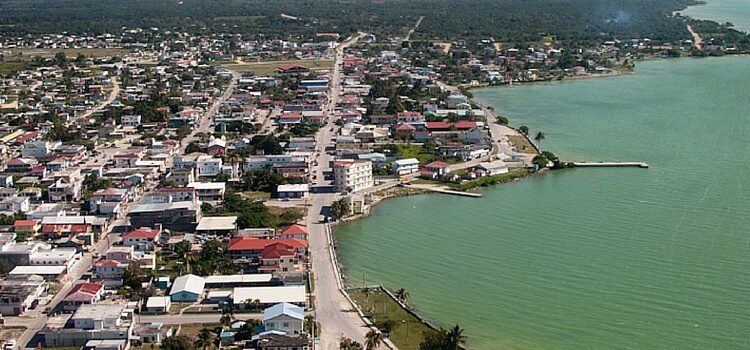 Life in Northern Belize is as diverse as its amazing landscape. Over the years, locals and expats have built their homes and lives beside secluded tropical rivers, amid noble hardwood forests, upon bucolic traditional farms, within sleepy rural villages, and along breezy Caribbean seashores. They are attracted to a simple, friendly life in a place which is refreshingly off-the-radar.
Northern Belize is a region encompassing a landmass of only about 2,500 square miles, but it stretches from the Caribbean Sea to the forests of Central America. The population of under 50,000 people means you can enjoy plenty of solitude—a welcome respite from the hustle and bustle of the rest of the world. It is truly where the Caribbean and Central America meet. These combined backdrops are enhanced by ancient and contemporary influences.
From the rich Maya history, evident throughout the region, to the relatively recent contribution of the Mennonite community, Northern Belize has benefited from its diverse population. The new wave of North American expats is now making this discovery. The towns of Corozal and Orange Walk provide most of the municipal services, but for First World shopping trips and experiences, Chetumal, Mexico, is right across the border.
Cost Of Living In Northern Belize
Northern Belize is the best value destination in Belize and one of the most affordable options for retirement in the Caribbean. A couple can live well in the region for less than 2,936 Belize dollars (US$1,457) per month.
Northern Belize Budget
By Con Murphy
Prices listed in Belize dollars. Go here to exchange at today's rate.
Eating out:
A beer: 4 to 5 Belize dollars
Glass of wine: 8 to 10 Belize dollars
Rum and coke (or other local cocktails): 4 to 5 Belize dollars
A coffee: 3 to 8 Belize dollars
A sandwich (or equivalent): 5 to 10 Belize dollars
Average cost of a meal out per person in your city:
Lunch: 10 to 20 Belize dollars
Dinner: 10 to 30 Belize dollars
Car/motorbike ownership:
Car insurance: 400 Belize dollars
Fuel: 12 Belize dollars per gallon (3.8L) gas
Upkeep: 2,400 Belize dollars per year min; much more if you drive on unpaved roads
Monthly payments: local finance is not cheap
Parking: 0
House Ownership Budget (for a couple)
Item
Cost
Notes
Mortgage
Not included here as too variable
HOA Fees
1,200 to 1,800
Average: only in serviced expat developments
Property Taxes
20 to 500
Rural: 20
In town: 500
Transportation
300
Taxis in town: 7 to 10
Bus to Belize City: 8
Private vehicle: 300 (recommended if you live outside Corozal or Orange Walk)

Gas
50
Cooking: 25
Hot water: 25

Electricity
150 to 500
No air conditioning: 150
Moderate air conditioning: 240
Lots of air conditioning: 500
Water
30 to 200
Higher if you have a pool or water your lawns
Cell phone
30
Basic plan: 30
Unlimited talk and 8GB: 50
Pay as you go also available

Cable TV & Internet
85.50
Bundle cable & 30Mbps internet
Household help
200
Monthly wage working one day per week
Minimum wage: 3.30 per hour (but consider paying 5 to 7 depending on the work)

Entertainment
840
Eating out twice a week at a mid-range, local restaurant: 320 (20 per person eating out twice a week)
Drinks twice a week at a nearby watering hole (5 per drink for two people)
Movie theater trip twice a month (15 per person)

Groceries
440
Basic items for a couple
Gym membership
N/A
No proper gyms available
Medical appointment
50 to 100
General practitioner: 50
Specialist: 70 to 100

TOTAL
3,395.50 to 5,045.50
Highly variable
Click here for currency conversion at today's exchange rate.
Apartment or House Rental Budget
| Item | Cost | Notes |
| --- | --- | --- |
| Rent | 800 to 1,200 | Very comfortable western-style apartment or house |
| | | |
Penny-Pincher's Budget (for a couple, bare minimum costs for all)
Items
Cost
Notes
Rent:
500
Transportation
80
Cheapest forms of public transport; a few taxis and buses included
Gas
40
Cooking: 25
Heating: 15

Electricity
80
Water
30
Cell phone
30
Cable TV & internet
40
Entertainment
340
Groceries
340
TOTAL
1,480
Infrastructure In Northern Belize
One of the best indications of progress is paved roads. While the British left a strong legal, educational, and governmental foundation, they did not leave a great deal of physical infrastructure. Over the last few years, much more emphasis has been placed on some of these vital features.
The Northern Highway that connects Belize City and the rest of the country with Corozal and Mexico to the north is a fine example of that. Once a tortuous pothole ride through cane fields and small towns, it has been upgraded to a modern road. Before, you had to drive through the middle of Orange Walk Town and its tiny streets behind tractors and cane trucks, but now they have built a nice, efficient bypass that shaved a lot of time off the drive.
Not everything is about pavement. Dirt roads are still the norm in Northern Belize, but even those have been getting continual, albeit slow, upgrades. You can tell when it is election time in Belize because the roads in towns that are vital to the incumbent's chances of reelection will be graded and smoothed to show how much that official is doing for his people.
Traveling into the hinterlands can still be an adventure and the cause of flat tires, poor suspension, and possibly even a crooked back, but with good planning, you will have a supply of water, a good spare tire, a full tank of gas, and a cellphone. Having the correct attitude going in helps.
Climate In Northern Belize
Northern Belize is a very attractive destination to people who are looking for a consistently warm climate. The climate is subtropical. Temperatures range from 60 to 95 degrees Fahrenheit. The area boasts the most hospitable climate in the country. The region enjoys trade winds coming off the ocean and has two seasons. The rainy season is between June and December and the dry season covers December to May.