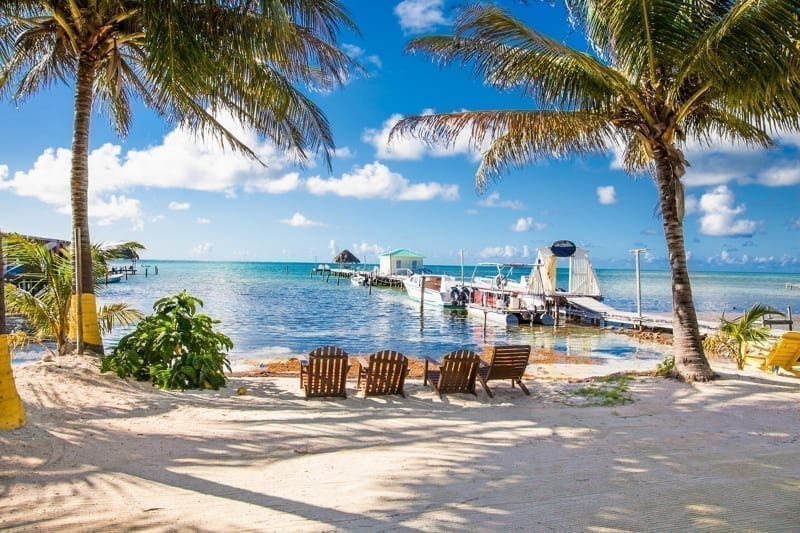 Alamy/Александар Тодоровић
Most traveling in Belize occurs in the dry seasons of winter and spring in the U.S., as they are more conducive to moving around than wet seasons. With the bulk of travel between Thanksgiving and Easter, when the majority of North America is cold, its residents are eager to leave the snow behind and escape to a warm, tropical destination. Alternatively, one school of thought is to visit during the rainy season when the conditions are least favorable, allowing you to make an informed decision as to year-round circumstances.
What To Bring On Your Belize Travels
Clothes
When packing for Belize think light and casual. Light-weight, light-colored, comfortable clothes will lend themselves well to the environment, climate, and activities. Athletic shoes suitable for expected terrain (e.g., hiking boots if you are headed deep in the jungle, otherwise walking shoes should be adequate) plus a pair of sandals are recommended. A swimsuit is recommended for the plethora of water activities and many resort pools.
Other Things You May Want To Bring
Visitors may not be accustomed to the tropical sun's high ultraviolet index, so be sure to include sunscreen, sunglasses, hat, and after-sun lotion. Insect repellant can prove a savior if you find yourself in a buggy situation. It is ideal to have a credit card, an ATM/debit card, and U.S. cash in bills smaller than US$100. Most hotels accept major credit cards, but otherwise, the majority of transactions are cash–cash is king. Additional items suggested are first-aid basics and spare glasses/contacts. You can leave expensive watches and jewelry at home. They are not necessary, and why take the risk of loss or theft. Also, there is no need for electrical converters; electricity is supplied via the U.S.-standard two-prong plug at 110 volts.
Getting Around When You Travel in Belize
Traveling In Belize By Air
Somewhat surprising given Belize's small geographic size, yet due to island destinations and varying road conditions, the fastest and easiest way to travel in Belize is via small propeller planes. Flights from the mainland to the islands are approximately 20 minutes, costing between US$35 to US$65 depending on departure and arrival locations. Puddle-jumper flights—as they are known—are provided by two airlines, Tropic Air and Maya Island Air. Both have several daily scheduled flights among the seven airstrips and international airports throughout the country. With the frequency of flights and ease of travel, it is feasible to arrive minutes prior to the time of flight, purchase a ticket, and jump aboard. Nonetheless, if you know your plans it is best to make a seat reservation (especially on the last flight of the day, as a small group, or with a strict schedule). To make reservations simply call ahead to departure airstrip and give the name(s) of passenger(s) for flight.
Traveling In Belize By Land
The Type Of Car You'll Need
Four-wheel drive vehicles are mandatory in Belize. They are capable of handling the variety of road conditions that Belize can present: unpaved roads, mud, steep inclines, open drains in cities, and water over paved roads. You may not encounter these conditions, but when your safety is in jeopardy it is better to be safe than sorry. The size and style of the vehicle is not as significant. A smaller vehicle has benefits, considering some of the narrow streets, parking options, and fuel costs. Several auto rental companies are conveniently located at the Philip Goldson International Airport.
Renting A Car
Rental agencies accept payment via credit card and honor licenses from country of residency, but a valid driver's license must be presented. Ask if they have a map of Belize City. Most have disposable ones; it is the freebie-type with advertisements plastered in free space, but it will come in handy. The airport's main parking lot separates the strip of car rental offices from the airport curbside.
Taxis
Leaving from the International Airport, a row of official taxis (bearing green license plates) are available. Most carry arriving passengers the 20 minutes from Ladyville into Belize City at the rate of US$20. Taxis allow you to maneuver within Belize City, but are not ideal in more rural areas or as transport throughout the country.
Shuttle Services
Shuttle services provide transportation and are on call for your travel needs. Rates vary, due in some part to fuel prices, and you should get a specific price quote when requesting each transport.
A private shuttle is most common, but now some services are also starting to offer combined passengers and/or groups, as sharing the cost brings down the price for each individual.
You can check with the company to inquire if they have any other transports around your time frame and that you would be willing to share the ride (sometimes they don't suggest it themselves because if there are multiple paying customers it's more business for them).
Buses
Bus service throughout the country is extremely inexpensive and is the common means of transportation for Belizeans. Most buses are old school buses that have been repainted to reflect the company of service. They do not have air conditioning or bathrooms, and flagging one down sometimes requires standing in the road (I have seen a bus roar by anticipating passengers not aggressive enough).
Travel is slow, due to the infrastructure in Belize, with many stops between destinations. Needless to say, tourists are not widely advised to and rarely use the bus system. Still, if you have plenty of time and a huge sense of adventure it is possible to see all three major highways routes (North, West, and South) for about US$15.
Traveling In Belize By Water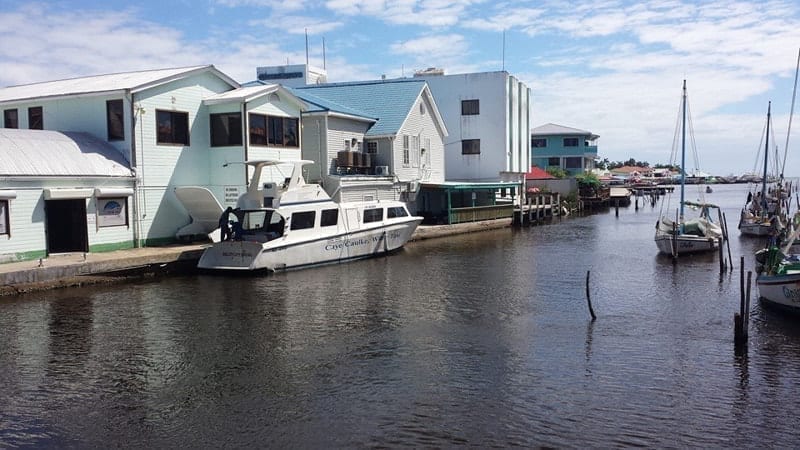 La Pulgarcita via Wikimedia Commons
Water taxis ferry passengers back and forth from the mainland to the island as well as among the island chain. Travel via water taxi is inexpensive and offers a firsthand experience of the beautiful waters of the Caribbean.
Most boats are semi-enclosed and, depending on demand, between 30 feet and 50 feet in length, with full capacity between 40 and 70 passengers. Although it is a high-speed water taxi (approximately 30 mph), it is a slower-paced mode of transportation, with the trip from Belize City to Caye Caulker taking approximately 45 minutes (and then an additional 30 minutes continuing to San Pedro) versus a 20-minute flight.
Two companies operate multiple trips daily to and from Belize City, Caye Caulker, and San Pedro with prices starting at US$17.50 for a round trip. Purchase tickets and catch your boat at one of the two locations in downtown Belize City.
The Caye Caulker Water Taxi Association's marine terminal is at the foot of the Swing Bridge on Front Street. The San Pedro Belize Express Water Taxi is also on Front Street (111 N Front St.) between the Swing Bridge and the tourist village.
Both companies now have the same owner, meaning their schedules may begin to complement each other instead of directly competing.
Connecting the northern part of the country with the islands is another service. The Thunderbolt is a high-speed water taxi running twice daily (7 a.m. and 3 p.m.) from Corozal Town to and from San Pedro. Price is US$42.50 for a round-trip ticket, and the duration is approximately two hours. Board your boat at the main public dock just off the triangle courtyard intersection of 1st Avenue and 2nd Street South.
The most recent water taxi service, starting in late 2009, provides transport from San Pedro to Chetumal, Mexico. This traffic is mostly San Pedro residence going to and from Chetumal to take advantage of the many conveniences a metropolitan area has to offer (shopping, medical care, theaters, etc).
The price is US$90 for a round trip that takes approximately 90 minutes, but to those who have a case of "island fever" it's the perfect escape.