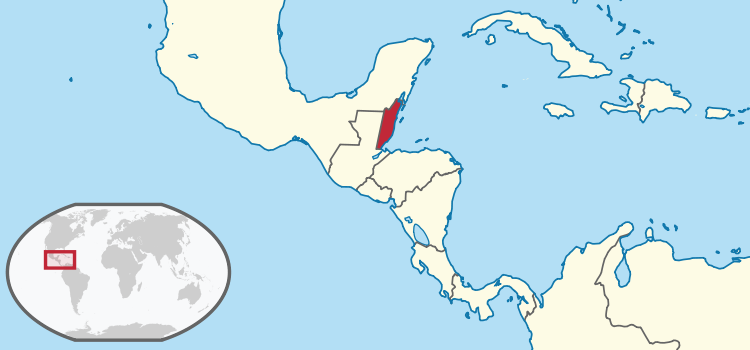 Where Is Belize Located?
Belize is located in northern Central America, bordered by the Caribean Sea to the East, Mexico to the North, and Guatemala to the South and West.
Geography Of Belize
Belize is a small country. A land mass of 8,867 square miles makes it roughly the same size as Massachusetts. The country is approximately 180 miles from North to South and 70 miles from East to West. Although small in size, it is rather diverse in environment. The Northern half of the country is more flatlands whereas the Southern half is a low mountain range. The Maya Mountains, as they are known, reach a little over 3,500 feet above sea level at their highest. Belize is a narrow country with a mountain range along its western border and the Caribbean Sea as an eastern border. These conditions combine to create weather variations. As you go further south in Belize, annual precipitation increases drastically. It is this rain which gives southern Belize its lush tropical rain forests.
Just offshore from the mainland, Belize has the second-largest barrier reef in the world, including the famous underwater atoll, known as the Great Blue Hole.
Map Of Belize
Get Your Free Belize Report Now
Discover more about Belize through our daily e-letter, Overseas Opportunity Letter. Simply fill in your email address below and receive a free copy of Reef, Ruins, Rivers, and Rain Forest Plus Easy Residency and Tax-Free Living. This special report covers the easiest options for residency, real estate, and much more.
From Belize To Costa Rica—Where Do We Go Next? "Ready, aim, fire" is a formula tested by probably…
Read More...
How To Make Money In Belize In Belize, there are plenty of options for generating small and large…
Read More...
We recently received a letter from a reader who was curious about an essay on Corozal Bay written…
Read More...
Traversing The Caves And Ruins Of Cayo When we think of Belize, it's easy just to be captured by the…
Read More...