Firstly you need to find a property among all the available catalog if you are decided to look for a Belize Real Estate. We recommend renting in the area for a few months before you make any final decisions. This will give you time to get a feel for the neighborhood. If possible visit the area at different times of year to get the best understanding of the climate.
Hire an attorney and get them to check that the property has the proper title, and that the seller is in fact the owner.
Next make an offer, negotiate, and agree on a price for the property. Once you have agreed to a price you will need to submit a written offer to purchase and pay a deposit.
Pay stamp duty and closing costs. Stamp duty is 5% of the purchase price for Belizeans. Foreigners pay 8%.
Your real estate agent should tell you this information but not all of them do. Make sure you check in advance and avoid paying the stamp duty on personal items.
In Belize, the seller pays the real estate agent's commissions. The buyer pays for all the closing costs plus the stamp duty. If you are the buyer make sure you know it is not your responsibility to pay the real estate agent's commission.
What Kind Of Property Do You Want In Belize?
Belize is a small country that offers diverse choices, so you have to start any conversation about buying real estate in Belize with the question:
What Are Your Objectives?
In Belize, you could invest in a condo on the beach, a home in a planned community, a house in a local town, or a piece of land in the country. Each purchase has its advantages and its downsides, so, it's all about what you're looking to accomplish. Are you shopping for a place to live or for long-term appreciation? Do you intend to use the property full time yourself or only part time with the hope of renting it out otherwise?
Investing On A Beach Condo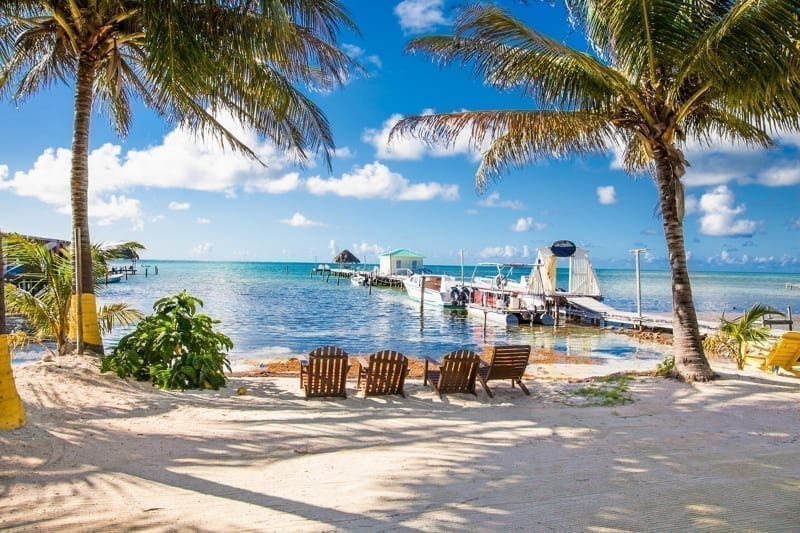 Alamy/Александар Тодоровић
To state the obvious, a beach condo puts you right on the beach but keep in mind that little Belize has a long mainland coast and cayes offshore, meaning lots of beach choices, and not all beaches are created equal. Some beaches in this country are Robinson Crusoe-style. Others are rowdy and noisy with lots of nightlife and tourists. Again, it comes down to what you're looking for. Do you want privacy or company, solitude or parties?
Investing On A Planned Community
A home in a planned community means privacy and security, peace and quiet. Planned communities are relatively new to Belize. Most are being built to North American standards, meaning you won't have the quirkiness of a Belizean home (lights that turn on when you push the switch down, for example) and you won't have Belizean neighbors, either. This could be a plus for you or a minus. Planned communities are outside the towns for the most part, meaning that, while you'll be safe and secure behind the guarded gate, you'll also be a drive from shopping and restaurants. A drive at night in this country can be an adventure because the roads are basic, often dirt, and almost always unlit.
Investing On A Home In Town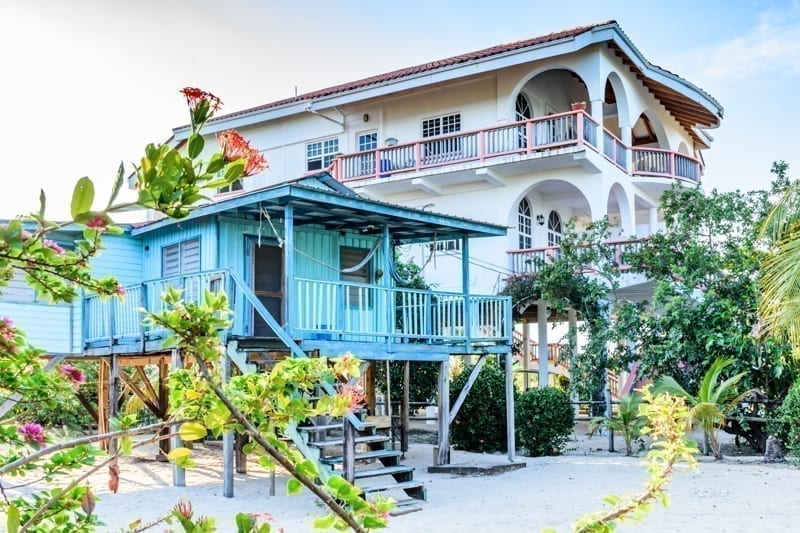 iStock/Lucy Brown – loca4motion
A home in a planned community also means fees. Monthly HOA fees support the upkeep of community amenities and services. These can range from US$150 to US$200, something to keep in mind when doing your budgeting.
A home in town can be your most convenient option and also the most affordable. The trade-off is that, with rare exceptions, houses in Belizean towns are local Belizean houses. You may have to search for a while to find one that will be comfortable for you.
Not only is a local-style house in town more affordable than a new-built house in a planned community, but it also comes without a monthly HOA fee.
Investing On A Rental Home
If you're thinking of buying something local in town, understand that zoning doesn't exist in this country. If you buy or rent a nice big house in a nice part of town with a vacant piece of land next door, don't be surprised if, a year later, someone buys that piece of land and builds a disco or a car repair shop. I'm not saying that will happen, but it could.
If you're looking for rental income, focus on San Pedro or Placencia. Those are Belize's highest-trafficked tourist destinations.
If you are looking for appreciation, focus on Cayo and Corozal. These are the fastest-growing districts in this country.
If you are deciding whether to buy property in Belize or build your own, check out: The Pros And Cons Of Buying Vs. Building In Belize
One More Thing You Should Know:
There are no escrow companies in Belize, and you can't take escrow for granted. It's not typically part of the buying process. You can insist on it, but you'll have to set it up. We recommend doing that through your attorney. If you have a good attorney, this can work. We don't recommend using the seller's attorney, and we really don't recommend using the seller's attorney for escrow.
Is Real Estate In Belize A Good Investment?
Prices Are On The Rise
In the past two to three years, property prices, the number of developments, and the sales of existing houses have all increased in Belize and placed its property market on an upward trajectory. Prices in Ambergris Caye and Placencia are at all-time highs, while prices inland are substantially lower but also on the rise.
Many factors account for these increases, but tourism specifically is having a major effect on the numbers. Last year experienced the highest number of arrivals in Belize's history. Increases in the number of flights arriving in Belize and the arrival of cruise ships account for this. Hotels are rapidly being developed in Ambergris Caye, the Cayo District, and Placencia to accommodate the growing numbers.
According to ReMax Island Real Estate, "The ease with which individuals can travel to Belize has increased tourism, which has subsequently improved the real estate market." As more and more discover the potential of Belize for overseas living, property sales are likely to increase.
There Are Many Investing Incentives
Strategic incentives, like the Qualified Retired Persons (QRP) program, attract international buyers. The QRP program offers tax breaks and other incentives to certain demographics: Those over the age of 45, U.S., UK, Canadian, or Belizean citizens, and those with an income of US$2,000 can qualify for this program. In some cases, dependents can be included in the program, and with it, members can conduct businesses in the country.
There is a reason why Belize's well-established expat community makes up 15% of the population. Very few restrictions are placed on foreigners who wish to buy property in Belize—a feature that has caught the eyes of several international organizations.
Live and Invest Overseas has been advocating retire in Belize for almost the past 10 years. If you don't want to take our word for it, however, International Living placed Belize in this top 24 places to retire overseas, and U.S. News put Cayo in its top 10 places to retire in 2017. These accolades further attest to its likeability and its potential as an overseas haven.
Is It a Scam?
How To Protect Yourself
There are a number of simple checks you can make when buying real estate here which could save you a lot of trouble down the line.
1. Make sure you carry out due diligence on the property and that everything is sold exactly as advertised.
2. Try to build a good relationship with your real estate agent and make sure they have good references and are a legitimate company.
3. Be sure to carry out a 'Title Search' through the Government Land registry. This is to ensure that the land has no liens, encumbrances or judgments.
4. Make sure the attorney who you get to carry out the title search is not associated with the real estate agent or seller.
5. Do not put down any money until you have the all-clear from the Title Search.
6. In Belize, you don't need to be registered or qualified to sell Real Estate so there are plenty of sharks in the water here. As well as checking for qualifications it is a good idea to speak with the locals and gauge their opinion on who is trustworthy.
Can You Build Your Own Property?
Building your own property in Belize is an increasingly popular option with a few distinct advantages. For a start it is cheaper to build your own house here than nearly anywhere else in the world and far cheaper than in the U.S. Land prices are a bargain in many parts of Belize and you will often find it is cheaper to build your own property rather than buy an existing one.
Check the standard of workmanship and if it is a new build, try to find some of the builder's older properties and see how they are holding up. While the standard of building continues to improve in Belize not everywhere is built to the quality you would expect at home.
There are many things to consider when you are building your own property in Belize.
Materials
Different materials will come in at different prices and also have different benefits.
If you are living on the coast then you might want a concrete house to protect against any possible hurricanes. Concrete is more expensive than wood but it is also harder wearing. If you buy concrete you may also need to factor in air conditioning as concrete houses soak up more heat than wooden houses which can stay cool by the breeze alone.
If you are away from the hurricane belt then wood provides an excellent option. Belize has a range of excellent hardwoods and the prices are very cheap by U.S. standards. Be sure to use native hardwoods that have been properly treated though. Termites will make short work of softer woods and ruin your house before you have finished decorating.
Location
Aside from cost of materials, the location is going to play a big part in how much it costs to build your house here. Building out on the Cayes is by far the most expensive option. The reason being is that all the goods have to be transported to the Cayes by barge and this a costly process.
Best Locations
Ambergris Caye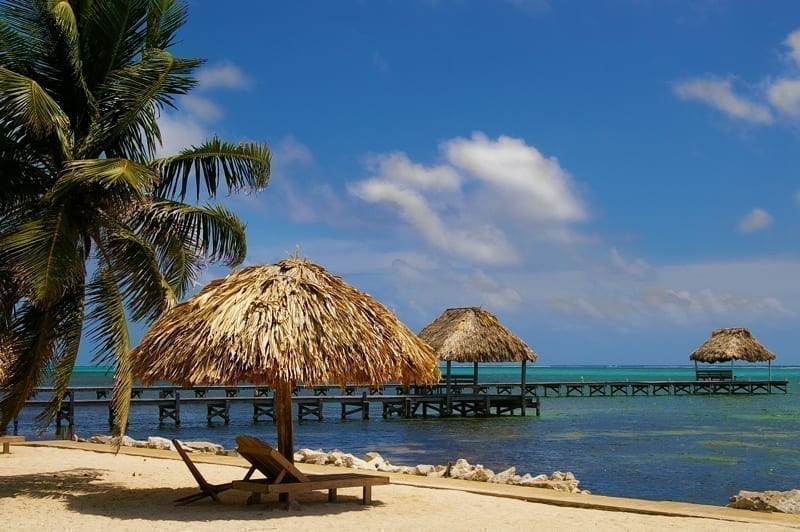 iStock/zimmytws
Ambergris Caye is the biggest of Belize's islands. In recent years it has become a popular tourist destination. Over the last 30 years the island has become a globally renowned destination for people looking to go scuba and snorkeling. This is in part due to the coral reef which is home to an abundance of marine life. The famous Great Blue Hole is also nearby attracting divers with its 400ft sheer drop into the ocean.
The fact that Ambergris Caye is a successful and mature tourist market makes property here a great investment idea. If you are buying with a view to renting the property out when you are not here then you can be assured that there will always be a steady stream of tourists arriving who need somewhere to stay.
Property prices are expensive compared to the rest of Belize but compared to the rest of the Caribbean are a bargain.
Caye Caulker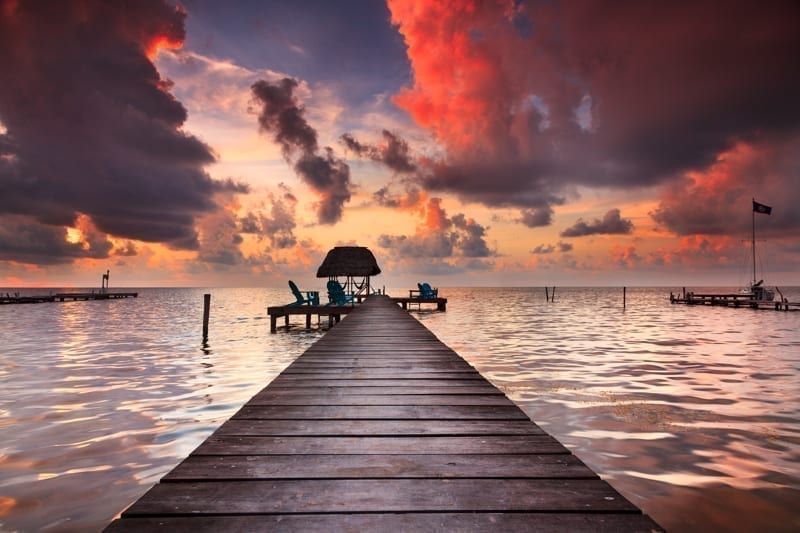 iStock/AdonisVillanueva
Caye Caulker is the new Ambergris Caye. Currently, it is not as developed and with fewer residents, but you can expect that to change soon. There are still bargains to be had here and if you are looking at buying somewhere on potential returns Caye Caulker is looking like a great bet for the next few years.
Placencia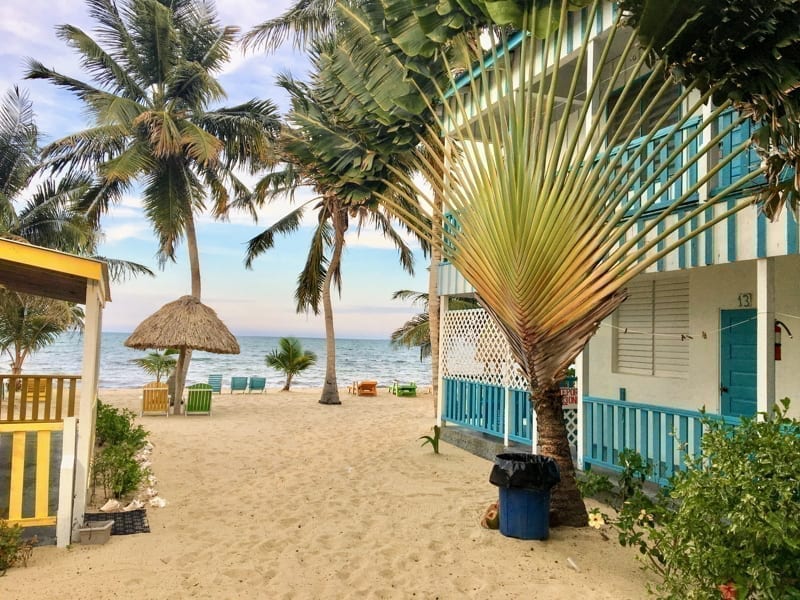 iStock/ Chris Babcock
Originally famous as a pirate base, Placencia is a stretch of white sandy beaches which is about 17 miles long and often around a quarter of a mile wide. Up until very recently this was a sleepy, undeveloped part of Belize but is another area to have gone through rapid development lately.
Placencia is home to a growing expat community. Most of the development and new building being done here is aimed at attracting foreign investors, so the expat numbers will continue to rise. Another good destination for those looking for strong expat communities and rental potential.
Cayo District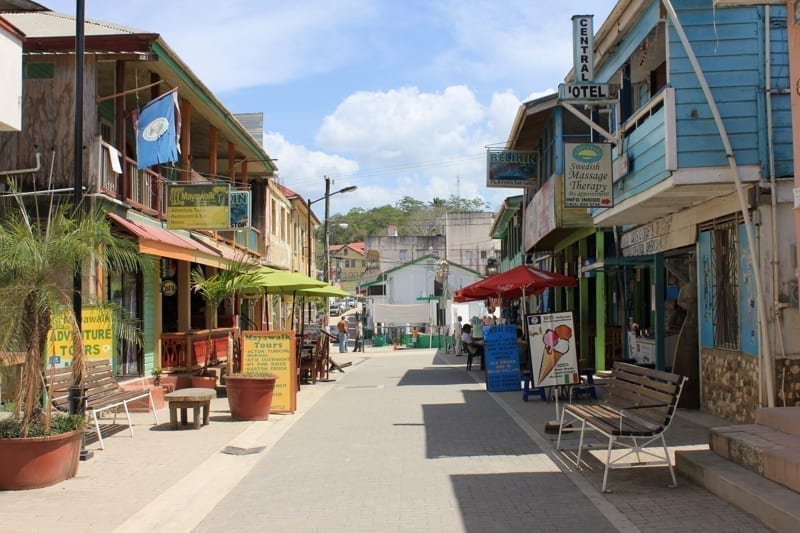 Kaldari via Wikimedia Commons
The Cayo District is Belize's second most visited tourist destination. Set in the jungle away from the crowded shorelines the Cayo District is the perfect escape for peace and relaxation. It is less than 2 hours drive away from the international airport and one of the least expensive of all expat locations in Belize. Not only is the land and housing cheaper than by the oceanfront, plus the cost of living is also lower here. The temperatures here are also cooler than by the coast and the lack of salt in the air will mean your goods last longer here. Cayo is also out of the way of any hurricanes which might hit Belize meaning you don't have to find a concrete house to live here securely.
Corozal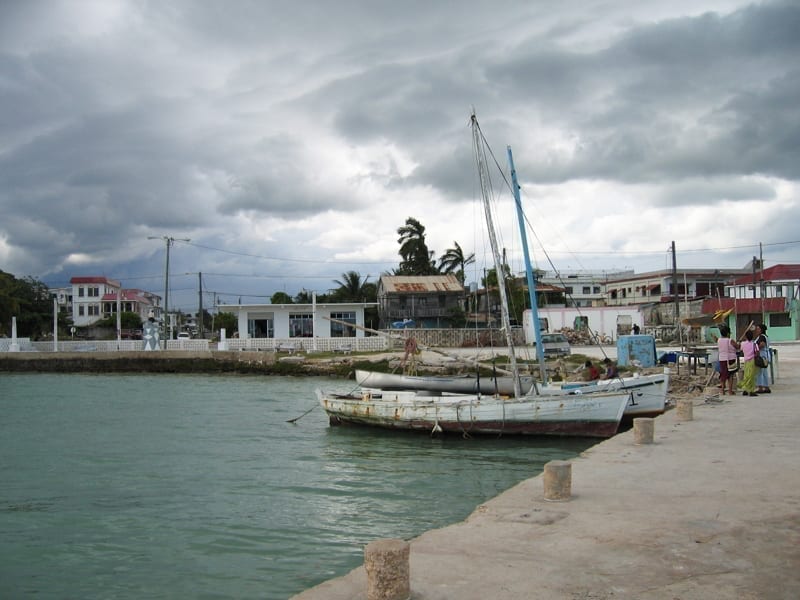 iStock/7rendered
Corozal has the big advantage of being a hugely affordable place to live on the Caribbean. The benefits don't end there however, located close to Mexico you can pop over the border and take in many of the U.S. style amenities anytime you start to miss home.
The Corozal expat community is well established and while some live here year-round, many are snowbirds who come here to escape the harsher winters further north. In short in Corozal, you can enjoy all of the benefits of elsewhere on the coast but at a better price. Corozal is not considered a tourist destination though so if this is not a place to consider if you are looking to invest in a property for rental.
Things To Know Before You Buy
Agents won't always show you their full portfolio of properties. This can range from a specific agent not showing properties managed by someone else in his office to an agency only showing expats the more expensive properties they look after. Lots of properties are sold by word of mouth so be sure to network.
Try to spend at least three months in the area before you commit to a purchase. This will enable you to get a good feel for the place and decide if it really is the right location for you.
Do I need To Use An Attorney?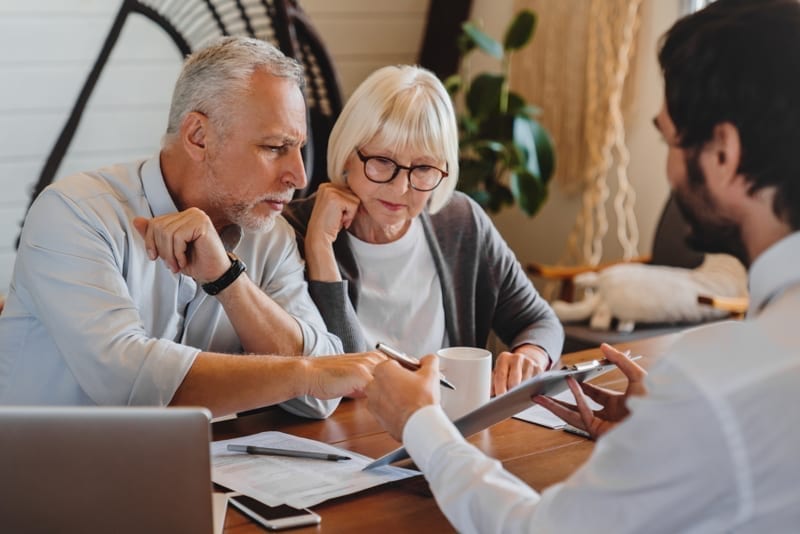 iStock/Inside Creative House
Clear title is conveyed through a Land Certificate and title insurance is available. Also, all contracts are in English and the country was founded on British Common Law tradition. For these reasons, Belize is a haven for those who want undisputed ownership of their land.
Using an attorney when buying real estate or land in Belize is recommended. They will charge around 2.5% of the property value.
You can hire an Attorney in Belize or use an attorney in the U.S. who will also be able to go through the details. This is just one of the many benefits of Belize having English as the native language.
Another option is to hire a paralegal. In Belize this option can be faster and cheaper than using an attorney but paralegals are not as easy to find.
Real Estate Taxes and Duties
The Belizeans have are fiercely independent and not in favor of excessive government regulation or taxes. For this reason, if you want undisputed ownership of your land, then Real Estate in Belize is something you should consider.
Property Taxes Are Kept Low
To put this in perspective a house valued around $1 million would expect to pay around $200 annually as a maximum. The highest rates are to be found on the coast but the amount you will pay is still a fraction of what you would pay at home.
Properties are usually taxed around 1.5-3% of the assessed value. The assessed value is generally around 15-20% of the current market value. Inexpensive and high demand areas the property tax is calculated using the value of the land and property combined.
However, as a further incentive if you live in the countryside you only pay property tax based on the value of the land only. This measure was implemented by the Belizean government to encourage investors to develop land outside the cities and major tourist destinations. There is no capital gains tax to pay in Belize.
Every purchase comes with a stamp duty charge.