Just about anyone who took French in high school has thought, seriously or hypothetically, about moving to France one day. The romanticism of Hemingway's Paris and of "Midnight in Paris" is hard to resist.
And Paris delivers. I can tell you from experience that this city is everything the romantic is looking for. I am an American expat who has lived and worked in Paris for the last 10 years and who recently purchased property in the Marais, one of Paris' best loved neighborhoods.
Why Paris? Why the Marais?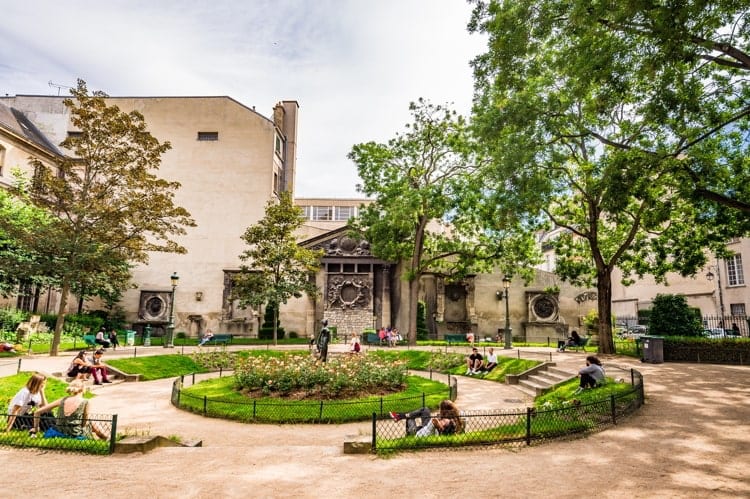 To live in Paris is to be part of what so many (myself included) consider to be ground zero of refined Western culture. The Marais in particular oozes culture and history. For access to the historical, architectural, and social heart of Paris, there is no better location. You'd be hard pressed to find more history, culture, and character per square meter anywhere else in the world.
The Marais is also a breeding ground for café culture, an epicenter of fine cuisine, and home to many a cozy bistro and open-air market. Any foodie living here would never be disappointed with the offerings within a stone's throw of his (or her) front door.
Opportunities for social connection are crucial when moving to a new place. And, while it would be a shame to stick entirely to an expat world in Paris, the biggest mistake a new expat can make in this city is to shun that expat community. In all likelihood, those other expats will end up being your closest friends in Paris, so it's best to start getting to know the community right from the start. The Marais arguably offers the best of both worlds for expat residents, the ability to toggle between an Anglophone home away from home and La France.
Further, living in the Marais, you'd never need a car. You could get most places you'd want to go day-to-day on foot, and the metro can take you anywhere farther afield you might want to venture in and around the city.
What is my life like living in the Marais?
Here's A Typical Day…
7 a.m.: Wake up, stroll over to La Favourite on Rue de Rivoli to grab a cup of coffee, OJ, and a croissant (10.50 euros), and catch up on my New York Times subscription via iPad and La Favourite's super-speed Wi-Fi.
Or, if the weather's nice, maybe I grab a croissant (1.05 euros) at Aux Désirs de Manon on Rue Saint-Antoine and take advantage of the free Wi-Fi in Square Georges Cain on Rue Payenne.
8:30 a.m.: Head over to the public pool at Saint-Merri for a swim. Don't forget, speedos (not shorts) are obligatory for men, and bathing caps are obligatory for all.
10 a.m.: Stop by BHV (the Bazaar de l'Hôtel de Ville Department Store) on Rue de Rivoli to buy lightbulbs, batteries, and other DIY items from their Home Depot-esque basement.
11 a.m.: Depending on the season and what's on, maybe take in a museum, an art gallery, or a photo exhibit.
12:30 p.m.: The French eat lunch at exactly 1 p.m., so I try to beat the crowds and grab a table at one of my favorite restaurants early. Pamela Popo on Rue François Miron is my choice for sautéed scallops (25 euros).
2 p.m.: Volunteer for a couple of hours with the SOS Helpline, answering calls from English speakers in need.
4 p.m.: Make a few calls back to relatives in the United States before they leave for work (it's free from your landline in Paris).
4:30 p.m.: Pick up a poulet rôti (roast chicken) from one of the vendors on Place Saint-Paul, cheese from fromagerie Pascal Trotté, and a baguette from Paul. Swing by the supermarket for veggies and toilet paper (not everything in Paris is romantic).
5 p.m.: Meet a friend for a quick apéro (5 euros for a glass of Coteaux de Languedoc) at Les Philosophes on Rue Vieille du Temple.
6 p.m.: Head home for a rest and to catch the latest news on CNN or BBC World.
7 p.m.: Throw the chicken in the oven to warm it up and prepare some sides. Dining at home tonight.
8:30 p.m.: If it's a clear evening, maybe a stroll down to the river then along the quai to the Hôtel de Ville to enjoy a night view of this architectural marvel.
10:30 p.m.: Bonne nuit…
Abby Gordon
Full-time Paris Expat