Real Estate Hunting With Mr. O'Shea
"This one isn't old either," I whispered in Lief's ear so that Mr. O'Shea and his associate wouldn't overhear. This was our fourth time out looking at houses with Mr. O'Shea, and I'd had my fill of the cookie-cutter jobs he kept taking us to see in these subdivisions he referred to as housing estates.
"Shhh," Lief shushed me under his breath. "We're here. Let's just take a look."
Des O'Shea parked the car, and the four of us got out in front of another bungalow that was suspiciously similar to the four we'd just toured and also an awful lot like all the others we'd seen on our previous three days out looking. Had the Irish banished all their architects? These square structures with hollow doors, too few windows, no moldings, no trim, and no imagination certainly hadn't benefitted from the help of any. Every house we'd seen so far had been the same color—brown—and too close to all the other houses around it. Lief and I wanted views of rolling hills and patchwork green fields. The view from every one of these housing estate bungalows was of more housing estate bungalows.
Lief and I dutifully explored the house, wandering from bedroom to bedroom and throughout the rest of the house, surprised again that, yes, five bedrooms had been crammed into 1,800 square feet. Before we climbed back into the car, I tried one more time:
"Mr. O'Shea, this really isn't what we're looking for."
"It's five bedrooms within easy commuting distance of the city center," Des said.
"Well, yes, right, we want a big house with four or five bedrooms. But more important than the number of bedrooms is the property overall. We're looking for something with some years on it, the more the better, situated on a few acres, maybe with a barn. We want something Georgian and stone."
Des O'Shea's response was to take us to see two more identical houses.
We couldn't say why, but we weren't getting through to Mr. O'Shea, so we agreed a new plan of attack. The next morning, after walking Kaitlin to school, we'd return to the city center and stop in at every other real estate agency in the city. We didn't seem to speak Mr. O'Shea's language, but maybe some other agent would understand what we were asking for.
Real Estate Hunting With Palmer Auctioneers
Lief had mapped out a route the night before. We started with Palmer Auctioneers on Newtown Road. Don Palmer didn't have a receptionist but greeted us himself when we entered his office and didn't seem to mind that we didn't have an appointment.
"We're looking for a house to buy," I explained. "We'd like something historic and Georgian, four or five bedrooms, on a few acres, in the country. We're wondering if you have any listings along those lines?"
Don Palmer picked up the big black binder from his desk and began going through the listing sheets. He stopped at a Victorian house with a back garden in the city center. Then he flipped to a former convent, also in the center of town. Finally he showed us the listing for a not-yet-finished four-bedroom house on a hillside in new housing estate in a place called Annestown.
"That'd be what I have to show you," he said as he closed the binder.
We thanked Don Palmer, much less surprised by the nonsensical listings he'd presented than we would have been before having spent so many days touring similarly unsuitable properties with Des O'Shea, and continued on to John Rohan's estate agency on Parnell Street.
Real Estate Hunting With John Rohan's Estate Agency
When John's secretary called him out of his office, we put our inquiry to him.
"Would you have any classic Irish country properties on your books?" we asked.
John invited us to join him at his conference table, where he pulled out his big black binder. He flipped to a series of four- and five-bedroom houses, all within the city limits.
"Do you not have any country properties for sale?" I asked.
"We've got these," John said. "They're all four and five bedrooms, as you've said you're looking for."
We thanked Mr. Rohan and took our leave. Again, we were baffled. We still weren't getting through.
Start Your New Life Today, Overseas
A world full of fun, adventure, and profit awaits! Sign up for our free daily e-letter, Overseas Opportunity Letter, and we'll send you a FREE report on the 10 Best Places To Retire In Style Overseas Today
No One Understood Us
From John Rohan's office we continued on to the High Street and Purcell Auctioneers, where we laid out our specs to proprietor John Purcell, who showed us listing sheets for three properties outside Waterford City, all less than 20 years old.
Back on the quay, we sat down on a bench alongside the river. Why would no agent in the whole city of Waterford show us an old stone house in the country? Surely there had to be some. Where did they keep them all?
"Come on," Lief said suddenly, pulling me out from inside my head. "I'm tired of sitting around wondering why nothing makes sense and no one understands us. I'm hungry. Let's go have lunch."
"Let's try the carvery at Reginald's Tower," I suggested.
In 914, Viking raiders and traders began settling along the banks of the River Suir. To guard their city, which they called Vadrarfjord, they built thick stone walls and, in the 11th century, a round tower. Now the tower was a museum with a circular staircase you could climb up for the best view we'd found of the River Suir and its city. Alongside Reginald's Tower was a pub that served up what the signboard out front assured us was the best roast beef carvery in Waterford.
The lunchtime queue at Tower Pub was dozens long, as it had been every day we'd passed. We picked up trays and followed the line of lunch-goers past the chef's carving station. The big Irishman in the white chef's hat on the other side of the warming lights carved three slabs of roast for Lief, then three more slabs for me. We moved along to the next station.
"Potatoes and veg?" the big Irish woman standing behind the counter offered.
"No potatoes for me," Lief said. "Just broccoli."
The woman spooned mashed potatoes onto Lief's plate. And some broccoli.
"I said no potatoes," Lief said.
The woman added a heaping spoonful of roasted potatoes.
'Didn't you hear me?" Lief said louder. "I said I don't want any potatoes."
The woman used a pair of tongs to add a pile of French fries atop the mashed and roasted potatoes on Lief's plate. What was going on? Lief was speaking English. Why did this woman not understand what he was saying? I could feel Lief's blood pressure rising.
"I'll eat the potatoes," I said to him quietly. "It's okay."
Then, to the big Irishwoman behind the counter, "Nothing for me, thank you. The roast beef is all I want." I twisted sideways so my plate was beyond her reach and she couldn't add anything more to it.
Lief seemed paralyzed. He just kept standing there holding his plate and staring unblinkingly at the woman who'd piled it high with potatoes.
"Come on," I said. "Let's go. This way. We'll get drinks, and then we pay over there."
"But I didn't want any potatoes," Lief said, still stuck in his spot. "I kept telling her that I didn't want any potatoes," he said. Then, to the woman, "I kept telling you I didn't want any potatoes."
Lief's mind was skipping, like a needle on a vinyl record with a scratch. Meantime, the long line of carvery guests behind us was growing restless.
"Lief, please, let's just move on."
"I'm not paying for all these potatoes," he said. "I told her I didn't want any potatoes."
"I know," I said. "But I'll eat them. I did want potatoes. It's okay."
Finally, Lief turned and took a step forward. He continued on in the direction of the bar. I followed. We picked up two glasses of water, then moved along to the cashier to check out.
"I'm not paying for these potatoes," Lief said to the girl behind the cash register. "I told that woman over there that I didn't want potatoes. The more I told her I didn't want potatoes, the more potatoes she put onto my plate. But I'm not paying for them."
The girl behind the cash register looked at Lief then at me.
"It's okay," I said to Lief. "I'll eat the potatoes. Then to the girl behind the register, "Please go ahead and ring up our orders, both lunches. Thank you."
Lief paid for our carveries, and we found a table.
"What was wrong with that woman?" Lief said as we sat down, using a tone I'd never heard from him before. He sounded like he was on the verge of tears. He was no longer angry. He was desperate.
"I don't know," I said. "Maybe the Irish can't fathom someone wanting a meal without potatoes. So every time you said the word 'potatoes,' she heard it as 'more potatoes.'"
The potato debacle had pushed Lief over the edge. "They can't respond to simple requests. You ask for no potatoes, and they give you a mountain of every possible type of potato. You ask what documents you need to open a bank account and they tell you none then have you come back three more times with more documents each time only to tell you in the end that they won't open an account for you at all. You ask to be taken to see an old Georgian property in the country, and they show you newbuilt houses in the middle of the city."
"Let's just eat our lunch," was all I could think to say.
Our Aha Moment
I'd been researching, scouting, and writing about property markets in Latin America and the Caribbean as editor of International Living for years. I knew how maddening those markets can be because the agents don't work for the buyer or the seller but for the sale. There are no multiple listing services. The listings are proprietary, and each agent has access only to the properties listed with his agency. A dozen of a certain kind of property might be available for sale at any time, but any given agent might have just one or two of those on his books. I never imagined that those emerging-market fundamentals would apply in Ireland. I'd naively assumed that Ireland was a developed market where you shopped for a house the way you shop for house in the United States, but there didn't seem to be any other explanation.
"I think," I said after we'd sat in silence for a while, "that real estate markets in Ireland operate like real estate markets in Central America. We keep expecting to be able to walk into an agency, describe the kind of house we want to buy, and be presented with every house for sale that fits those criteria. But that's not how it works here. All these agents we're meeting with don't have any listings that fit our parameters, but, just like all the Central American real estate agents I've known, rather than admit that, they're showing us the listings they do have."
How had it taken me so long to figure that out?
Lief didn't look convinced, but, for the first time since we'd arrived in Waterford, I felt hopeful. At least now I understood what we were up against. I had a lot of experience dealing with developing world real estate agents. Now that I perceived that Irish agents were the same animal, I was confident we could figure this out.
In this Celtic Tiger age, the better part of the money the boom economy was generating was being plowed into real estate—building it, buying it, selling it, one Irishman to another. Dozens of housing estates were being developed in and around every city on the Emerald Isle, including in County Waterford. It was a massive Ponzi scheme. We'd registered this fact but ignored it. The local Irish economy wasn't our problem, and, as we'd been trying hard to explain to every real estate agent we'd met with, we weren't interested in newbuilt anything. But the phenomenon explained why the listing books of every agent in Waterford City were filled with new houses.
Finding The Lahardan Home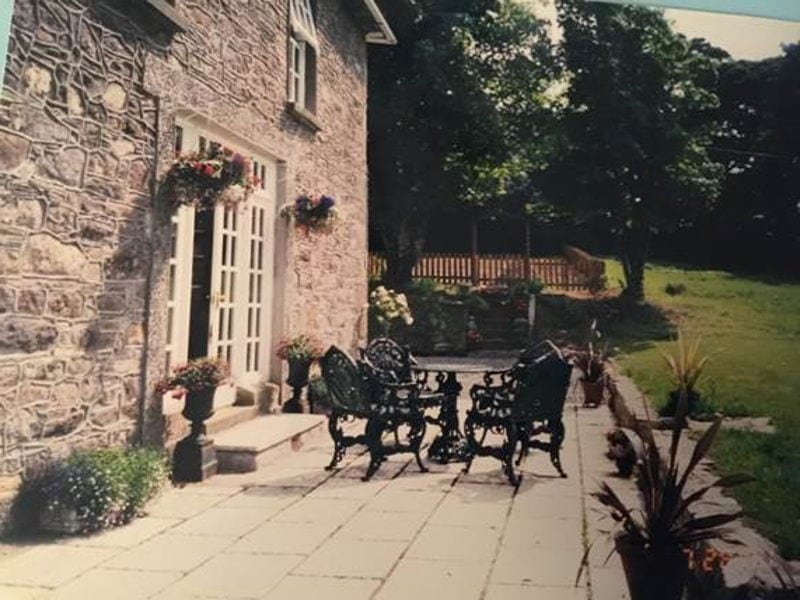 That night, back in our room at the Granville Hotel, while Kaitlin was doing her homework at the desk, Lief and I read the local papers. At first, living at the Granville Hotel had been fun and romantic, part of the adventure. Now, two months in, our suite felt more cramped every day and the lack of privacy had put a real damper on Lief and my would-be honeymoon stage. We were desperate to find a place to live that we could make our home.
I turned to the first page of the real estate section of The Munster Express. There, above the fold, big and bright, was a photo of an Irish Georgian townhouse with a red front door. The caption underneath explained that the house, on The Mall in the center of Waterford, was to be sold at auction in three days' time. It was a city townhome rather than a country house, but the photo grabbed me. The 200-year-old house had a classic Irish Georgian front door that had been painted berry red and sported a big polished brass Claddagh knocker. It was the kind of door that had become a symbol of Ireland for me and the first image to came to mind every time I imagined my Irish dream home.
"Look at this," I said to Lief, holding up the paper so he could see the photograph. "This house is going to go up for sale at auction on Friday."
"Let me see," Lief said. I handed him the newspaper. He sat back in the red damask chair by the window and began reading.
"Maybe it'd make more sense to be in town, rather than out in the country," I said, "We'd be within walking distance of Kaitlin's school and our office, wherever it eventually ends up being," I added smiling.
Lief studied the ad for a few more minutes. I'd learned to give him time and space to process new ideas.
"I know this isn't the country house I've been pushing for all along," I continued, layering on my argument. "But look at that door. That's the picture of old Ireland. And it could be ours in just three days!" I said with a burst of enthusiasm that was as much for my own benefit as for Lief's.
"Yes, right, okay," Lief said, finally. "If you're okay with it, I am, too. I've had enough of hotel life. Tomorrow, let's find an attorney and ask how we buy a house at auction."
Sincerely,



Kathleen Peddicord
Founding Publisher, Overseas Opportunity Letter