Theodore Roosevelt wanted to extend U.S. power and reach. He wanted a strong navy, and he wanted his naval force to be able to move quickly between the Atlantic and the Pacific oceans.
That required a waterway that didn't exist, so Roosevelt decided he'd build one.
He made a straightforward deal with the Republic of Gran Colombia—cash for the rights to build a canal.
But the Colombians got cold feet. They were only eight decades free of their Spanish conquerors. They didn't want to swap one overlord for another.
All right, thought Roosevelt, if the Colombians won't cooperate… maybe the Panamanians will.
Panama, like Colombia, had gained independence from Spain in 1821. But the little isthmus of a nation feared that going it alone might leave the door open to re-colonization by the Spaniards… so they'd opted, grudgingly, to hitch their wagon to the Colombian republic.
Roosevelt approached the Panamanians and suggested that the United States might be OK with the idea of a Panamanian revolt against Colombia… if the resulting Republic of Panama, once formed, would go along with his canal plan.
Bolstered by that support, on Nov. 3, 1903, Panamanian nationalists launched a revolution. Three days later, the United States recognized the new Republic of Panama… and Roosevelt went to work in earnest on the construction of the Panama Canal.
Each of the 119 years since, Panamanians have celebrated the anniversary of that revolt. They don't see it as an independence day. They remember instead, later this month, the date of their independence from Spain.
Today, Nov. 3, is a separation day.
Because, if you ask a Panamanian, he'll tell you he's not a former Colombian. He's a former Spaniard…
Proud of the nation he and his fellows have created for themselves since kicking their Spanish colonizers back across the Pond.
"Nov. 3 is my favorite day of the year," Los Islotes Project Manager Dalys told me this morning.
"On this day, we Panamanians forget everything negative. This is the one day when we set aside all differences and troubles and simply feel pride in our homeland. It's a very emotional day for us."
"What will Quebro do to celebrate?" I asked Dalys.
Quebro is the village on Los Islotes' doorstep… and Dalys' home town.
"What else?" she replied. "We will throw a party!
"In fact, we will have two parties," Dalys continued.
"We celebrate our separation from Colombia today, on Nov. 3. Then, tomorrow, on Nov. 4, we have the Día de la Bandera… or Flag Day. Both days, the events will begin at the Quebro school. The whole town will meet there each morning.
Get Your Free Panama Report Today!
Simply enter your email address below and we'll send you our FREE REPORT - Live And Invest In Panama: The #1 Retirement Haven In The Americas.
"Children with the best grades have the right to show our tricolor ribbon over their traditional outfits. The ribbon bears the colors of our flag, and wearing it is considered an honor.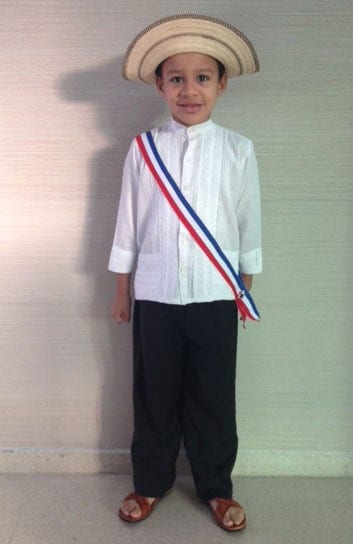 "Each day, we will sing the national anthem while we raise our flag. Then the children will compete in games and races.
"We are lucky because our Quebro school currently has a small band. Today the band members will lead a parade through town.
"The highlight of the day on Nov. 4, tomorrow, is the naming of our town queen, who, crowned, is driven through the village in a wooden carriage. We all follow along behind dancing to the music of the tambor, a traditional Panamanian drum.
"It's a day of real joy.
"You and Sr. Lief should come to see for yourselves," Dalys insisted.
In fact, Lief and I have participated in these festivities in previous years, prior to the pandemic, which has meant no celebrations for the past two years.
We've joined the entire community… all 400 strong… singing and dancing in the streets.
The year before the pandemic, Quebro elected a pre-kinder queen. The adorable 5-year-old did her community proud. She sat atop the flower-strewn ox cart with big wooden wheels in her white pollera smiling and waving indefatigably to her adoring townsfolk all around.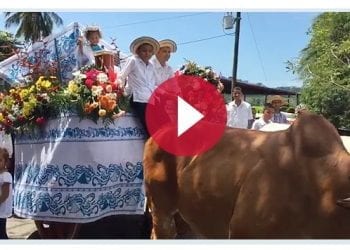 Lief and I and our fellow citizens of Quebro followed our little queen, most on foot but some on horseback, from her school to the center of the village a half-hour away.
"Buenos días!" one caballero called to me as he passed. "Un abrazo?" he asked with a smile as he extended his arm down from his horse with a flourish.
With hugs, handshakes, and kisses… tipped hats and swaying hips… whooping and hollering… we bopped and two-stepped our way through town… understanding why Dalys says this is her favorite day of the year.
Sincerely,



Kathleen Peddicord
Founding Publisher, Overseas Opportunity Letter