Seven years ago, Stephanie and her husband set off on a journey to explore the world. Stephanie stepped away from a career in the corporate world and her husband retired from the U.S. Army.
After years of traveling military-style, they made the decision to stick around in one location in December 2020, settling on Spain's Costa de la Luz and specifically, the town of Rota.
I talked to Stephanie to understand what drew her to this special corner of Spain…
LIOS:How did you end up in Spain?
Stephanie: My husband retired from the U.S. Army in 2015, and we decided to take a year off to travel. We thought we'd go back to work but realized that the cost of living is so much cheaper overseas… even in Western Europe.
We went to the Valencia area the first time we came to Spain, and I was really struck by it. It was much more affordable than I thought it would be. The weather was beautiful—like San Diego but so much cheaper. That's when the wheels started turning.
But before we moved to Spain, we moved to Japan. My husband is half Japanese, so we spent two and a half years there while he undertook an intensive study program and reconnected with his family.
LIOS:How did you decide on Rota?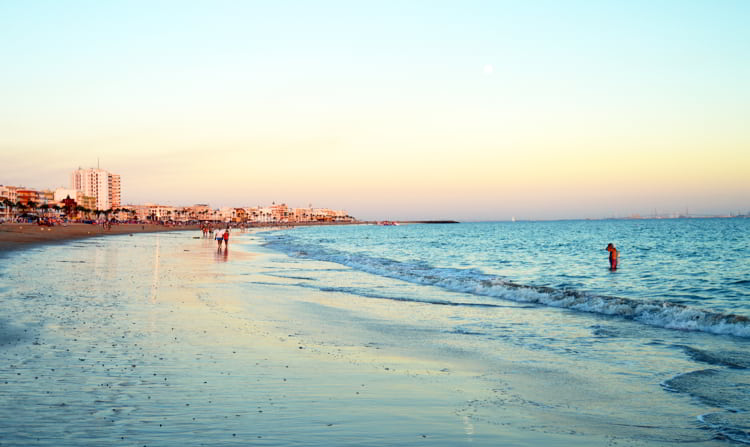 Stephanie: We chose Rota because of the U.S. military base here. My husband is retired from the military, so we can use the facilities—most importantly the free Space-A flights for military personnel, but also the fitness center and other recreational facilities, the hospital, and the library.
My husband is an avid golfer, so that was another reason for choosing Rota. Unlike the Algarve where it's mostly expats and tourists using the courses, the Spanish actually golf as well. The courses are much more affordable, too.
My husband's membership at a 27-hole championship course is about €1,300 for the year with discounts to other courses in the region. Golf is also a great way to meet people.
On the whole, I feel that the Costa de la Luz is a hidden gem that many travelers (or aspiring expats) from other countries don't know about. Rota and the other towns along the coast have incredibly beautiful beaches that are practically empty for many months of the year. Spaniards from Madrid and Seville flock here in the summer and during Easter (Semana Santa), but the area has great weather year-round.
LIOS:How have you found the social scene?
Stephanie: It's more difficult than I expected to meet people that are my age or in my situation. There are lots of active-duty military members as well as retirees who work on the base, but they've been assigned here, which is a different scenario. There are also lots of retirees who are married to Spaniards, but they're busy with family things…
The expat network is part of the fun of moving abroad… and there isn't one so much in Rota. That's not to say that you shouldn't also make local friends when moving abroad, but having expat friends is a nice way to transition as you build connections with locals, and it's fun learning about different cultures and speaking different languages, even if the people aren't from the host country. I find it easier to meet people through online expat groups.
LIOS:What was it like moving during the pandemic?
Stephanie: We spent three months in Rota during winter 2019/2020, just to make sure we wanted to go through the effort of getting the visa. We decided that we did, and we returned to the United States in February 2020, just as Covid was hitting. We spent the better part of 2020 applying for our visas and finally moved here in December 2020.
There's never a perfect moment to move… I feature a lot of interview profiles on my website of people who have moved overseas, and the message is usually the same: Don't wait. Tomorrow might not come. Covid really made people see that.
My husband and I had been following the situation in Rota during the pandemic. When we got here, there was this amazing feeling of calm compared to the States, where everything was so political and contentious. Here, it was less of a constant debate.
At the moment, this sense of calm is my number-one favorite thing about living overseas. Whatever your views are, it's hard to disagree that things are simpler over here.
LIOS:What else do you enjoy about living here?
Stephanie: I love the beauty of Rota's coastline. I never get tired of seeing the ocean. I can run along the beach for miles or walk through the pine forest on the dunes overlooking the Bay of Cádiz. I love that life is so much more affordable, and that fresh fruits, vegetables, and fish are a bargain.
It's so easy to make plans to do something outside, because the weather is rarely bad. We can eat outside year-round.
I also enjoy the calmness and simplicity of life in Rota and the relative safety. We had a checklist for our ideal overseas destination, and while we wouldn't consider locations that we knew were "unsafe," safety wasn't one of the specific items on our list. We hadn't realized how important it was until we lived in Japan.
I've come to learn that safety is freedom. Japan was extremely safe… and for the most part, I feel comfortable in Rota. People are out so late here, so there are always people on the streets and I never feel unsafe at night.
LIOS:Are there any downsides to living here?
Stephanie: We knew coming in that there's a massive cultural difference, particularly between Japan and Spain. We knew the mañana factor would be challenging…
Rota is like a sleepy town in the southern United States. The siesta is four or five hours per afternoon. You go to the restaurant, and often it's "no hay" (i.e., the thing you want is not available)… or there's a handwritten note on the door of the shop that says, "We're not here."
As Americans, we tend to see entrepreneurial opportunities and ask, "Why aren't you doing it like this?" You just have to adapt. It's a very slow pace of life.
Sophia Titley