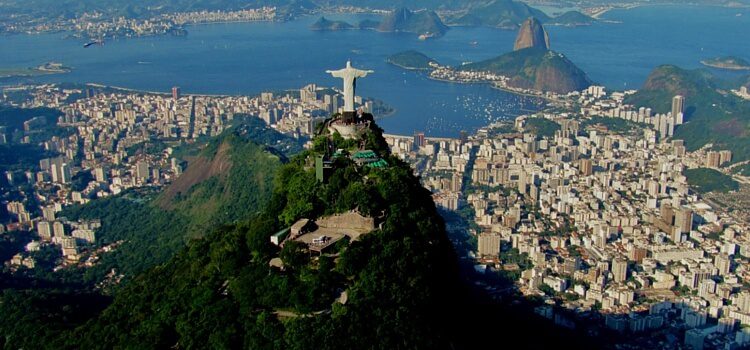 Super-Cheap Beach Fronts and Potential in Brazil
If we had to summarize Brazil in a single word, it would be potential. This country has—has always had—enormous potential. If that potential can be unleashed, then Brazil truly will become powerful and influential in line with her physical size, and an even better place in which to live and invest.
The weather is sunny and breezy, and the white-sand beaches seem to stretch forever. Food is fresh and unprocessed, most of it grown locally. Coconuts are harvested from trees right on the beaches. There is, for lack of a better word, a naturalness to Brazil that seems missing in the United States.
People maintain a positive attitude in spite of the difficulties they face. This, you will discover, is a Brazilian trait. The men whistle as they walk to work, and the women sing softly as they sweep the sidewalk in front of their homes. They put things in perspective and keep going. Even personal relationships seem warmer, and perhaps more important than back in the States.
If you're in the market for cheap beachfront property, this is the place to shop. Crime is the country's biggest drawback, but south from Ceara to Natal, you can enjoy super-cheap coastal buys in safety.
Brazil is self-sufficient for fuel and making a continued big push for bio-fuel (from cane), even passing legislation requiring car manufacturers to modify vehicles to run on it.
Furthermore, Brazil stands out as unique in this part of the world. It has managed to maintain a socialist government while sticking to sound 21st-century business and economic policies. One of our editors' top picks both for lifestyle and investment.
Why Brazil?
Brazil is worth a look for many reasons:
Beaches. OK, no surprise there. Everyone has heard of Ipanema and Copacabana. But Brazil's coastline stretches over 4,500 miles, not counting offshore islands. Brazil may possess more gorgeous beaches than any other country in the world, each with its own personality. Praia do Sono, Praia Mole, Guarapari, Lopes Mendes—these are only a few of the fantastic beaches that decorate Brazil's coastline.
Climate. There is more climatic variety within Brazil than you might imagine. In the south, there are four distinct seasons, but much of the country lies in tropical or subtropical latitudes. And, as Brazil lies almost entirely south of the equator, the seasons are opposite those of North America, making it an ideal spot for North Americans and Europeans to while away the winter months, thumbing their noses at their less fortunate friends back home.
Friendly people. If you watched any coverage of the World Cup games in 2014, you undoubtedly heard visitors to Brazil talk about how friendly the locals are—and it's true. Brazilians are among the most hospitable people you could hope to meet. You won't encounter attitude because you are a gringo or you don't speak the language well. Brazilians pride themselves on being friendly and helpful. They are also among the most generous people you will ever meet. Even the poor willingly share whatever they do have.
Cheap food and drink. While Brazil isn't as cheap as many other countries in Latin America, it certainly is by North American standards, especially when having a bite or a drink. While restaurants in Rio and especially São Paulo are frequently pricey, elsewhere you can eat and drink to your heart's content at restaurants for no more than half of what you'd pay back home, and often much less. Even today, it is possible to get a belt-busting prato feito (plate of the day) for US$4 in Rio's Copacabana district at one of the local botecos (neighborhood bar/restaurants). Supermarket prices are less still. Expats report monthly grocery budgets around US$175, and that is eating quite well.
Incredible natural beauty. This is what seals the deal for many expats. When you picture Brazil in your mind, you likely imagine either rain forest or beaches— which Brazil has in spades. But Brazil encompasses so much more: lush coastal mountain ranges, the Pantanal (similar to Florida's Everglades, only much larger), sand dunes dotted with brackish lagoons, gorgeous coastal isles, waterfalls of every size. Brazil truly offers a bit of everything, which really shouldn't come as a surprise, given its size. It's fully half of South America.
Few natural disasters. Brazil is also notable for what it doesn't have. Brazil doesn't experience earthquakes. It has experienced only one hurricane in its history, and tornadoes are exceedingly rare and found only in the extreme southern reaches. If you've ever sat shuttered-up in your house waiting for a late-season hurricane to make landfall, or heard the banshee howl of a capricious funnel cloud while huddled in a cellar, you can appreciate just how wonderful boringly calm weather can be.
[bs-embed url="https://www.youtube.com/watch?v=L3OZ9Utd8-E" show_title="0″ bs-show-desktop="1″ bs-show-tablet="1″ bs-show-phone="1″]
[bs-classic-listing-3 columns="3″ show_excerpt="1″ title="More from Brazil…" hide_title="0″ category="3459″ count="6″ featured_image="0″ ignore_sticky_posts="1″ tabs="" tabs_cat_filter="" pagination-show-label="0″ pagination-slides-count="3″ slider-animation-speed="750″ slider-autoplay="1″ slider-speed="3000″ bs-show-desktop="1″ bs-show-tablet="1″ bs-show-phone="1″ paginate="more_btn_infinity" override-listing-settings="0″ _heading_1="" _heading_2=""]