Cynthia Cudmore Mulder is a Canadian expat and co-owner of two of the most popular businesses on Isla Taboga—Cerrito Tropical Eco-Lodge and Calaloo Beach, Fishbar, & Grill.
Originally from Prince Edward Island, Cynthia has lived internationally for 35 years. From Canada she moved to the Caribbean island of Curaçao where she lived for nine years and met her husband, Hiddo Mulder. The two then lived another nine years in Japan before settling in Panama in the early 2000s.
A talented entrepreneur, Cynthia has owned successful businesses in all four countries.
On a recent trip to Taboga, I sat down with Cynthia at her Caribbean-inspired restaurant to find out more about Cerrito Tropical and Calaloo, her experiences living on Taboga, and her previous ventures as an expat and businesswoman…
Gabrielle: What brought you to Panama, and out of all the places you could have lived here, why did you choose Taboga?
Cynthia: My husband and I came to Panama almost 20 years ago to invest. Our original plan was to open a restaurant in Panama City. We came to Taboga one day to visit and my husband instantly fell in love. We bought a property and I built Cerrito Tropical on it. A few years later I opened a restaurant at the hotel, but as tourism picked up and Cerrito Tropical became more popular, we decided to open Calaloo right next to the pier and now offer home-made breakfast, pizza, and Calaloo take-out at the lodge.
Gabrielle: Did you have experience as a businessowner before moving to Taboga?
Cynthia: I've been an entrepreneur in the tourism industry since before I became an expat. I had a tourism center with a restaurant on Prince Edward Island. Then I moved to Curaçao where I started a small publishing company. As part of a consortium of three companies, we received a grant from the EU to do a tourism guide for the whole island—including books, maps, and signage—in Dutch, Spanish, and English. We won an award for our signage design in Belgium in 1995. In Japan I designed, manufactured, and sold bags and household décor made from vintage Japanese kimono and also taught home cooking and wine appreciation classes in English.
Gabrielle: Tell me about Cerrito Tropical. What makes it special?
Cynthia: About two years ago we rebranded Cerrito Tropical as an eco-lodge. It's the only hotel on the island surrounded by forest, birds, and wildlife. We are a strong voice for sustainable tourism and work with the local community on Taboga by training community members, hiring them as employees, and promoting nature and the sea through tours. We support other businesses and local entrepreneurs on the island by giving references for boat tours, fishing, snorkeling, whale watching, and more. We do our best to protect the environment: We recycle and compost, we've been active in sea turtle protection, and I planted a natural garden with local herbs and medicinal plants. Over the years Cerrito Tropical has become the most popular hotel on the island.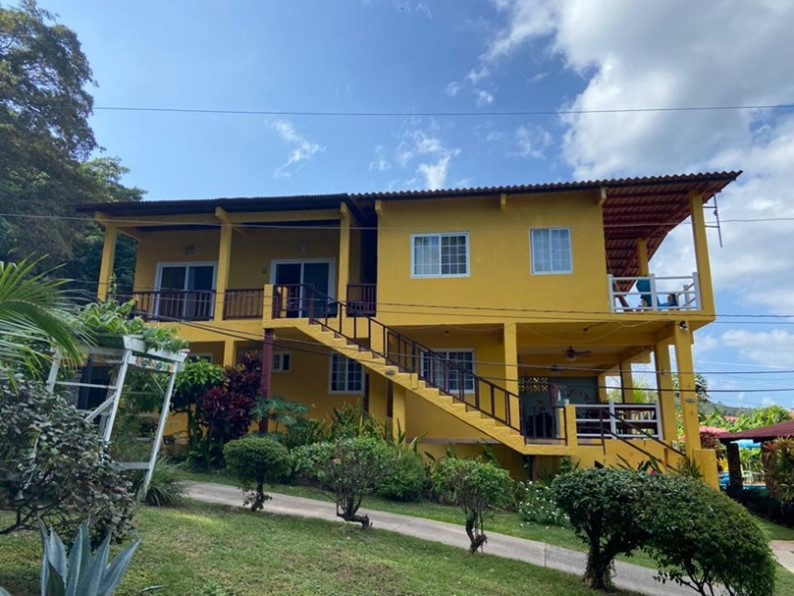 We're always expanding and upgrading. We recently installed a plunge pool, a sun deck, and a teak deck (where you can catch breathtaking views of the ocean). We're planning to host weekend yoga retreats in the future.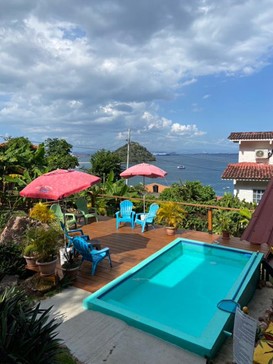 Gabrielle: I've heard good things about the food at Cerrito Tropical. What's on the menu?
Get Your Free Panama Report Today!
Simply enter your email address below and we'll send you our FREE REPORT - Live And Invest In Panama: The #1 Retirement Haven In The Americas.
Cynthia: Our home-made breakfast is fresh fruit, eggs, biscuits with pineapple jam, and fresh Panamanian coffee or herbal tea. I make the biscuits and jam from scratch.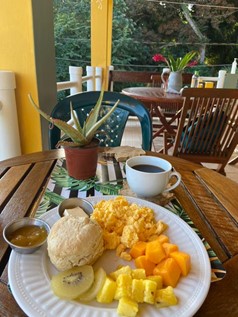 We're famous for our homemade sourdough pizza… I make the sourdough from scratch, too. The margarita pizza has been a real hit with guests.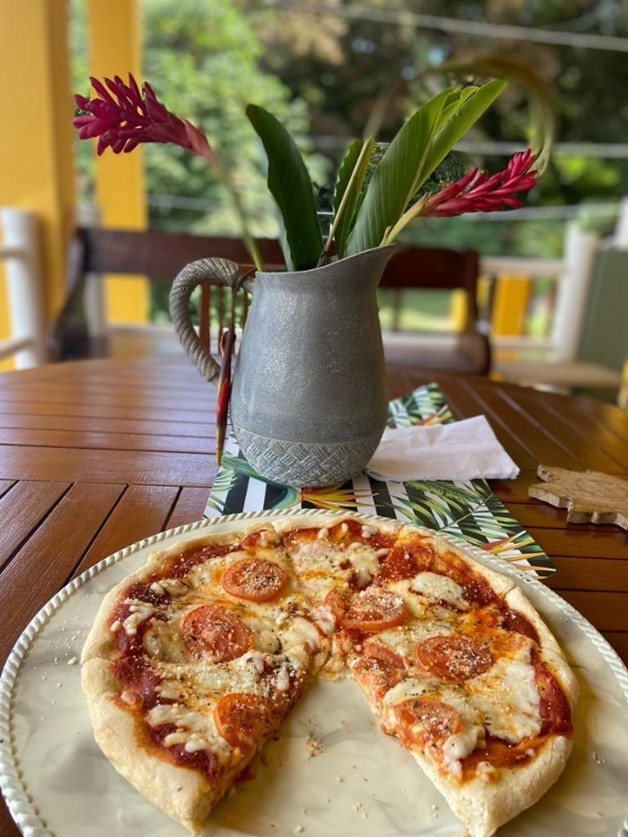 Gabrielle: Calaloo seems to have a Caribbean theme. What inspired it?
Cynthia: It was inspired by Curaçao, where my husband is from and where I lived for years. Our menu combines Panamanian and Caribbean flavors, some straight from Curaçao—like croquettes (Dutch-Caribbean meatballs) and sautés with peanut sauce.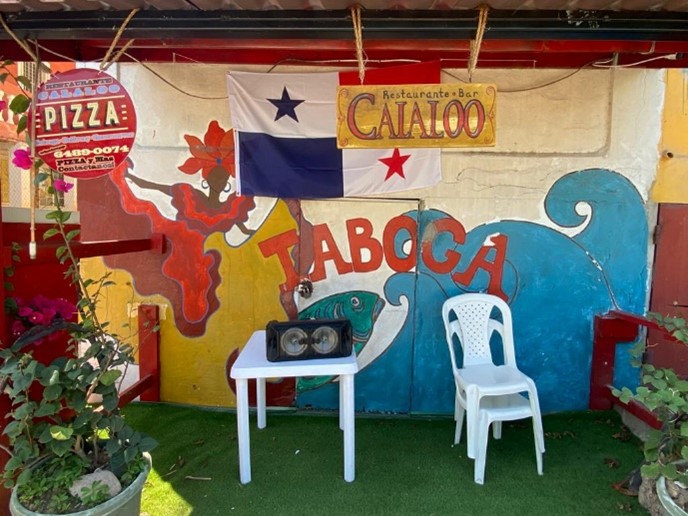 Gabrielle: Did the decorations come from Curaçao, too?
Cynthia: I designed everything by hand. I made the lamps from seashells and coconuts, built the Caribbean-style wooden windows, and painted the artwork on the walls, which show scenes from Caribbean life.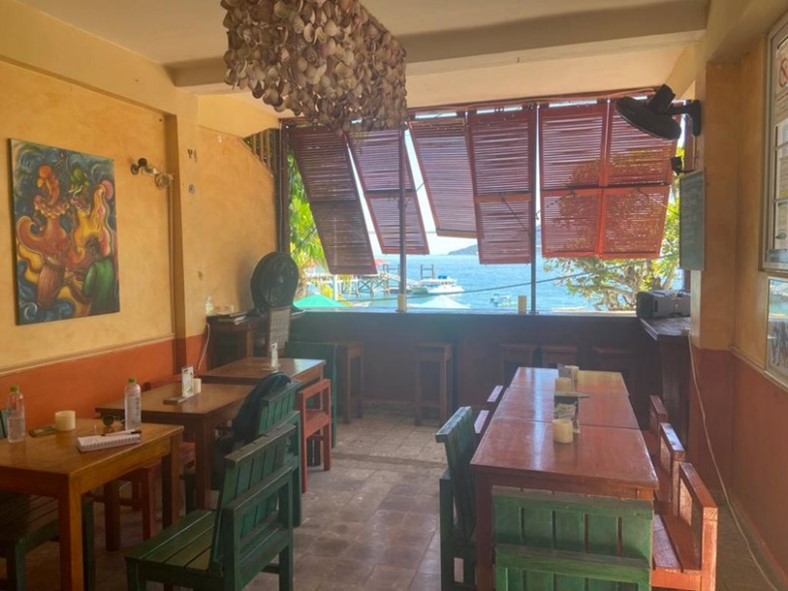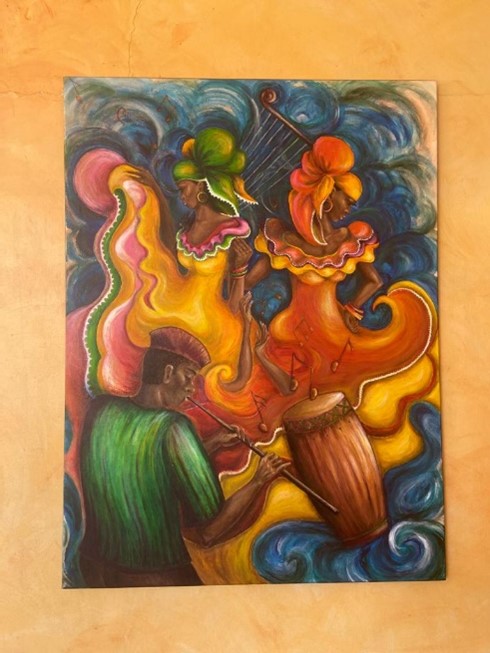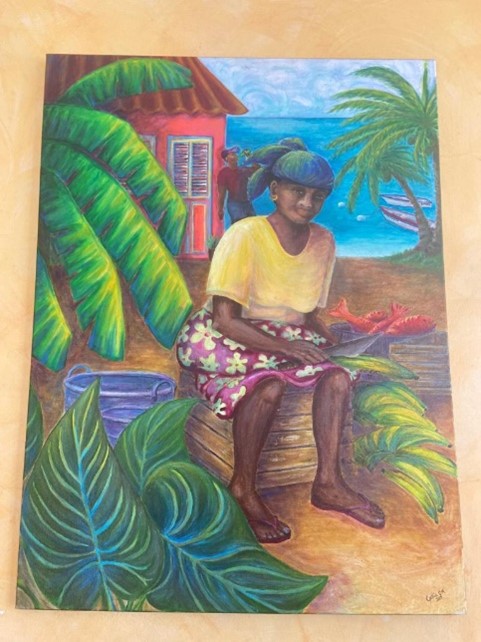 Gabrielle: What's the most popular dish on Calaloo's menu?
Cynthia: Probably our langostinos (prawns) in garlic butter that we serve with patacones (fried green plantains) and salad. Our cook, Aristides, has 50 years of cooking experience and has lived on Taboga his whole life. He's an expert at preparing seafood and other local recipes and has trained our younger chefs as well. We have a vegetarian menu that's very popular… it has entrees like veggie tacos, falafel, veggie omelets, and patacones with peanut sauce. We have a third dinner menu with fancier options like lobster, a beef filet in wine sauce, and chicken schnitzel.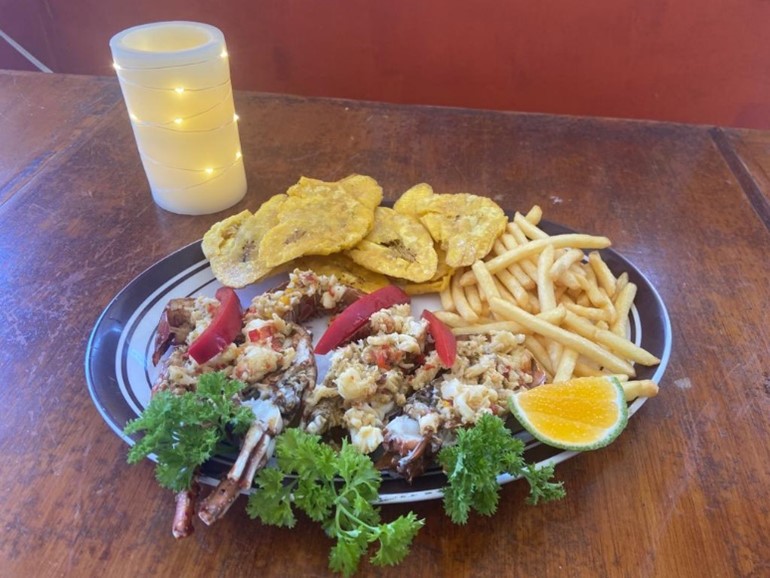 Gabrielle: What other community activities have you been involved with on Taboga?
Cynthia: Around 10 years ago I founded the Fiesta del Mar—a cultural and music festival—with two associates. We had food, dancing, music, and nature activities meant to celebrate the culture of the island. It brought thousands of people to the island each year.
We sponsored the tee shirts for the Taboga soccer team, and I'm a member of the cultural committee. Through the cultural committee our business sponsors the award for the best home Christmas decorations contest.
I also participate in community talks about important projects on Taboga.
Gabrielle: From a legal standpoint, how easy is it for an expat to start a business on Taboga?
Cynthia: It's not a complicated process. You get your approval and then business permit from the mayor. Depending on your business you may need to have a license from the main government in Panama City. If you're looking to build a property, your contractor will help you get the permit. It's more affordable to build if you invest in the local community. Hire local workers and use local resources when possible. It's not only less expensive… it's more sustainable this way, too. Costs will be more if you build through a Panama City-based company.
Gabrielle Wells
Editor, Panama Letter