Priscila Gómez is the marketing director at Ngädri—a new gourmet, authentic Panamanian restaurant in Boquete.
A young expat originally from Kansas, Priscila worked in banking solutions in Orlando until seeing the harsh consequences of the American Dream every day weighed on her. She decided to become an entrepreneur and help people make money instead.
She moved to Panama, her parents' home country, and found her way to Boquete. Here, she noticed that expats and Panamanians seemed to be living in two separate worlds.
That observation inspired her to launch her own business, a consulting project that works to bring locals and foreigners together through food and cultural events.
I met Priscila at The Perfect Pair and over a cup of coffee we discussed Ngädri, her business Forever Magic Consulting, the gap between the expat and local communities, the implications of that division, and ways to unite the two groups for the common good of Boquete.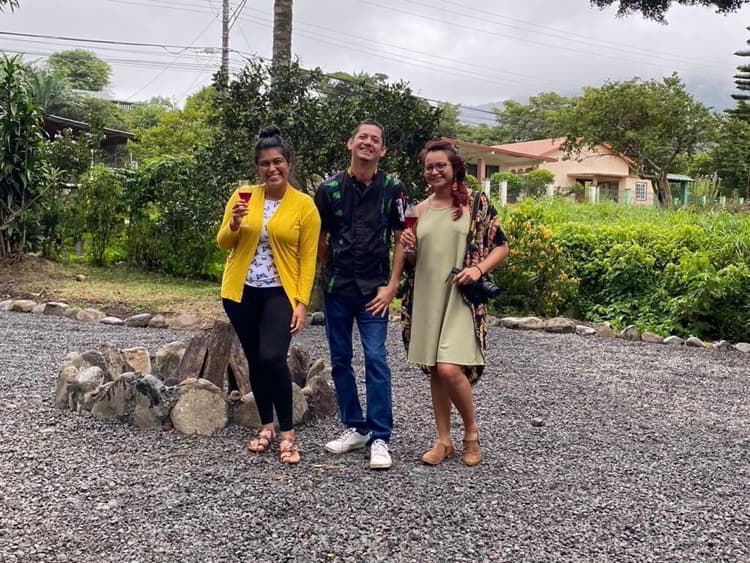 Here Are The Highlights From Our Conversation…
Gabrielle: What brought you to Boquete?
Priscila: I chose Boquete because I feel like it represents me… It's very American to a certain extent, but it's also still Panama. It was the perfect spot for me to create something, to work at being a bridge.
I also liked the weather and my parents got me in here a few years ago… they were originally chiricanos, so Chiriquí was always an option for me. Knowing that they had bought land and were building a house here made Boquete a natural fit.
Gabrielle: What inspired you to start your business?
Priscila: My company registered here in Panama is called Forever Magic Consulting… At the core of what I do, I'm trying to be a bridge between the expat and local communities by promoting local events in English.
When I first arrived in Boquete, I found that restaurants seemed very segregated… and I realized that the problem was access to information. Expats were going to places with English menus and English-speaking staff because those were the restaurants marketing to them.
It made me think, "What happens if I take on a fonda, host events there, and post them in the expat social media groups?"
I started moving the expat community by saying, "Hey, these are amazing Panamanian businesses that you should also support."
Last year, I opened my own space with some partners… It's important that we create new spaces in Boquete for Panamanians and Panamanian owners.
When we talk about the restaurant business here, a lot of the chefs and owners are foreign… I'd hate for someone to spend time in Boquete and leave without knowing what our local food is, which is what happens without local restaurants.
Ngädri mixes tourism and food… I'm pushing for a "foodie tourism" environment, where dining becomes a cultural experience.
Get Your Free Panama Report Today!
Simply enter your email address below and we'll send you our FREE REPORT - Live And Invest In Panama: The #1 Retirement Haven In The Americas.
Gabrielle: Why is collaboration between expat and local businesses so essential?
Priscila: They depend upon one another for well-being and need each other for survival. Having these two separate colonies isn't benefitting anyone… if something happens to Boquete, it affects all of us.
This bleeds over into other areas and becomes a much bigger problem… The gap between the two groups affects how we deal with social problems in Boquete and how we raise funds for them.
Here, we're lucky to have expats who were involved in social clubs in their home countries, and volunteer groups like Rotary and the Association of Community Charity of Boquete have been formed by expats and host regular fundraising events.
What tends to happen is that the clubs raise funds but don't have a clear plan in place for how to allocate them in a sustainable way because many don't speak Spanish and don't have an in-depth understanding of the local culture.
Bridging the gap, for me, has been about finding Panamanian organizations that are working on these social problems and teaming up with and supporting them. These groups understand the social and cultural cues and needs of the local community. This way, we can be wiser with the use of our funds and make sure that community members in need are getting the right help.
This is where the idea of working with the community, and not for the community, is so important. Rather than trying to bring solutions to our new home, we should try to become part of the community—one of many.
Through Forever Magic Consulting I've been finding ways to include Panamanian organizations as beneficiaries of local fundraising. We need to invest in the people who already have the know-how.
Everyone's coming from a good place, we just need to get these Panamanian and expat groups to see one another and to work together, rather than everyone trying to solve the problem from zero. If we all cooperate, we can effect change so much faster.
Gabrielle: Could you share an example of a sustainable solution that you've seen happen in Boquete?
Priscila: For Christmas, one of my best friends took gifts to a community in the comarca that can only be reached by helicopter or 10-hour hike. I immediately thought, "Okay, let's get cookies, toys…"
But he said, "No, I'm taking baby chicks—100 of them. The kids can play with them, like a toy, but later they can turn into a meal."
I had never thought of baby chicks as a Christmas present, but I realized his idea was so much more sustainable than toys or cookies.
This is a great example of what happens when expats and locals come together… they can team up and do something that the community really needs.
I always tell people that we can't donate a community out of poverty. If, as expats, we just keep donating, all we do is create a dependency. We should be empowering them to be self-sufficient.
This year, I look forward to creating more sustainable solutions, even if it's a little bit slower.
Gabrielle: What makes Ngädri unique?
Priscila: It's vegan friendly… I'm not vegan, but lots of vegetables are grown in Boquete and I thought that if we could source most of our ingredients from Boquete, we'd be creating something sustainable.
Our goal is "kilometer zero"—the restaurant is zero, and I'm trying to stay as close to zero as possible. We serve meat and fish, too, but everything comes from Chiriquí.
We stay as true to Panamanian culture as possible… Ngädri is the Ngäbe word for "roots"… and we try to not change the names or ingredients of local dishes.
We want to re-instill pride in Panamanians for being Panamanian.
Gabrielle: What has been your greatest success so far?
Priscila: Creating the space… At the restaurant we've already hosted art exhibitions, and all the art we have at Ngädri is from a collaboration with artists from David. They're on consignment, so people can come in and buy the pieces.
We also have singing, poetry, tattoo, and art nights. I'd say my greatest success has been the feeling of creating a community where I feel comfortable. I like this fusion of the local and expat communities I'm seeing around me.
Gabrielle Wells
Editor, In Focus: Panama