So you want to move to Belize… and you're thinking of buying land in Belize.
Purchasing land is an emotional decision for many—don't give in to "Margarita Madness." Do your due diligence and know that a little caution goes a long way. And, remember, that advice from locals can be more valuable than all your experience from back home.
First things first: Where do you want to live?
Near water? OK… ocean, lake, or riverfront?
What about island living?
Or jungle living…?
How about settling in the north, close to the conveniences of Mexico? Or in the western Cayo District where land is highly arable and farming is an option?
Belize has lots of lifestyle options, not just the oceanfront.
Other factors to take into account are your budget, your need to be close to a town, or your desire for acreage or seclusion.
Developments
Some people need the familiarity and convenience of a residential subdivision. One such option is Grand Baymen on Ambergris Caye.
Others find the idea of living in a planned community claustrophobic. If you left your home country for more freedom and balk at the idea of rules and regulations, don't bother looking at developments.
Personally, I'm of a mixed mind. I find myself indignant when someone tells me what I can or can't do in my own yard or how I must build my own house. Such restrictions fly in the face of a man's castle being his own.
Regulations Aren't Always A Bad Thing
But regulations serve a purpose. My buddy Phil tells a story when people argue this with him… He once lived in a nonrestrictive residential subdivision in the States where one resident claimed to love the "Americana" of his unpainted zinc fence—rusted and full of holes—and the two cars in his drive that vermin used for accommodation. That may have been his idea of Americana, but it's not what most people want to see when they wake up in the morning… hence regulations.
I live in the village of Bullet Tree Falls just outside San Ignacio, and I love it there.
My love doesn't extend to the quasi-Christian church across the road from me, though. Every day between 6 p.m. and 9 p.m., 12 loud speakers (one for each church attendee) crank up, assaulting me with the most awful cacophony of Latino disco music. The lady pastor replaces every song character's name and each suggestive act in the original versions with Christ's name or a reference to Him. All this occurs at a decibel level that hurts your teeth and can be heard in the next village over.
There are practically no zoning laws in Belize and an all-night-disco-cum-church (or a slaughterhouse, or anything else) can be opened in your neighbor's yard anytime.
Acreage Or Just A Back Yard?
More and more people moving to Belize seek an element of self-sufficiency. Buyers are looking for enough land to grow their own food or raise livestock. This is a viable option here.
Personally, I like the ease and eventual abundance of planting fruit and nut trees, which take little maintenance but produce an embarrassment of riches when they begin to mature.
For some the idea is simply to "land bank" in order to subdivide and sell the parcels they don't need.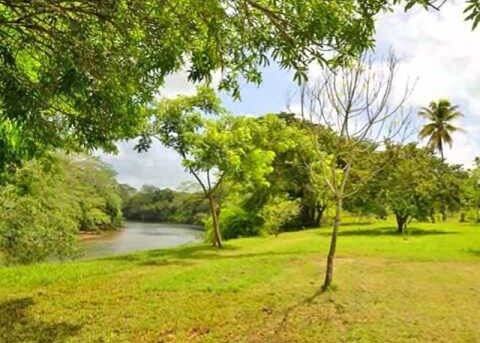 Restrictions When Buying Land In Belize
Nature Reserves
In the past, national nature-reserve land has been sold. When it's sold again, the seller often doesn't warn the next buyers that the environmental restrictions on construction would make building costs prohibitive or impossible. If this is a concern, get a declaration from the owner that the land is not part of a reserve, and have your lawyer check this during the title search.
Crown Reserves Or Queensland
Land within 66 feet of any major body of water in Belize is designated Queensland (stemming from the old maritime law stating that no sailor can be denied docking in times of distress). This land is public land and cannot be owned, even if it's right in front of your house. You can use it nonexclusively for your own purposes if you like, but it's illegal to build permanent structures on it, and anyone can walk on it or use it (though they can't legally walk over your property to get there).
Road Reserves
Roads are often legally much wider than the narrow, paved section you see and drive on. Just because your wall is 10 feet from the edge of the road doesn't mean your fence or wall (or house) isn't on public property. This happened just recently in the next village over. People didn't survey to see their actual boundaries when they bought their property and just assumed that the fence lines they saw were the legal lines. When the road was widened to its legal width, property owners lost concrete walls, old trees, pump houses, and acres of land they thought was theirs. Check your borders before you build.
(This is much less a concern for those buying in a planned community, as the survey is recent and the developer will know his own boundaries.)
The Purchase Process
Belize adheres to common law, and there are two categories of land in Belize: undeclared and declared. Transfers of undeclared land have to be recorded at the Titles Registry; those for declared lands are to be registered at the Land Registry.
Property purchasers can take title to freehold property in Belize in one of three different ways:
Deed Of Conveyance:The oldest form of title ownership is a registered right to ownership of property. The deed can be converted to a certificate of title via an application for first registration.
Transfer Certificate Of Title:This is a physical title to a particular parcel of land—a secure form of ownership—that looks like a single page and references maps and registries from the Department of Lands and Surveys. It's more costly and time-consuming to transfer title on a TCT than on a deed of conveyance.
Land Certificate:Absolute title that applies to property purchases in new or specially designated areas.
Step By Step…
Although not required, it's highly recommended to draw up a Purchase and Sale Agreement to set out the basic terms for the property transfer.
Skip the title search at your peril… have your lawyer or land consultant (private land researcher) go to Belmopan and manually search the archives and computer records to ensure the title is good, the seller is the true owner, and that no liens or encumbrances are attached to the title.
To effect the transfer, a payment is made, usually through a lawyer's escrow account.
Transfer documents vary according to the details of the property being purchased—whether it is a declared or undeclared land parcel. These documents include: (a) First Certificate of Title, (b) Transfer Certificate, (c) Deed of Conveyance, and (d) Land Certificate.
The transfer is usually accompanied by the following…
Discharge of mortgage or discharge of a charge;
Recording or registration fees and stamp duty.
Purchase Costs
Lawyers charge 1% to 2% of the total purchase price for the closing.
You'll also incur stamp duty (a 5% charge on the declared value of the property after the first US$10,000 at the time of transfer of title), recording registration fees, property taxes, and the real estate company expense. Belize imposes no capital gains tax.
The seller pays the property taxes. The purchaser usually pays all other fees. Most of the cost incurred by the purchaser applies to property lawyer fees, recordings, registration, and miscellaneous charges.
Title insurance is not necessary, but available.
Taxes
Unless you live in a high-end area of Belize City, San Pedro, or Placencia, taxes can be quite low. Most of my friends who don't live in a town pay less than US$15 per year in property tax. However, the services you receive for this tax are commensurate (i.e., none). Living in more built-up areas brings more services… and more expense.
Scams
While it's less common than in the past, land scams still exist in Belize and foolhardy investors can and will lose their investment if they don't do their due diligence and find a reputable lawyer or land consultant.
Con Murphy
This article was originally published in April 2017 and has been recently updated.