Inflation is running at better than 8%… the greatest rate in more than 40 years.
Your weekly grocery shop is setting you back nearly 11% more today than it did a year ago… and fuel oil is costing you double what it did this time last year.
I'm not telling you anything you don't already know… but I do have a point.
This pressure on your retirement budget, especially if that budget is modest and fixed, is not a reason to give up on the idea of retiring.
No… the answer to surviving our inflationary age is to take your retirement on the road.
Not everywhere in the world is experiencing inflation at the same rate.
Plus… in many, many appealing places to retire overseas, the cost of living is so much lower than in the States to begin with that inflation would have to do its thing for a long, long time before it'd increase your monthly costs beyond a very affordable level.
Americans 65 years and older are spending a mean of US$47,579 per year, or US$3,965 per month.
In many of the world's top retirement havens, that budget will buy you a luxury-level lifestyle…
What if you're retiring on less than—maybe much less than—US$4,000 per month?
No problem. Here are three tempting places to retire well on half that budget… or less…
#1. Chitré, Panama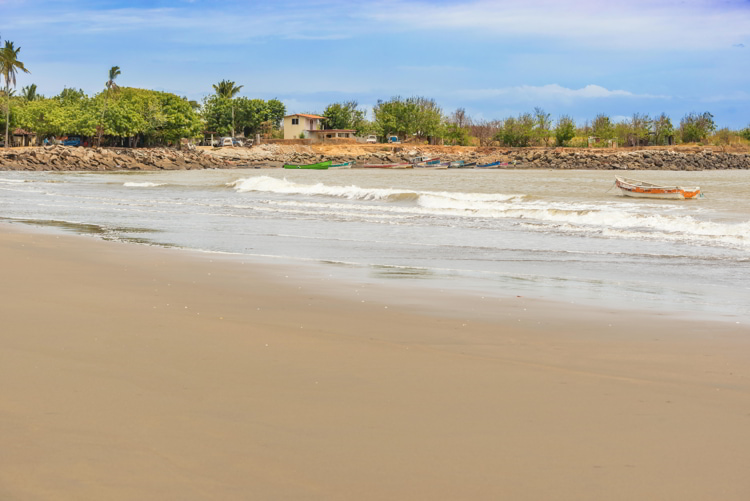 Chitré is a beach town along Panama's Pacific Coast, about a three-and-a-half-hour drive west of capital Panama City. It's a small town, with a population under 10,000 people, but because it's a local hub of commerce and transport, it offers the conveniences of a much bigger city, including shopping, banks, health care, legal services, real estate agents, and more. This makes life convenient for retirees.
Chitré receives limited tourism attention and has a small expat community, so prices for everything remain low. The cost of living is highly customizable and depends on your lifestyle preferences. If you eat at local restaurants that serve traditional Panamanian fare, you'll pay about US$5 to US$10 for a full meal, versus US$20 to US$25 at the international restaurants.
If you shop for local produce and seafood at the open-air market, you'll spend about US$100 per month on groceries versus about US$425 shopping at supermarkets for imported goods, which cost a premium.
You can further reduce expenses by living in a central part of town and getting around on foot rather than by car. One thing you can't skimp out on here is air conditioning for your home, which will run up a monthly electricity bill of about US$125 depending on use and the size of the space you are cooling.
On a monthly basis, a couple can expect to spend about US$1,600 if they own their own home in Chitré or about US$2,000 if they rent. With a minimalist lifestyle, you could get by here on as little as US$600 per month.
About 500 expats call Chitré home. Aside from the low cost of living and diverse amenities, they are attracted here by friendly, small-town environment, warm weather, and excellent beaches, including the opportunity to own affordable beachfront property.
For all of these reasons, we've named Chitre the number-one place to retire well on a budget in Panama. You can find out more here.
Start Your New Life Today, Overseas
A world full of fun, adventure, and profit awaits! Sign up for our free daily e-letter, Overseas Opportunity Letter, and we'll send you a FREE report on the 10 Best Places To Retire In Style Overseas Today
#2. Chiang Mai, Thailand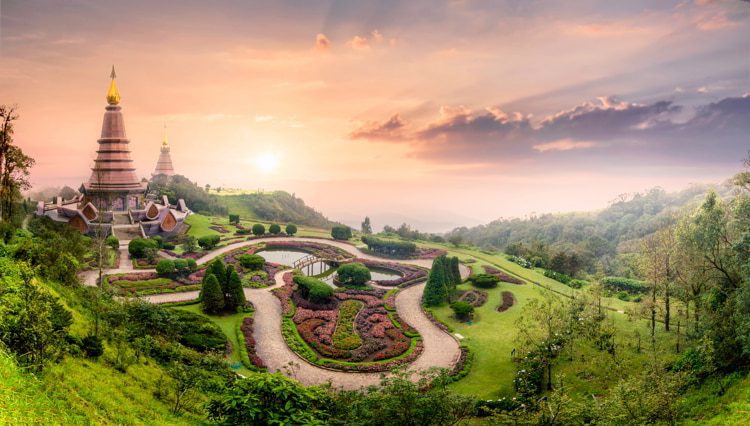 Southeast Asia is one of the world's most inexpensive places to live, but quality of life is not equally distributed across the region. A top choice for balancing a low cost of living with a high standard of life is Chiang Mai, a city in northern Thailand.
It's known for its relaxed pace of life and high-quality infrastructure, including top-quality hospitals, restaurants, and shopping. A big expat community made up of people from all over the world bases itself here, including many digital nomads who take advantage of the opportunity to earn a strong currency while spending relatively weak Thai baht.
In the United States, the average Social Security payment is US$1,658 in 2022, but in Chiang Mai, about US$1,200 per month is enough for a nice lifestyle for two. This includes rent, which is very affordable in this city. A two-bedroom bungalow with a garden can be rented for about US$285 per month. For about US$710 per month, you can rent a three-bedroom villa with a pool.
In Chiang Mai, you can save greatly on transportation if using local options for getting around, like tuk tuks, baht buses, and taxis. Your monthly transport bill could be about US$10 per person. Compare that to US$624 per month, the mean amount Americans 65 and older spent on transportation in 2019. The same is true for food. Eating out may be more cost-effective than cooking your own food, with the average meal costing about US$3.
We'll be looking closely at the affordable cost of living and retiring in Thailand during our Access Thailand Online Workshop taking place July 6. More details are here.
#3. Kyrenia, Northern Cyprus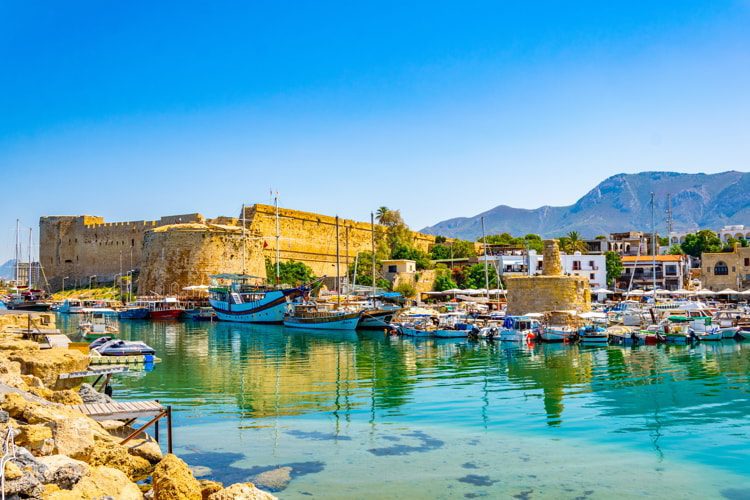 Northern Cyprus offers the best of Mediterranean living for a fraction of the price of better-known destinations, like the south of France or coast of Spain. While still an off-the-radar choice for most Americans, it has a strong expat community mostly made up of Brits and other Europeans.
Here locals live to great ages because of the stress-free existence and healthy diet. There are great beaches to go along with near-perfect weather, with 340 days of sunshine per year. With great hospitals and high-quality care, medical tourism is a burgeoning industry.
Found where the Five Finger Mountains meet in the sea in northern Cyprus is Kyrenia, a quickly developing coastal city of about 46,000 people. It boasts seaside hotels, restaurants and cafés, and a charming old harbor and castle.
Here, a two-bedroom apartment with a communal pool can be rented for about US$590 per month. Cypriot food, a blend of Greek, Turkish, and Middle Eastern influences, is fantastically low cost as well, with the cost of restaurant meals ranging between US$3 to US$10.
Real estate is remarkably affordable in northern Cyprus as well. It can be as little as one-third the cost of similar property just over the border in the Republic of Cyprus. Condos in beach resorts with quality shared amenities start at well under US$100,000, which, if you've done any shopping for real estate in the United States lately, you'll recognize as a world-class bargain.
Sincerely,



Kathleen Peddicord
Founding Publisher, Overseas Opportunity Letter