Last year Jeff Bezos, the world's richest man, dumped US$6.7 billion of his shares in Amazon…
And poured millions into this one inflation-proof asset.
So did Bill Gates. He just pumped another US$50 million into my top investment pick.
And they are not alone.
While the mainstream press never saw it coming, these guys are simply tuning in to what I've long been calling "the biggest investment story of the century."
The next big global wealth trend has kicked off, and it has nothing to do with a rigged and volatile stock market.
I've said it before, and I'll say it again:
The big (and smart) money right now is in food production.
When I told you farmland and agri-tech were the biggest investment stories of the century I wasn't lying.
You may have read this statistic before, but it's not to be overlooked:
"Food production must increase by 70% to meet future demand," according to the UN's Food and Agriculture Organization.
And while folks are well aware of the record highs for food prices, they don't see the bigger picture.
The truth is, anyone who can get in on the inside track stands to make serious profits.
That includes a lucrative European farmland investment I've identified that's ideal for individual investors like us.
Earn A 647% ROI From A Safe And Diversified Profit Plan
Positioned right at the heart of an ever-expanding global demand for healthy foods, the almond market continues to boom.
The global almond ingredients market size was valued at US$10.2 billion in 2020…
And it is projected to reach US$16.9 billion by 2025, recording a CAGR of 10.5% in terms of value.
America (with California at the heart of this industry) is the largest almond-producing country in the world.
But amid an ever-worsening water crisis, many farmers in California are now moving away from their cash-cow crop. The conditions simply no longer support profitable but water-intensive almond tree production.
Spain, boasting an ideal growing climate and soil, checks in as the world's second largest producer.
And it's here, after months of research, that I have uncovered a way for the ordinary investor to get in on the profits—without the big spend.
I'm more excited about this than any other opportunity we've shared in recent years.
And, by way of full disclosure, I've already gone ahead and invested myself.
Here's A Quick Sneak-Peek At The Numbers
We're looking at an IRR of 12.41%.
Starting in year 3, you'll receive annual paychecks straight into your bank account, over a full 45 years.
Almond trees reach full maturity around year 10, from which point on you can expect an annual payout of 16,709 euros…
For a total projected 675,789-euro payout (about US$763,000).
You own the land… and the trees.
As new parcels of land are released and planted, they sell fast. I have based these numbers on an 8,032 square-meter site (1.98 acre) at a cost of 90,382 euros.
The parcels currently available may vary slightly in size, and range from 89,610 euros upwards.
Now, I'm wearing my conservative hat here. These numbers are actually on the lowest end of the projected returns. That year-10-onwards annual payout could reach 24,000 euros or more.
Financing is available. You can secure your land with a 30% deposit, and pay the remainder in 0%-interest installments over the following 24 months.
That means you can get started with as little as 26,883 euros down.
Our Key Advantage In An Already Lucrative Market
We're buying into a well-established farm, from a developer who also manages similar projects in Turkey and Bosnia and Herzegovina.
Everything is 100% turn-key.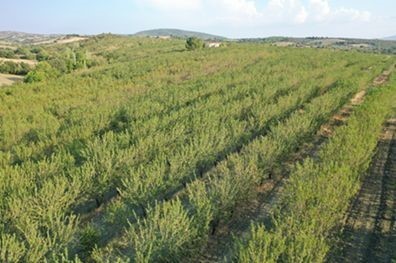 Planting, crop management, harvesting, and sales will all be handled by an experienced team of experts.
The harvest period of almonds is very limited, so it is essential to have the organization to collect, store, and process the harvest.
To that end, the developer here has built their own processing factory, one of the largest in the region, where the almond crop is processed, and from there sold into domestic and international markets.
All of which adds up to better quality produce… and higher returns for us investors.
Plus, and last year proved this to be a key advantage, we'll have greater independence from outside factors disrupting the supply chain.
One of the most important factors I was keen to confirm in this almond investment is the water supply. Almonds are big water guzzlers, and, as I've explained, water shortages have proven to be a serious issue for growers in California.
This farm is ideally located in a region where the government practically guarantees the water supply. It's all supported by the use of advanced irrigation techniques.
Add it all up, and our Spanish farm has an advantage in what's quickly stacking up to be one of the world's most profitable investment stories.
The writing is on the wall. Agricultural investments are about to explode.
And while most ordinary investors will get left behind—we have the chance to get in early on the curve, for a massive projected payout of over 650,000 euros.
With inflation soaring and the stock market suffering through a major correction, the world's billionaires are flocking to hard-asset investments… like farmland.
If you're interested in securing a safe and diversified income for the future, while the ordinary investor can still get in on the ground floor, now is the time to act.
Lief Simon
Director, Overseas Property Alert