My high-powered, six-speed Opel was stranded… stopped partway through a turn onto a narrow, cobblestoned street, much to the annoyance of the pedestrians surrounding the car and the drivers behind me.
Looking up at the tall stone buildings lining the street just 10 feet apart, it was clear that the thoroughfare my hotel was on was designed for drivers on horseback… a long time ago.
After returning to the expansive, underground parking lot we'd passed a few minutes earlier, we dropped off the car and joined the crowd of pedestrians walking along the centuries-old streets, enjoying the tiny restaurants and bars the town is known for.
I'm in the medieval Spanish coastal city of Castro Urdiales. Often called simply Castro, this is an ancient port city on Spain's rugged north coast. It's likely you've read volumes about Spain's overbuilt southern and eastern coasts. By comparison, the north is largely ignored… especially by North Americans.
Castro is built around an old harbor enclosed by a stone seawall… surrounded on the shoreline by a wide, long, pedestrian promenade. A massive stone church overlooks the harbor and the town.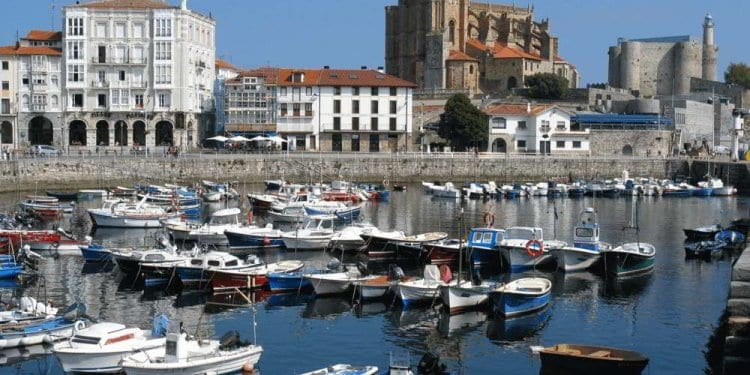 Castro was founded by the Romans in the year 74. The church is fairly new by comparison, built in 1208. Being a part of this kind of history is second nature to most Europeans, but it's mind-boggling to me… someone whose home has always been somewhere in the Americas.
But if I'm honest, I didn't come for the medieval history… as much as I love the architecture and ambiance.
I came to see the unique lifestyle that the city offers. I think Castro would be a great place to live… or at least a great place to escape the hot Mexican summers that we have in Mazatlán.
Castro has everything I like in a prime expat destination, from its climate to its cost of living and lifestyle.
Specifically, here's what I like about Castro Urdiales:
The climate:This part of Spain's coast is mountainous, lush, and green, with moderate rainfall throughout the year. While climate change has begun to parch southern Spain, water is plentiful here, with dense forests and flowing rivers. And it never gets as hot (or as cold) as it does in the south. The Bay of Biscay moderates the temperature all year… so overnight frost is rare at sea level in the winter, and the hottest month of the year (August) only averages a high of 79 degrees (26°C).
It's walkable:Once I got rid of the car in that underground lot, I never needed it again. We were just a half-block from the waterfront, and the central farmer's market and the modern supermarket are both about five minutes away on foot. And dozens of options are available for eating out within that distance—breakfast, lunch, and dinner—from sunrise until the wee hours of the next morning.
What's more, the wide, sandy beach is just a 10-minute walk along the seawall from the harbor in the historic center.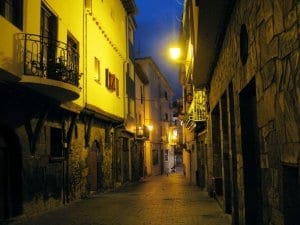 The cost of living:The cost of most things in this part of the country is much less expensive than in the big cities like Madrid, Sevilla, and Granada. Prices here are not much different from what we pay for things in Mazatlán, Mexico.
For example, two weeks ago in Castro, I got the "menú del día" (menu of the day), which is a fixed-price meal consisting of a large first course, a large second course, a dessert, and your choice of wine or water. In Castro, the price was 12 euros. In Madrid just yesterday, the same meal cost 27 euros.
A small, appetizer-sized portion of croquettes, olives, ham, etc., costs about 1.50 euros. A glass of wine starts at 1.50 euros… while a glass of good, vintage wine starts at 2.50 euros and goes as high as 4 euros in a tourist area.
I paid US$13 for a glass of zinfandel recently in Prescott, Arizona.
Even better, it's not customary to leave a tip in most situations… so Americans can take 20% off virtually everything they buy while dining out, from steaks to a cup of coffee. The omnipresent American tip jar isn't found here.
Properties are inexpensive, as well. In the historic center, a small, three-bedroom apartment—without a view of the ocean—is on offer for 115,000 euros. Just west of the historic center we found a frontline apartment on the ocean, with, of course, a great ocean view, for 170,000 euros.
You can find a small, one-bedroom unit with a city view on a pedestrian walkway in Centro for as little as 66,000 euros.
If you want to be in the historic center with a view of the marina and the church, the price tag will be higher. A large, three-bedroom, two-bath unit with a two-car garage (and a great harbor/church view) is going for 370,000 euros.
If you'd rather rent, a two-bedroom apartment will cost between 475 euros and 550 euros per month, furnished. It's an inexpensive way to try Castro on for size.
I find that here in Castro I'm spending about the same as I'd spend in many upscale Latin American locations.
But there's a catch…
If you should manage to become a tax resident of Spain—by residing there more than 183 days per year—you'll likely find yourself paying higher taxes than you would in most U.S. states. You can minimize the burden by properly structuring your holdings in Spain and abroad, with the help of a good Spanish tax professional.
The lifestyle:I haven't had a single, regular, sit-down restaurant meal since I've been in Spain. In fact, I've come to love the "tapas" way of dining and the wholetapasattitude.
Here's how it works: You pass by an inviting tapas bar, and one of their appetizer-sized delicacies on display (calledtapasorpinchos) catches your eye. It could be Spanish meatballs, chorizo, olives, cheeses, croquettes, shrimp, etc….
You walk in, order a glass of good wine, and sample thetapas. Maybe you just have the one that caught your eye… maybe more. Then you move on, until the nexttapa(or wine) calls out to you farther down the street…
I've found that I eat a lot less, I spend less, and I walk a lot more.
If you're interested in an old-world, European lifestyle in a medieval setting—at a fraction of what you'd expect to spend—then Castro Urdiales is definitely a destination you should investigate further.
Lee Harrison