"About a year ago, my wife and I made the leap to Portugal.
"Maybe we were a little crazy, but we haven't looked back and we couldn't be happier.
"We'd lived in Hawaii for 40 years, and my wife Ann had just retired from her career as an emergency room nurse. It was time for our next phase in life, and we wanted to make the most of it.
"We'd saved enough, but we didn't want to just settle into a 'comfortable' retirement. We wanted new, different, and exciting.
"Both of us are active and healthy, and we love traveling. We thought a simpler life, where less could be more, sounded very appealing.
Discovering Portugal
"We knew our criteria for the right place for us. A mild climate was important, as was living near the ocean, good health care, safe environment, interesting culture and history, good food, and a reasonable cost of living and of establishing residency. We were also looking for a place where we could get by speaking English.
"We learned that Portugal had it all.
"We decided that we wanted to be near Lisbon, at least initially, and found a beautiful, fully furnished, two-bedroom apartment in Costa da Caparica, with an ocean view and just a short walk to the beach, just outside Lisbon south of the Rio Tejo.
"After three months, when the lease on our initial rental was expiring, we decided to move closer to Lisbon and settled into an apartment with an ocean view in Caxias, midway between downtown Lisbon and Cascais.
"It was a small community with quiet neighborhoods and friendly people. Next door was a large house with lots of trees and shrubs. Living on that property was one of the most beautiful peacocks we'd ever seen. Each morning we watched him stretch his feathers and prance around. You never know what you'll find in Portuguese neighborhoods!
"Caxias turned out to be too quiet for us. With only a couple of small neighborhood grocery stores, we frequently took the train to Cascais for supplies. It didn't take long to realize that we'd be much happier in Cascais… meaning it was time to move again…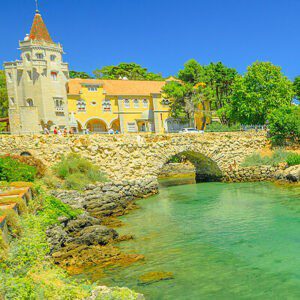 Finding Our Overseas Haven In Cascais
"Cascais seemed to have everything we were looking for, and we loved that it is just a 40-minute train ride to the center of Lisbon. Now this has become our favorite apartment and place in this country. Now we feel like we're home. We love Cascais.
Life In Cascais
"There's so much to see and do here that we feel like we are only beginning to discover the true nature of Cascais and its surrounding areas. Our favorite discovery so far has been the enormous Cascais market on Wednesdays and Saturdays, with fishmongers, bakers, butcher shops, and the freshest seasonal produce you can find at prices easy on the wallet. This is a happening place with a strong sense of community.
"Cascais is also spectacularly beautiful with clean ocean waters, a rugged coastline, white sandy beaches, stone buildings, cobblestone sidewalks, and several parks. When the sun or moon rises over the bay, you can feel the romance in the air. My wife and I feel like we're falling in love all over again. Our favorite pastime is strolling along the bay holding hands.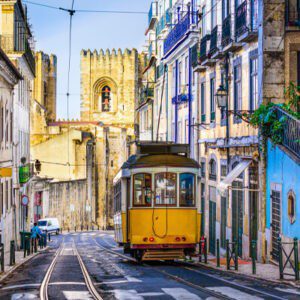 "Magnificent Lisbon is on our doorstep. This city reminds us of San Francisco with its red 25th of April suspension bridge, trams (cable cars), and steep, narrow streets. We've traveled to Lisbon for concerts, a bullfight, and great dinners out.
"Recently we found a Chinese restaurant that serves respectable Peking duck and an excellent Italian restaurant perched on a cliff over the ocean. I could go on and on, but you get the idea.
"We've always felt safe in Portugal, including walking the streets of Lisbon after midnight. Never have we felt threatened. We could just be lucky, but we think it's more than that. This is a truly safe place and a great place to raise a family. Kids and dogs are everywhere, at all times of day and night.
"And we are so enjoying being able to get out and be part of it all.
"Are we happy with our move? No question.
"We're here to stay… and still smiling every day at our audacious move and our unknown but very bright future."
Terry O'Halloran
Full-Time Portugal Expat