When I was growing up in Kansas, fish meant Mrs. Paul's Fish Sticks in the frozen department of the grocery store or freshwater fish you caught yourself.
I learned to catch, clean, and cook catfish, crawfish, bluegills, and bullfrogs from the creek behind my farm home at an early age.
Something that was not on the menu for this girl from Kansas is a revered delicacy and celebratory dish in Portugal: octopus. It is for birthdays, Christmas, New Year's, or any old excuse. Posters in the grocery stores right now are proclaiming holiday greetings with huge pictures of cooked octopus.
The sea creatures are available fresh and frozen throughout the coastal Algarve, and, since I've been living here, I've become very familiar with the sea animal. Hot octopus, cold octopus, cooked, sashimi… I'm able to report that I've tried it all… and I like it all.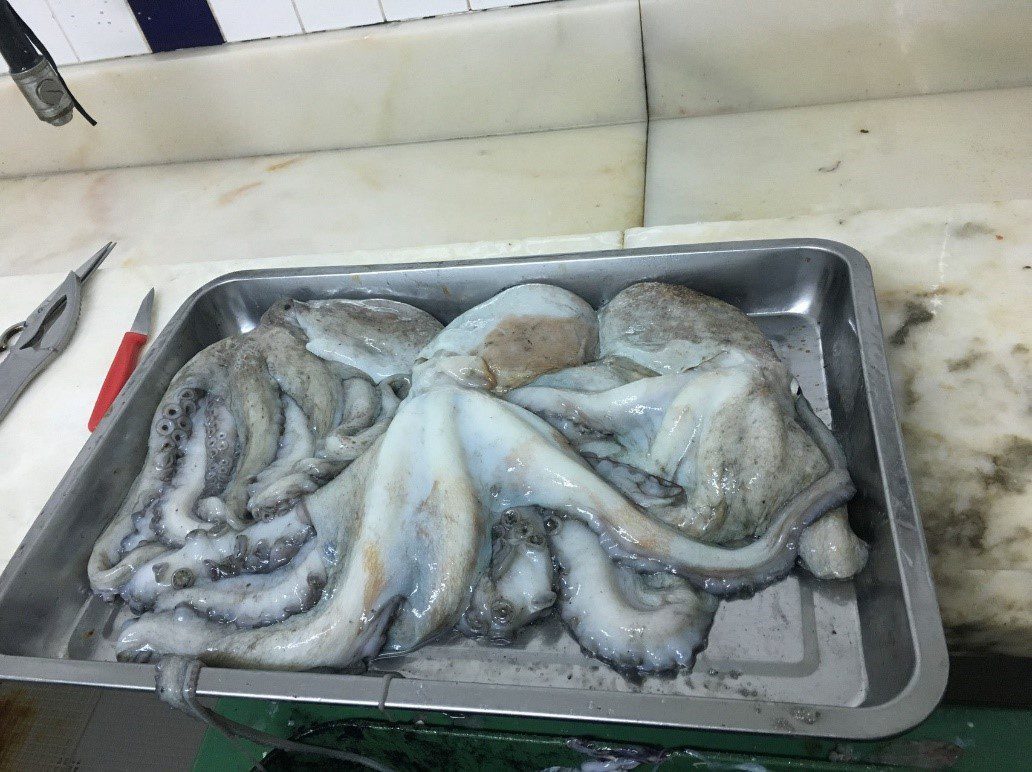 For a creature with such an "ick" factor, octopus has a mild and delicious flavor, with no untoward scent or texture. When I gave a taste of my octopus salad to a friend when we were dining out, she exclaimed, "Please cook this for my housewarming party!"
When you gain a reputation as a cook, you get a following of hungry people and non-cooks.
I hadn't ever cooked octopus before, but I was undaunted. I decided to consult various sources. When I approached my favorite fishmonger in the Lagos fish market, Sonia, to recite the litany of methods I had researched, she replied to say, "Oh that is how they do it in the north of Portugal… or that is a recipe from the Azores… this is how we do it in the Algarve."
Whereupon I got a precise lecture on the lengthy steps involved with preparing an octopus Algarve-style.
I was cooking for 24, but Sonia suggested smaller octopi because they are more tender. Thankfully, she had a kind woman in the back clean and prepare them for cooking. I was invited into the back to watch the process. I was fascinated. There are a few parts you don't eat and don't want in the cooking process.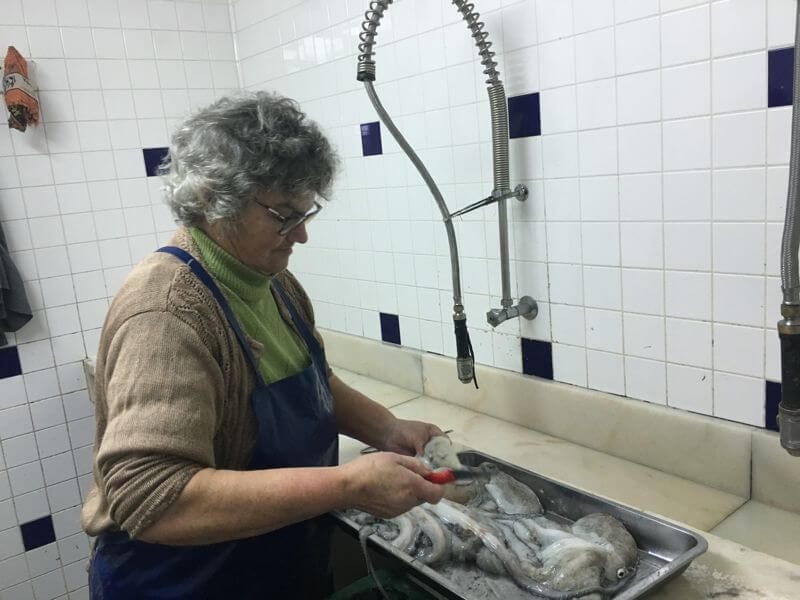 Get Your Free Portugal Report Today!
Simply enter your email address below and we'll send you our ​FREE REPORT — Portugal: The World's #1 Retirement Haven...
I am really a fan after finding out that octopus costs about US$4 per pound, and there's very little waste.
My octopus lesson was my latest experience with Sonia, but she's always been accommodating. She lets me special order any kind of fish or seafood and then cleans and filets or otherwise prepares and gives me just what I want. From huge swordfish and tuna loins, she cuts the thickness I want and packs it in ice for my walk home.
When the swordfish are migrating far from shore, as they often do, the local fishermen must go out for two days in their tiny, colorful, wooden boats to catch them. I appreciate the effort.
Sonia and her husband Ricardo always have smiles for me and act as if cleaning and preparing fish is the best part of their day. They give me suggestions for new things to try and new recipes. Visiting them is a wonderful treat for me.
Sonia threw in some mussels with the octopus, and I asked if they were farmed or wild. She was offended. "They don't need us!" she replied.
There is such abundance of every sea creature along this coast that I guess nothing is farmed. Everything is direct and fresh from the sea.
Sonia suggested that I freeze the octopus in advance to tenderize it and then pressure cook it with herbs and vegetables for flavor. The final step is to grill the octopus to thin out or remove the skin. The skin tastes fine but has a gelatinous texture. In the process, strange little white buttons, part of the tentacle cups, are shed. These can be eaten.
You can marinate octopus in wine or vinegar and steam or put it in a pressure cooker. I simmered mine in broth, wine, vegetables, and herbs until tender. I do not have a pressure cooker so this took three hours at a low simmer. I crowded the pot a bit and had to keep turning each octopus.
The tradition is to dip the tentacles in boiling water three to four times to make them curl up before cooking. It was also suggested that I throw in a wine cork when cooking. I am not sure why, but I did it.
I chopped the final product into bite-size chunks and covered with homemade basil pesto sauce and finely chopped fennel. All organic ingredients from the farmer's market, including a decoration of red sweet pepper and parsley for a Christmas presentation.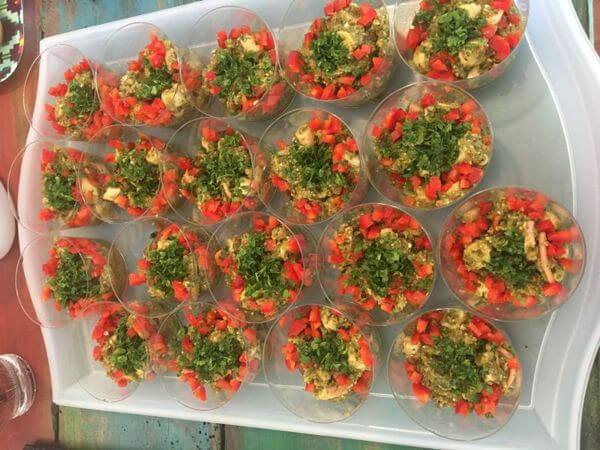 It all disappeared quickly, and everyone asked, "What was that? That was good!"
I plan on getting a pressure cooker so it will take me only 20 minutes to cook an octopus, rather than 3 hours.
If you come visit me in Lagos, I will cook one for you, too.
Barbara Petrohan
Part-time Portugal Expat