"Why do you talk about Brazil… isn't it a mess?" a reader wrote in last week.
On a generic claim like this, I can't disagree.
If you look at Brazil as a whole, the picture isn't great right now.
But, here atOverseas Opportunity Letter, we take a long-term view. Often a "mess" in an otherwise attractive part of the world means opportunity.
Plus, we like to dig deep. In most cases, even within depressed countries, there are areas that continue to progress.
And that's exactly what we're seeing on Brazil's northeast coast right now.
I'll come back to this little pocket of opportunity in a moment.
But first, what's happening in Brazil? And what's it like for those actually on the ground?
For the next few minutes, please lend your ear to full-time expat in Brazil, John Clites…
***
Brazil: Looking Past The Headlines
By John Clites
I first visited Brazil in 1993 with some Brazilians I'd met in the United States. This was only eight years after the end of the dictatorship. The economy was, to put it bluntly, a mess. Inflation was running 30% per month. I had read about hyperinflation, of course, but never actually seen it.
I walked to the beach with 30,000 cruzeiros in my pocket—surely a small fortune, I thought—and spent 17,000 of it for a Popsicle. When I decided to rent a car to explore the area, the vendor had to divide the charge onto two charge slips—one wouldn't accommodate all of the zeros. People offered to buy my dollars for well above the official exchange rate, wanting desperately to hold a hard currency that wouldn't erode daily.
Despite the economic woes, I fell in love with
Brazil
. The weather was sunny and breezy, and the white-sand beaches seemed to stretch forever. Food was fresh and unprocessed, most of it grown locally. Coconuts were harvested from trees right there on the city beach. There was, for lack of a better word, a naturalness to Brazil which seemed missing in the United States.
People maintained positive attitudes in spite of the difficulties they faced. This, I would discover as I spent more time here, is a Brazilian trait. The men whistled as they walked to work, and the women sang softly as they swept the sidewalk before their homes. They put things in perspective and keep going.
Even personal relationships seemed warmer, and perhaps more important than back in the States, where we tend to become self-absorbed as we hustle headlong through our days. I loved how the young girls walked to school hand-in-hand. There was much more interaction between generations. Young women escorted their elderly grandmothers on afternoon walks—something that, regrettably, we just don't see much anymore in the States.
And at the end of the day, despite the crisis, there was always enough time and money to meet friends down at the neighborhood bar for a coffee or a beer. And instead of each person sipping from his own bottle, beer was poured from a large shared bottle into each person's cup, a wonderful custom, which I still love to this day.
Brazil Today—What It Offers The Investor And The Expat
Brazilians often wryly joke that "Brazil is the country of the future… but the future never arrives."
It appeared to many that the future had finally arrived under President Inácio Lula da Silva—although some of us could see that the economic boom during his mandate was merely a house of cards built on easy credit and transfer payments, which inevitably collapsed.
Now, with Lula's PT party out and the conservative Jair Bolsonaro installed as president, Brazil's economy seems to be on the mend. So, again, we are tempted to ask, "Has the future finally arrived for Brazil?"
There is reason to be optimistic.
First, there is Brazil's sheer size. Brazil is half of South America, whether measured in population (more than 200 million), area, or economy. It would be a colossal mistake to simply ignore half a continent. Brazil still possesses the world's ninth-largest economy. And, while the current economic numbers certainly aren't good, I can tell you as someone who resides here that things are continuing along day to day without much turmoil.
Brazil is resource rich in a world which is increasingly resource poor. Brazil has lots of open land, much of it arable. It has enormous supplies of water. That may not sound impressive, but many countries are struggling just to satisfy their water needs.
Most of Brazil enjoys a warm climate and abundant sunshine. Again, this favors agriculture. In fact, Brazil is quietly one of the world's major producers of soybeans, sugarcane, rice, wheat, coffee, and tobacco, not to mention an incredible variety of fruits, including the trendy guaraná and açai berries.
Brazil's warm weather, coupled with its unique and vibrant culture and stunning natural beauty, make it an attractive place to visit. Brazil is already an extremely popular tourist destination for Europeans. And, thanks to its 2019 visa waiver on visitors from the United States, Canada, Australia, and Japan, we can expect its international tourist numbers to grow.
Meanwhile, the Brazilian real continues its dance. It has weakened considerably against the U.S. dollar in recent years, which translates to a huge discount for U.S. dollar-holders today. The exchange rate can change significantly from day to day—at time of writing it stands at 5.07 reais to the U.S. dollar.
Attractive Benefits For Retirees In Brazil (And You Can Still Work)
One of the easiest ways for North Americans to take up residence in Brazil is under its flexible retirement visa.
To qualify for a retirement visa, you or your spouse must be at least 60 years of age and be able to demonstrate a monthly pension or annuity income of at least US$2,000. That amount must be transferred into Brazil monthly and will cover you and two dependents (an extra US$1,000 per month will be required to cover each subsequent dependent).
To apply for a retirement visa, it's best to contact the Brazilian consulate in your current home. These visas are issued for nine years, after which they must be renewed, although renewal is generally a formality. You can renew at the Ministry of Justice or at the nearest office of the Federal Police, which handles immigration matters in Brazil.
The retirement visa is attractive, as the monthly income requirement is within the reach of most retirees. Benefits of holding a retirement visa include:
A national ID card, which in turns allows you to open a local bank account, among other things;
Access to public services, such as the public health care safety net;
The right to work legally, should you wish; and
The ability to leave and re-enter Brazil freely.
Those 60 and over also have the right to ride city buses and metros free of charge and receive discounts of up to 50% on many entrance fees, such as movie tickets. Stores, banks, and other institutions generally provide a preferential line for seniors.
***
Thanks, John, for the update from the ground.
There are few places in the world that offer such attractive retirement visa terms… particularly ones that allow you the option to work…
And all of this in a country that boasts long and uncrowded world-class beaches… great weather with a welcome ocean breeze… and where you can own a villa on the sand for just US$147,000…
I told you about these villas near the internationally acclaimed beach resort of Canoa Quebrada a few months ago. All those in the first phase sold out fast.
If you were interested then, but didn't react in time, then great news…
The developer has just released 10 villas in Phase II of this master-planned community.
Villas are 100 square meters in size with two bedrooms. Outside, you have yard space… with plenty of room for alfresco dining… and a small private pool… not forgetting your direct access to the uncrowded, white-sand beach…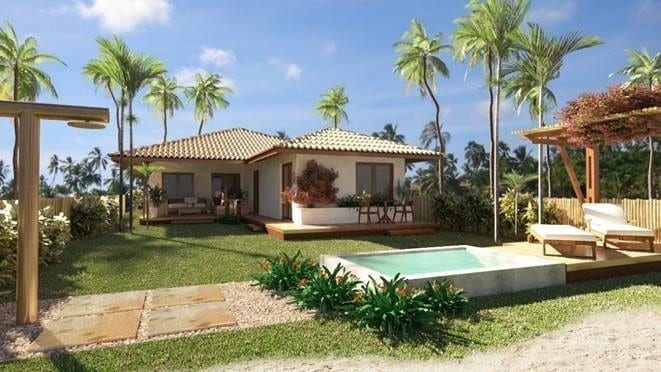 The properties are fully turn-key and, on completion, could be put straight onto the rental market. The path of progress continues to push from Fortaleza all the way down toward this development and beyond. As occupancy increases after the first few years (thanks to returning customers), you can expect a 15% return on investment on one of the beachfront villas…
Of course, you could choose to keep it all to yourself… or to spend at least a week or two down at the beach for some R&R…
Whatever your plan may be, if you're interested, I recommend you get in touch as soon as possible. With the increased interest in the area, the developer is planning to raise the asking price for these Phase II villas to US$152,000.
But as anOverseas Opportunity Letterreader, you can save US$5,000 right now and get in at Phase I pricing…
Note that this US$5,000 discount only applies to the first 5 units sold.
Lynn Mulvihill