Portugal is considered to be one of the best places to retire in Europe. As a matter of fact, it is one of the best places to retire in the world. These 100 miles of coast offer 3,300 hours of sunshine each year and more sunny days than anywhere else in Europe.
Portugal is the 17th safest country in the world, and the Algarve region is perhaps the most crime-free in the country.
Retire In Lisbon
Blessed with warm sunny weather all year round (roughly 300 days of sunshine a year)… ringed by the Atlantic Ocean on one side and protected on the other by the calm, deep-blue waters of the Tagus River (the longest river in the Iberian Peninsula)… this sophisticated city seems to have it all. This is why Lisbon is one of the best places to retire in Portugal.
Few other destinations can boast the sophistication of a real city while also offering its residents a clean, swimmable beach.
Lisbon offers tranquil cheap living options and an authentic view into the past. You'll enjoy its warm hospitality, friendly atmosphere… and one of the lowest costs of living in Western Europe.
The Expat Community
The expat community in Portugal is well established, the country estimating a total of 100,000 expats. 50,000 of these expats are British nationals.
English is the second most spoken language in the country. Almost everyone speaks English, and the older generations speak French, as well.
One of the best resources for expats here are the other expats. They all connect with each other using Internations, a global expat network with a local chapter in Cascais (20 kms from Lisbon).
To get involved, sign up at their website, it's a great source of information and for finding local friends. The group also organizes group outings in the regions they operate in. Internations is popular with expats around the world, and the Cascais chapter is as active as any.
Culture
Lisbon's cultural life is rich and busy.
As a European capital, the city offers a diverse selection of entertainment options. Go to concerts, art museums, music festivals, the theater, and more.
The majority of theatres are located in the heart of Lisbon showing cutting edge plays almost every night.
Music also plays an important role in the day-to-day life of residents. Every year Lisbon hosts several summer festivals.
Be sure to check out the bookshop Ler Devagar, it's an unconventional store and so much more than a place to buy a book. Here you can skim your books while enjoying a coffee and listening to music. If you're lucky, you might even be there on one of the days when there's an art exhibition, a play, a poetry reading, or a concert.
Health Care
While it used to be completely public, austerity measures forced a huge cut in the health services budget. This resulted in the privatization of part of the system.
Every citizen and legal foreign resident who has registered with their local health center benefits from the national health care system gets coverage. This guarantees all basic health—accidents and illness.
The hospital network has modern, well-equipped units, and at least 90% of all doctors are English-speaking.
Specialty consultations at a public hospital will cost you about 7.75 euros and emergencies about 20.20 euros.
Is It For You?
Lisbon's lifestyle can be fast-paced… but also offers its residents quiet corners, tranquil parks, and stunning beaches to escape to. It's also a cheap destination; a city this refined and worldly should come with a much higher price tag.
If you're looking for a sophisticated yet affordable city to settle in, Lisbon might be what you're looking for.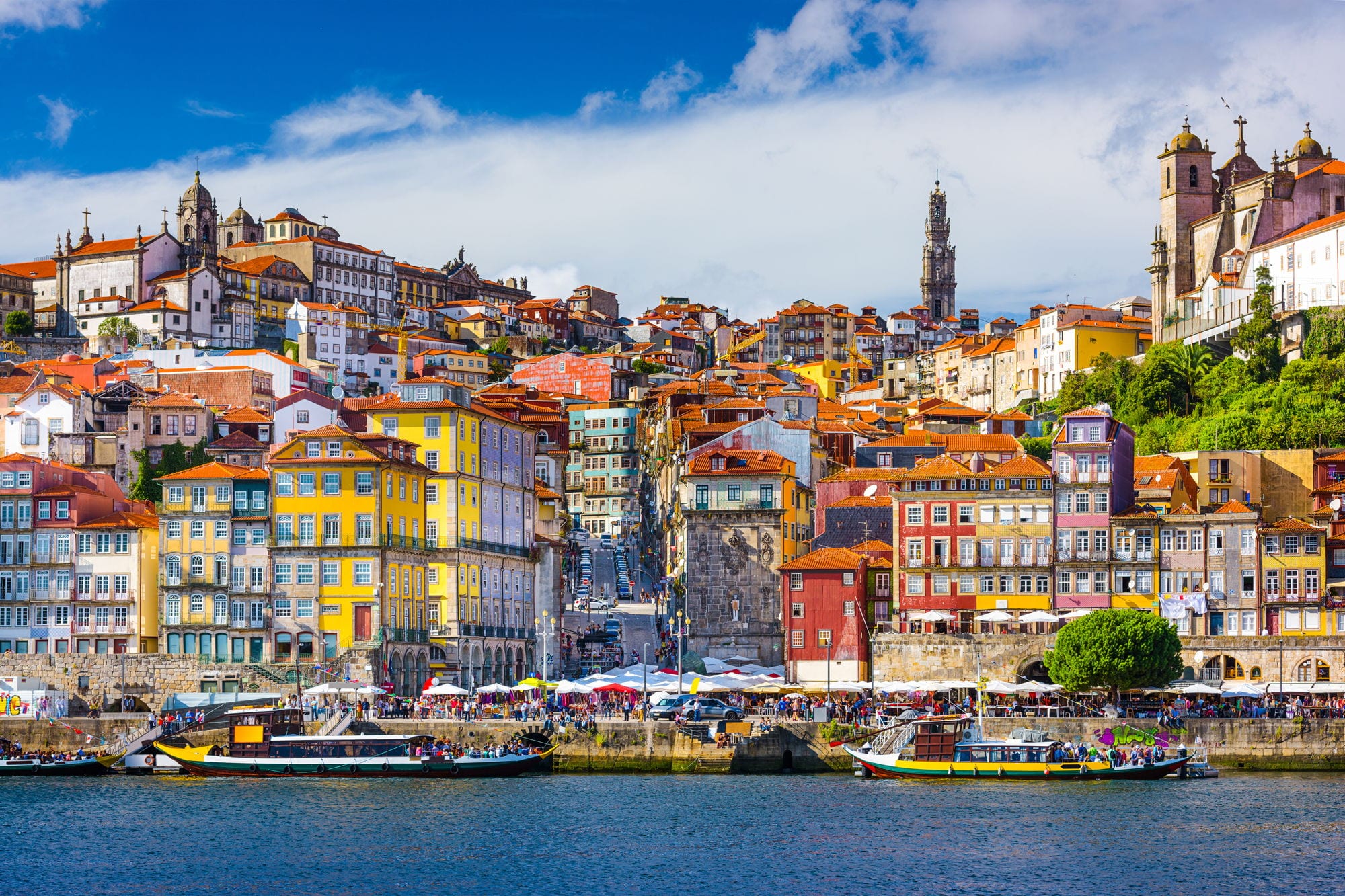 Retire In Porto
Globally known for its exquisite port wine and surrounded by the enchanting Douro Valley… this city is no stranger to accolades.
The Douro Valley itself is a UNESCO World Heritage Site. Named as such for being the first demarcated wine-producing region in the world.
Known as the Best Startup-Friendly City in Europe by the World Excellence Awards… awarded the World's Best European Destination several times… and listed as a must-visit city by The Guardian.
You can see Porto's broad mix of cultures and styles from one street to another, making it one of the best places to retire in Portugal.
Cost Of Living
Rental prices in Porto have increased over the past years. It's rare to find an apartment for less than the minimum salary (580 euros), and if you do, it'll be a loft.
Porto's rental and property prices continue to be more affordable than Lisbon's.
A couple's average monthly expenses are:
50 euros for electricity,
25 euros for water,
And 50 euros for NET+ Cable TV, for a total of about 125 euros.
The average cost of living for an individual in Porto is 1,500 euros (no luxuries but living comfortably). If you don't own a house, you'll need to rent a place long term while the bureaucracy of legalizing your stay takes place. And Portugal's bureaucracy is not known for being particularly fast…
As always, your costs depend on your lifestyle. Go here to see fully itemized budgets for Porto.
Health Care
Portugal is renowned for its health care—it's the 12th best in the world according to the World Health Organization. Porto is no exception.
Porto's public hospitals include Centro Hospitalar São João and Hospital de Santo António (named one of the best in the country). And in Gaia, about 1 km from the city center, there's Centro Hospitalar de Vila Nova de Gaia.
The largest private hospitals are Hospital da Luz Arrábida and the CUF Porto Hospital. One of the most acclaimed hospitals is Lusíadas Porto (in the city center).
Is It For You?
In Porto, the sun doesn't shine as often as it does in other cities… You might find yourself missing it at some point. If it's not raining, the weather here is usually gray, and the light can be a bit dull.
If you come from a big city, you might experience an adjustment period when you first arrive. Porto is like a big village full of houses… It's peaceful and traditional but full of life. On Sundays, everyone eats in with their families, so eating out can be an issue.
Traffic is becoming chaotic in the city center—something to be aware of if moving here. Everyone knows everyone in Porto, which may be a good or bad thing depending on your preference.
Locals will become familiar with you very fast, wanting to know who you are, where you're from, and your story.
You'll feel right at home, and even if there's a language barrier, they'll overcome it without ever losing their personality.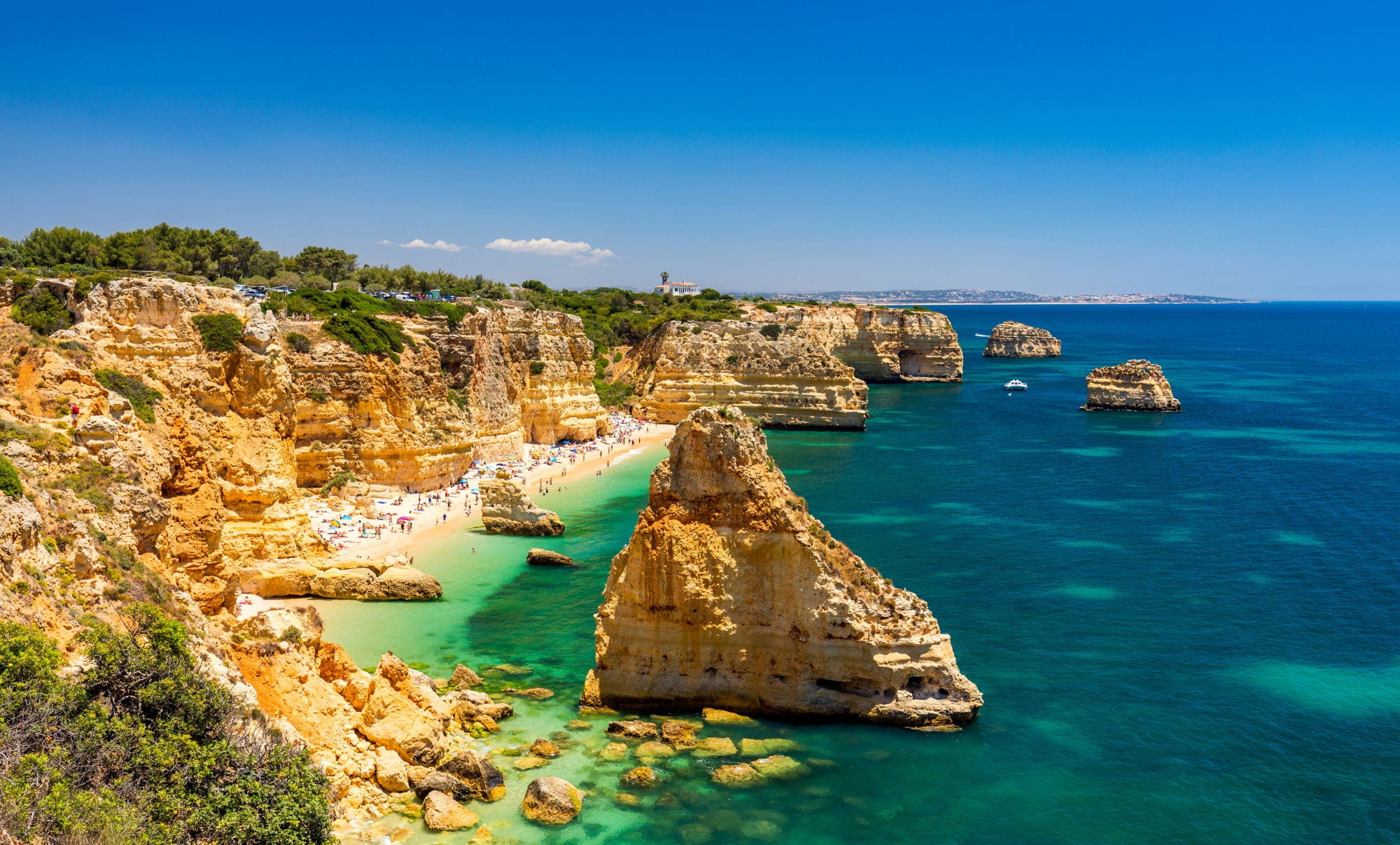 Retire In Eastern Algarve
If you're ready to:
Slow down and savor moments in the sun…
Discover a healthier lifestyle and food…
Find a safe place with an emphasis on family and friends…
Live a first-world life at third-world prices…
Or make a good investment with the benefit of an EU passport without a language barrier to start…
You have several options in eastern Algarve—one of the best places to retire in Portugal.
Expat Community
There's been a huge increase in tourism in the country. Standard popular areas are getting too crowded and expensive for some. Thus, East Algarve is starting to come into its own.
Danish, Norwegians, Swedish, and French expats are buying properties up in Olhão and Tavira. A large group of British expats as well.
More Americans are also coming to Portugal and settling in this southeastern region.
Looking to meet other expats? The surest way to meet others wanting to integrate with locals is to join a language class. Consider using some of your time to volunteer for an organization that interests you.
Cost Of Living
Low cost of living comes from buying locally. Forego more expensive, imported items. That is true for everything from groceries to housewares.
Luckily, Portugal is self-sufficient as a country, so your savings will reflect that. Electronics and clothing can be exceptions. Even those are not unreasonable, given the savings elsewhere.
Health Care
Private insurance means faster appointment times. It also means English-speaking health care providers to choose from. Use the public system for ongoing issues and private insurance for other situations.
Faro has two private hospitals. Loulé has one. Vilamoura has a private clinic; Olhão, as well. Tavira has both public and private medical clinics.
Is It For You?
Eastern Algarve is perfect for those with a love of nature and the outdoors. You can enjoy the sunshine and outdoor activities in the warm weather and laid-back life near the sea. The pace is yours and can be dialed up or down, depending on your wants and needs.
There're outdoor activities to keep all family members busy abound. Or you can find a quiet spot (yes, they still exist) and do nothing but watch and listen to the nature around you.
If that's too quiet for you, check out the local festivals, like in Loulé. But this is not the party or nightclub area of the Algarve. If all these sounds right for you, it might be the best place to retire in Portugal.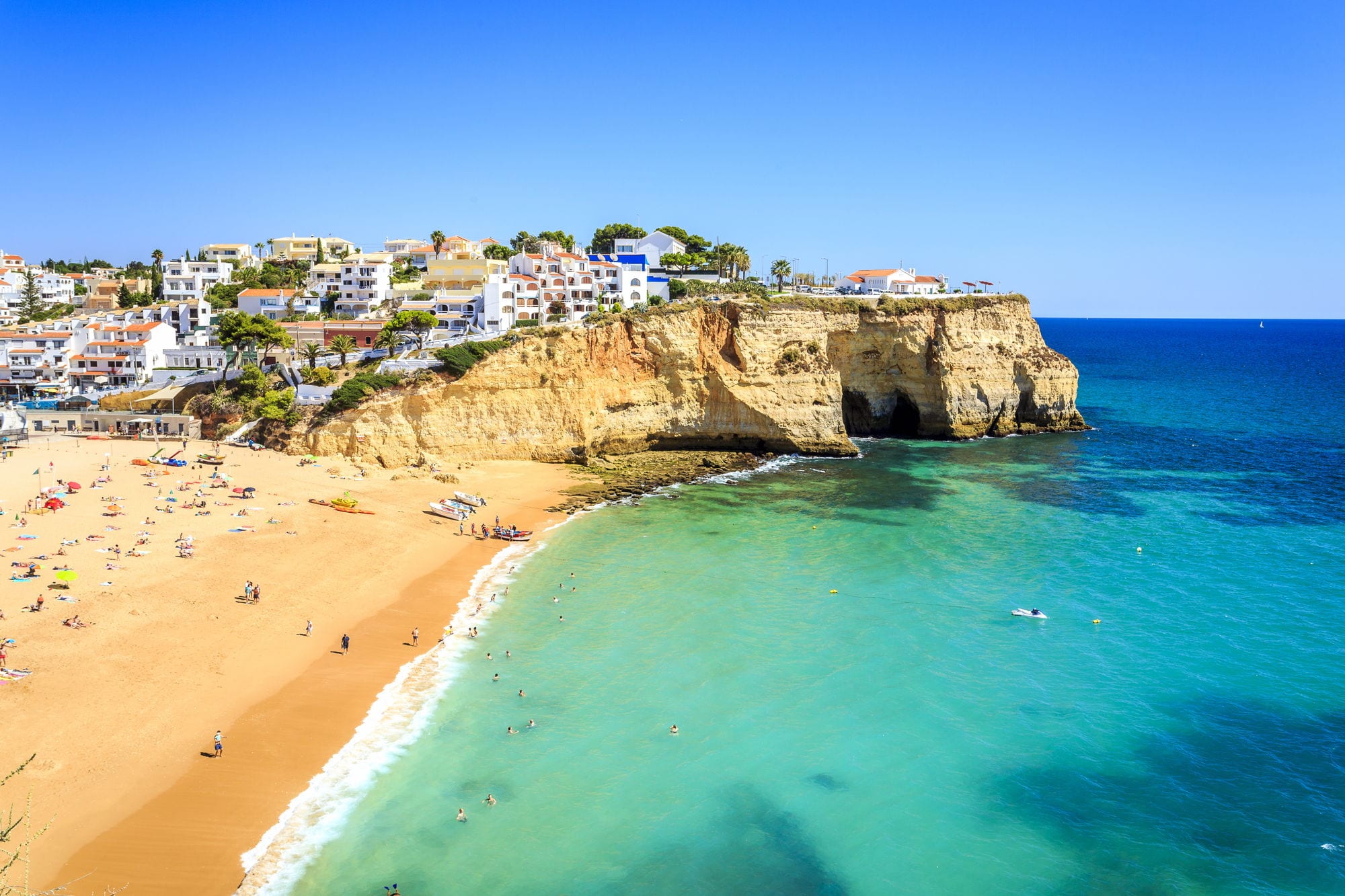 Retire In Algarve
Europe's most famous secret and our top choice for best places to retire in Portugal.
That's how this part of the world is often described. Why? Because it has Europe's best beaches, best golf courses, and friendliest folk. It's the chosen retirement destination for over 100,000 resident expats and it's Europe's newest tax haven.
Silves and Lagoa are a mix between the Algarve's historical roots and its famous beaches.
These two municipalities are located in Portugal's southernmost province. Its residents are able to experience the best the area has to offer.
Incredible Beaches
Silves has two beaches, Armação de Pera and Praia Grande. They have blue flags awarded by the European Blue Flag association.
Lagoa has 17 spectacular beaches. Some need you to descend large flights of stairs into wondrous cliff-enclosed coves bathed by azure waters. Others allow you to pull up and stroll out onto the light-colored sand.
Most beaches have lifeguards during the summer season. Many have restaurants or snack bars, some of which stay open all year round.
Activities All Year Long
Fatacil is the largest showground in the province. It hosts several large events during the year.
The most popular for expats is the International Algarve Fair held in June every year. It unites the local and expat community around a variety of activities, shows, services, and food and beverage.
Larger still is the summer fair held in August. It has daily live concerts by top national (and often international) artists. At a few euros a ticket per day, you won't find better value for money on a sultry summer night.
You can make the most of the great weather by going to open-air jazz and classical concerts. They happen throughout the year, but mainly from spring through fall. Most are free.
Is It For You?
The Algave is an obvious option if you want:
An excellent quality of life,
With a low cost of living,
Great tax benefits,
In a location that within easy access of all of Europe and equidistant from North America and Asia.
If you seek the tranquility of country living while being minutes from the region's award-winning beaches and golf courses… and from the hustle and bustle of a range of tourist activities… then Silves and Lagoa are excellent choices. For us, it's definitely the best place to retire in Portugal.
For more on the best places to retire around the world, read our complete list: The World's Best Places To Retire In 2020.