What does paradise look like for you?
For me, it looks like the scene before my very eyes.
I'm sitting on my balcony with a delicious local cold brew coffee. There's a warm ocean breeze, and I can see palm trees swaying just ahead… There are waves crashing against the shore and whales splashing out at sea.
I hear the faint sounds of a wandering mariachi band as they stroll the beach. It's only 3 p.m. on a Friday, but it sure seems like there's a party going on
down there.
I'm not quite ready to join, though, so I'll hit the gym and take a dip in the pool. When I'm ready, it's just a quick and cheap bus ride to town.
A short walk on the oceanfront promenade known as the Malecón will take me by the stunning church that is the symbol of this city, passing by dozens of
unique sculptures along the way…
Once I cross the river, I'll arrive in Old Town where I'll meet some friends for happy hour at a beachfront place. The bartenders smile and greet us by name.
They already know our order—margaritas and cold cervezas along with the day's tapas plate.
After sunset we'll go for dinner, perhaps from one of the countless taco trucks or maybe in a more up-scale spot tonight. It could be Italian, Thai, or that new vegan place we've heard so much about. Either way, it'll be delicious and affordable.
From there, our options are plentiful…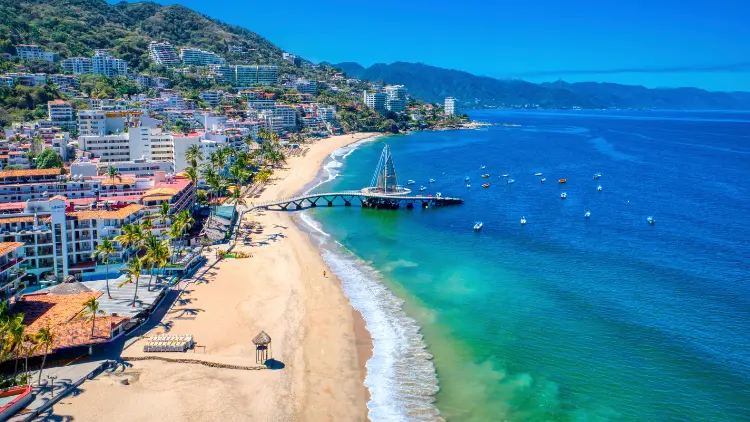 We might go see a friend's rock band play in a dive bar…
Or maybe we'll hit a swanky rooftop bar for craft cocktails and good conversation…
Then again, we may just call it an early night and plan an adventure for tomorrow. We could hike to remote beaches, head out on a snorkeling tour, check out the weekly farmers' market, or ride ATVs up in the mountains.
I don't know about you, but that sure sounds like paradise to me. And that's precisely why I've made Puerto Vallarta, Mexico, my home away from home
for the last four years.
Located on Mexico's Pacific Coast in the scenic Banderas Bay and surrounded by the Sierra Madre mountains, Puerto Vallarta is a beautiful city. Every morning when I gaze out from our balcony, I feel like I'm living in a postcard.
PV (as expats like to call it) is one of the most visited places in Mexico, but it retains its traditional charm. While more and more high-rise condos are sprouting up, you can still walk the cobblestone streets and see men on horseback and women pressing fresh corn tortillas.
Long a favorite of retirees and spring-breakers, Puerto Vallarta now attracts plenty of expats and digital nomads as well. There's just something about
this place that seems to suck people in. Take it from me—I originally intended to stay a month and have now been in and out for years.
Puerto Vallarta is a destination that checks all the boxes, especially for North Americans. For starters, it's only a quick flight from Canada or the States and is in a similar time zone. No need to worry about jet lag when you move here.
Puerto Vallarta is also warm year-round. The weather is downright perfect for four to five months out of the year. Temperatures range from 62°F (16.5°C)
to 90°F (32°C) and there's plenty of sunshine throughout the year.
There are only two seasons here: dry and rainy. The latter runs from June to October, and it's when many snowbirds get out of town or hole up in their air-conditioned homes. While the rainy season can be muggy, sweaty, and wet, it's all worth it to watch the lightning storms move across the bay.
Real estate, although more expensive than in years past, remains a bargain. It's easy to move into a furnished condo with an ocean view and all the utilities turned on for a short or long-term stay. If you're looking to buy, there's a wide range of options and the process is relatively straightforward.
With the ocean on one side and the mountains on the other, there's a wealth of activities at your fingertips here. Add to that an active and growing expat population plus the super-friendly locals, and you've got a recipe for lots of good times.
After four years of living here for six months at a time, I've managed to build an amazing network of friends. It's quite the diverse group in terms of nationality, age, occupation, etc. My friends here are expats, nomads, locals, and transplants from other cities in Mexico.
When it comes to options for wining and dining, you are absolutely spoiled here. You could try a new restaurant and bar every weekend and it would take
you years to check them all off your list.
High-quality, affordable medical and dental care is also readily available. It's easy to get by in English, even at the doctor's office. It's no wonder Puerto
Vallarta is constantly named as one of the top retirement destinations in the Americas.
Whenever I tell people that I live in Puerto Vallarta, I hear, "Isn't it really touristy?" The short answer is yes. As one of the top five destinations for visitors to Mexico, the city relies heavily on tourism. A vast majority of jobs here are related to the industry.
At the same time, I find PV to be far less touristy than the whole Riviera Maya area (Cancún, Playa del Carmen, and Tulum). There is a stronger sense of local culture and identity here, as the area has a much longer history than its eastern counterpart.
For a popular tourist beach destination, Puerto Vallarta remains a very affordable place to live. Of course, that all depends on your tastes and interests, as it's also totally possible to splurge here…
If you mostly get around by bus, shop and dine in local spots, and stick to domestic beers when going out, you'll spend very little on a daily basis. Those who prefer taking cabs everywhere, fine dining, and European wines will obviously have a much higher bill.
In local tiendas and markets, you can easily stock up on essentials (fresh produce, eggs, rice, beans, tortillas, milk, coffee) for pennies on the dollar. If I spend 200 pesos (around US$11) in my local shop, for example, I take a very heavy bag home.
Puerto Vallarta is also home to a Walmart, Sam's Club, and Costco. If you already have a membership back home it'll work here. If you don't, just wait until you get here to sign up, as it's cheaper and will still work back at home.
When it comes to eating out, you can fill up for 100 pesos or less by eating at taco trucks and restaurants offering menú del dia (menu of the day). The latter typically includes a soup, main course, dessert, and a drink.
Eating at hole-in-the-wall joints is great and all, but you've also got to sample some of the world-class restaurants here as well.
My wife and I finally got to eat at Casa Kimberly (former home of Richard Burton and Elizabeth Taylor) this past year and only spent 1,300 pesos (US$72) on an unforgettable meal.
When it comes to finding a home here, furnished one-bedroom rentals in a desirable area can be found for 15,000 pesos (US$835) a month. Up that price to 25,000 (US$1,400), and you'll likely have an ocean view and facilities like a pool and gym.
A great strategy for renting a place in Puerto Vallarta is coming down at the tail-end of low season in September or October.
There are tons of empty places at that time and owners are eager to secure tenants. If you're willing to sign a year lease, you'll be able to find some fantastic deals, and the ball will be in your court as far as negotiations go.
So, is Puerto Vallarta for you?
If you love the mountains and the sea, enjoy the company of fun-loving and friendly people, appreciate the arts, fancy yourself a foodie, and want to live in an open-minded city, then the answer is a resounding yes.
Sure, some nights a raucous fiesta might get you out of bed at an ungodly hour, but that's half the fun.
Those who can adapt to the local culture rather than complain about it will enjoy a high quality of life in a beautiful place full of some of the nicest people you'll ever meet. Best of all—there really is a taco truck on every corner here.
Now that, mis amigos, is paradise!
Sincerely,
Sasha Savinov
Contributor, Overseas Living Letter