If you dream of miles of golden-sand and clear, blue waters, small town vibes, and friendly locals, then this Caribbean escape might just be your Shangri-La.
Located on the Dominican Republic's Samaná Peninsula, the laidback beach town of Las Terrenas has been the chosen home of countless European expats for decades. Now, it's on the retirement radar of North Americans and it's easy to see why…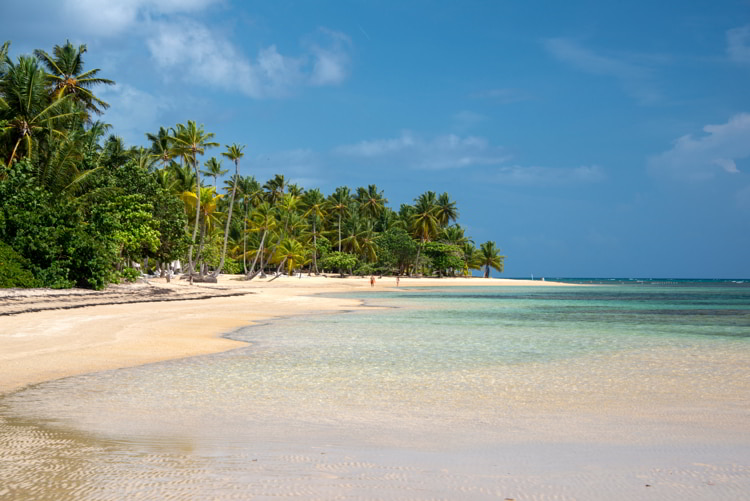 Las Terrenas was founded in 1946 when the then president relocated some of the poor population of the country's capital, Santo Domingo, to the town so they could become farmers and fishermen.
In the 70s and 80s, the French were the first group of expats that decided to trade their rough winters for Las Terrenas' gold-sand beaches. They started building their own little houses, and throughout the years, have left their mark and influence.
When the town started to develop, European expats modeled the layout on their home cities. This means narrow, winding streets so the most common mode of transport is either motorcycle or ATV.
The temperature here is pretty consistent throughout the year. Annual average highs are about 30°C (85°F) and average lows stay at about 21°C (69°F). It's typical tropical weather.
What Life In Las Terrenas, Samana Is Like
Life in Las Terrenas is all about outdoor fun. Surf, kite surf, snorkel, dive, kayak, paddle board, hike to hidden waterfalls, or take an exciting ATV ride…
You can relax for hours in the Caribbean sun, over soft sand, with sparkling waters… plus, the town has a boardwalk where you can run, walk, or bike.
Residents and visitors can enjoy true European dishes right from the source… but also indulge in local Dominican flavors.
Outdoor lounges and bars abound. The Mosquito Beach Bar is a popular local chain, and in Las Terrenas you can find two of them, one near the main street and one in Playa Bonita.
During the December holidays and Holy Week, be prepared for parties. These are the dates when locals from other cities or other foreigners come together and celebrate for days on end. The environment in town is mostly calm year-round (although not sleepy), but during the holidays the Terreneros go all out.
One of the advantages of relocating to the DR is how easily accessible it is from North America. Several airlines fly nonstop to the capital from different cities. American Airlines, Frontier, United Airlines, JetBlue, and Delta are just a few.
You'll find nonstop flights from the United States to Santo Domingo from Miami, New York, Boston, Fort Lauderdale, and Orlando.
If you are coming from Canada, El Catey International Airport in the Samaná province has direct flights from Montreal and Toronto.
Once you're here, a half-an-hour car ride is all it takes to get to Las Terrenas
The cost of living is another draw. Overall, you could live with your basic necessities in Las Terrenas for about US$1,300 per month. Splurging a little more could raise that to a monthly budget of US$2,000 for a couple.
For a one-bedroom, one-bathroom apartment, you can expect to pay between US$400 to US$700 a month. The more modern, newer apartments with nicer amenities, furnishings, and finishes will be the most expensive.
A two-bedroom apartment could start from US$600 a month and go up to US$1,000 or more for luxury high-end units.
If you prefer a bigger space, villas are available starting at US$900 a month, but these might not meet expat expectations and standards. Realistically, a more modern three-bedroom villa would start at about US$1,200. The monthly rent will usually cover utilities and internet.
If you are not planning on renting but rather buying a property, you'll need to take care of your utilities.
A tank of gas costs about US$20 and lasts you two or three months. You'll need this if you buy a gas stove and a gas water heater, but this is definitely a cost you can cut if needed.
Some people buy gas-powered generators, which come in handy in a country with frequent power outages.
Start Your New Life Today, Overseas
A world full of fun, adventure, and profit awaits! Sign up for our free daily e-letter, Overseas Opportunity Letter, and we'll send you a FREE report on the 10 Best Places To Retire In Style Overseas Today
Potable water is provided by the government and a monthly bill can be as cheap as US$5.
Electricity in the Dominican Republic is notoriously expensive. I suggest you buy energy-saving appliances, as this makes a real difference to your bill. A typical bill runs about US$50 a month, but could be double or more if you use air conditioning frequently.
For health care needs, Las Terrenas has a private clinic called Clinica Especializada Internacional Las Terrenas. You'll have no trouble finding English-speaking doctors here. This clinic has services such as radiology and diagnostic imaging, medical consultations for more than a dozen specializations, a clinical laboratory, and a pharmacy.
A new public hospital was inaugurated recently, the Hospital Municipal Pablo Antonio Paulino. Here you can get medical consultations for pediatrics, internal medicine, orthopedics, and odontology. Plus, it has an emergency area, clinical labs, and imaging. The hospital also has three surgery rooms and an ICU.
The town has several options for your oral care, as well. Odontology services are available at both the private and public hospitals, as well as several private clinics such as RIA Dental Center and Odontohealth Consultorio Dental. They offer dental prosthetics, implants, braces, esthetics, endodontics, and more.
Overall, Las Terrenas has you covered for basic health care needs, but for any specialized treatments for health conditions you'll need to go to the capital, Santo Domingo.
The expat community in Las Terrenas is well established. Plenty of retirees from all over the world have been able to find a community of like-minded individuals who've gone through the same processes to get here.
You can start connecting with people before you even touch land. Go to expats.com and search threads on Las Terrenas. This is a great way to ask advice from people on the ground and to plan meet-ups with people who are willing to show you around.
You can also try joining the Expats Las Terrenas and Interact Las Terrenas Facebook groups, another platform commonly used among expats from around the globe.
In these types of forums, you'll get the latest news and hear about get togethers that the community has planned.
Joining language classes and volunteering are also great ways to connect with expats and locals once you arrive.
The DR offers several residency options including a Rentista visa which you can apply for if you are a beneficiary of a monthly income or permanent income of at least US$2,000 from a foreign company.
Another option is the Pensionado Visa which you can apply for if you receive a minimum monthly pension of US$1,500 from a government, official agency, or private company of foreign origin.
Not many countries are as inviting as the Dominican Republic. Move, become a resident, buy a property, settle into a new life… the DR almost gives it to you on a silver platter.
Las Terrenas is one of our favorite places in the DR to live and invest in and, if you're searching for a laidback beach town, with an established expat community, where you can live comfortably on a monthly budget of US$1,300… then this could be the perfect place for you.
Sincerely,



Mónica Linares
Managing Editor, Global Property Advisor