As Managing Editor of Global Property Advisor, I was recently sent on assignment to Las Terrenas, Dominican Republic, on property scouting duty.
In this Caribbean escape I discovered more than just good-value property…
If you're interested in miles of golden-sand beaches and clear, blue waters, friendly locals, small town vibes, a wide array of international cuisine, and outdoor and water activities, Las Terrenas could be your Shangri-La.
Las Terrenas is a multicultural town that has stayed a secret from North Americans until a couple of years ago. But for decades this has been the chosen home of countless European expats.
The town was founded in 1946 when the president of the time relocated some of the poor population of Santo Domingo to the town so they could become farmers and fishermen. This was already a small fishing town that was isolated from the rest of the country, as the only road connecting it to the municipality of Sanchez was practically uncrossable. Residents didn't even get electricity until 1994.
In the 70s and 80s, the French were the first group of expats that decided to trade their rough winters with Las Terrenas' golden-sand beaches. They started building their own little houses, and, throughout the years, have left their mark and influence.
In 2008, a new highway spanning 106 kms from Santo Domingo to the Samaná province was inaugurated. This cut the six-hour journey by car down to two-and-a-half hours and opened up the northern coast of the country.
The town is nicknamed Ciudad de Dios (City of God). Every year the biggest Christian event in the municipality is celebrated in Las Terrenas. Dancing, singing, music, shows, and a variety of performances bring the community together.
What Life In Las Terrenas, Samana Is Like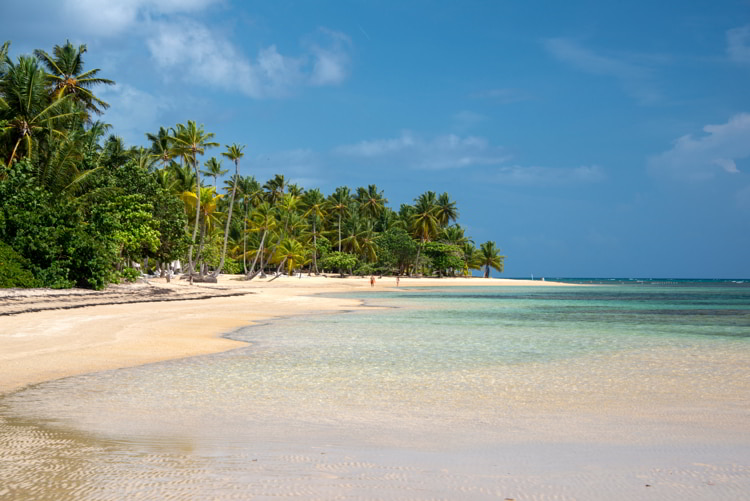 Today, the Las Terrenas community is a mix of locals and expats, the latter group historically from France, Italy, Spain, and Germany but recently also Canada and the United States. It has become one of the main tourist hot spots of the Samaná province.
Regarding COVID-19 restrictions, there are none. Dominican Republic is a haven for those seeking to escape harsh regulations in their home countries.
You don't need to be vaccinated or get tested to enter the country, and mask mandates have been lifted everywhere.
Everyone I talked to said how safe they felt in Las Terrenas. Having just been a couple days before in Santo Domingo, I felt this too. While in the capital theft is pretty common, in Las Terrenas I was assured that it isn't. Catcalling is standard in the DR, but I didn't feel threatened by it in this town.
Life in Las Terrenas is all about outdoor fun. Partake in surfing, kite surfing, snorkeling, diving, kayaking, paddle boarding, hiking to hidden waterfalls, exciting ATV rides…
You can relax for endless hours in the Caribbean sun, over soft sand, with sparkling waters… plus, the town has a pretty long boardwalk where you can run, walk, or bike.
If you're not up for spending hundreds on car hire, I suggest you rent a bike to get around. This is great exercise, fun, and an accessible way to go about your days.
Residents and visitors can enjoy true European dishes right from the source… but also indulge in local Dominican flavors. Plenty of outdoor lounges and bars are around. Some are open for meals, snacks, and day drinking, while others open in the evening and add vibrancy to the town's nightlife.
The Mosquito Beach Bar is a popular local Dominican chain of restaurants and bars, and in Las Terrenas you can find two of them, one near the main street and one in Playa Bonita.
During the December holidays and Holy Week, be prepared for the parties. These are the dates when locals from other cities or other foreigners come together and celebrate for days on end. The environment in town is mostly calm year-round (although not sleepy), but during the holidays the Terreneros go all out.
Mónica Linares
Managing Editor, Global Property Advisor